By Richard Smith, an inept narrator.

Here is the latest instalment of a shaggy dog story that has so far taken us from Oxford to Mauritius and Cape Town, with a disconnected-looking excursion to Colombia tagged on.
This time, we are heading for Australia first, then Mauritius again, then to Bristol, UK, and returning to Australia. We'll add an extra sprinkling of the exotic to the itinerary by paying a quick visit to Macedonia, too. One day perhaps I'll do a Google Earth thingie, with pushpins for all the places, people and scams, so that you can see the whole sprawling picture, but there's a lot of ground to cover first, so off we go…
R.P. Emery & Associates, PO Box 5197, South Murwillumbah NSW 2484, look exactly like suppliers of cheap (ish) legal documentation to Australians:
Since 1990 RP Emery & Associates have supplied the business community and individuals with professionally drafted, ready-made contract templates.

You can save thousands of dollars by creating reliable legal documents from your home or office computer.

Simply open the document template you wish to use, insert all relevant details in the appropriate spaces, and go to print.

It's that Easy!
There's a vast range of different templates that people might want: business sale documents, NDAs, loan agreements, rentals, and so on and on. There's a bunch of testimonials from happy clients. It all looks rather dull.
At the bottom of the home page it says:
Copyright © R.P.Emery & Associates 2011 All Rights Reserved No portion of this web site may be reproduced in any way or form without express permission of the publisher.
Oops, I suppose the above excerpts count as extracts. But hang it, do you know, in an attack of wanton wickedness, I am going to reproduce several more portions of this web site, in the form of screen dumps, without express permission of the publisher. Have I taken leave of my senses?
This is a snip of R.P.Emery's home page taken on the 4th of March 2012: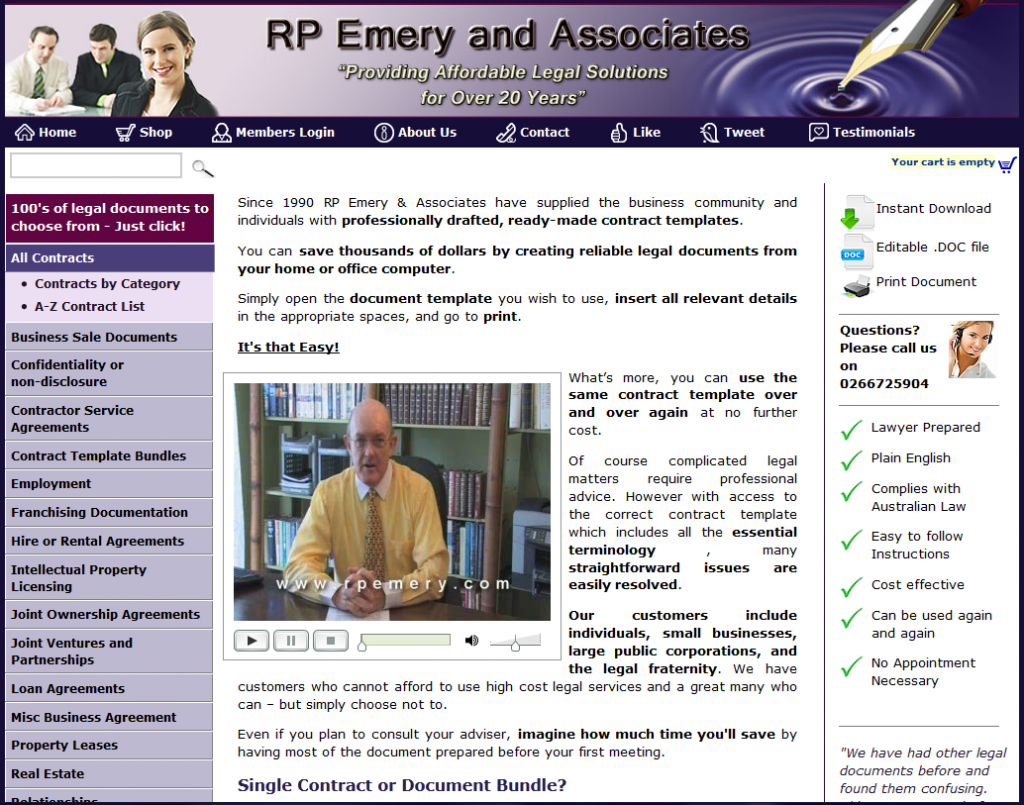 I'm going to zoom in a bit on the embedded video, which shows, as it were, the public face of R. P. Emery (we're going to see more of this chap):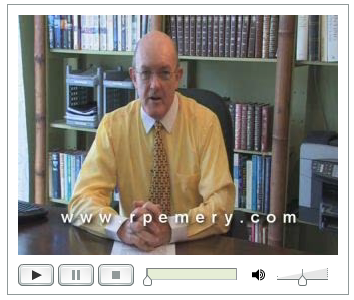 Here he is again, same horrific shirt, same tie, same room, different stuff on the shelves, holding forth on commercial property lease agreements: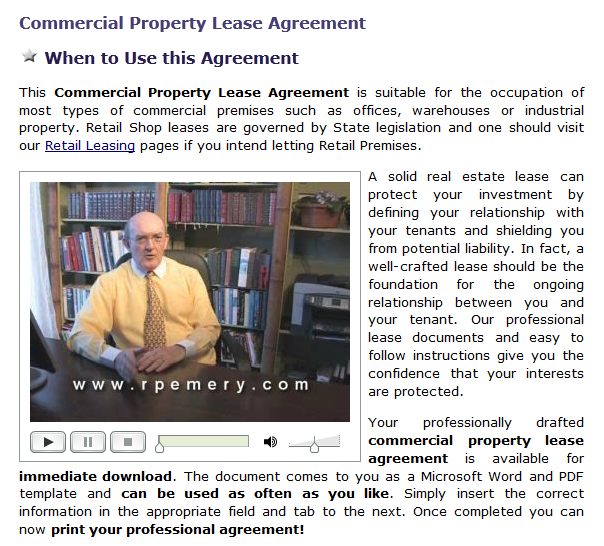 So why I am interested in this dreary, unidentified Australian lawyer at this dull web shop? And why am I so unperturbed by the prospect of violating R.P. Emery's prohibition on reproducing anything from their site?
Well, the name of the chap in the videos is Bernie O'Brien, and when he's not boring the world, with these videos, and making the world feel queasy, with his shirt, he's running fair-sized international scams.
I don't think R. P. Emery should be associating themselves with Bernie in any way whatsoever. So I think those videos will simply vanish, though I hope for another, more entertaining outcome, which I will say more about, if it happens: the ball's in "R.P. Emery"'s court.
Let's take a look at some of the fallout from one of Bernie's scams, Discovery Beach.
Here's a typically furious and typically misspelled, Ripoff Report:
Now for the sake of this report I will call myself Troy. This letter is aimed fair and square at Bernard Brien (BO) of Discovery Beach Australia.

…

I can only say at this point that I am another victim of these rip off merchants, everything that I am going to dot point (and much more) is verified in all of the current rip off reports on your site

1. They ask you to fill out a first stage assessment (FSA)

2. You then get a 30 to 40 page report (looks to be fairly generic) outlining problems that they have discovered in the (FSA). Part 2 of the (FSA) are recommendations on what needs to be done to address these problems. The (FSA) includes one paragraph on how interested they are in your project blaba, blaba!!

3. Then comes the trap!!! They then send you a Strategic Review Analysis (SRA) asking you for an amount of money usually between $20,000.00 and $30,000.00 which they claim will make the relationship work because they are supplying the bulk of the money to make the project ready for investment, they also say that providing that you follow the recommendations, the Discovery Beach Guarantee is that your project will receive funding and it will take 3 to 5 weeks to get the project investment ready

4. Now the bottom line hear is that (BO) wouldn't know the first thing about how to run a business, let alone start one, or draft a business plan.

After reading the other reports on your site everybody has been Fu*** over using the same tactic, and as the old saying goes done like a dinner how many more people are falling for this, to (DBA) its like taking candy from a baby.
So Bernie pitches business planning mumbo-jumbo, with a hook: a would-be entrepreneur pays a little bit up front to use the business planning software, or whatever it is, sinks a lot of effort into filling in a questionnaire, gets a voluminous response, and then the sunk cost, effort and visible "results" pull the victim into the bigger scam.
Also at Ripoff Report we find a long and not 100% true 2007 sob story from Steven Pitcher, who, before fleeing to Mauritius to escape a mess called "Rock Star Lottery", was, in a splendidly ironic turn, done over himself, by Bernie:
Relying on their promises, and following their advice to the letter, our existing business, and the new one, MUSOTOPIA, are in ruins, my beloved family are separated (over Christmas as well) and scattered around the world, and we are practically penniless as a DIRECT result of DBA's inability to stick to their word.
Well, I don't think it is Bernie's fault that Pitcher's Rock Star Lottery (that was his "existing business") went belly-up, at all. Nevertheless, some of what Pitcher says about the O'Brien modus operandi is consistent with the other stories.
It seems that Pitcher tries to get his revenge by putting up a site www.bastardswhodontpay.com (now defunct, alas) and taking pops at Bernie there.
Bernie retaliates, he wants us to think, by writing a letter to an Honorary Consul in Mauritius (who happens to be another O'Brien, presumably only distantly related). The letter will no doubt vanish in due course, when Bernie wants to cover his traces a bit better. In it, Bernie complains that Pitcher is hiding from the UK authorities in Mauritius (possibly true), defaming Bernie (that must have taken some effort) and demanding money with menaces from Bernie (perfectly likely: Bernie's pinched some of it from Pitcher, and Pitcher wants it back). Bernie also claims to have contacted the Australian police and Interpol (relatively unlikely: the last thing Bernie wants is intense police attention).
Scammerfight!
Even if Bernie really did talk to the Consul in Mauritius, or the Australian police, I doubt whether they, or Interpol for that matter, take Bernie all that seriously now, for Bernie has more respectable victims, who really went public. A number of middle-aged would-be entrepreneurs in Australia fell for Discovery Beach, and they managed to get the Australian TV program "A Current Affair" interested enough to stage one of those cheesy doorstepping stunts where the Victims Confront The Scammer. That's five minutes of Youtube video; it goes out of synch towards the end, but it's still quite compelling viewing.
Bernie puts in a couple of appearances, looking somewhat less poised than in his R.P. Emery videos, but at least he's wearing a different shirt…
The gist of it, if you didn't want to view it, is that 25 people lost AUD3Mn (one Aussie dollar is roughly one US dollar) by handing over up-front fees to Bernie, for which they got in return a two-page business questionnaire each, and a bunch of empty promises, and no refunds. The ones who dived in deeper with Bernie ended up following worthless "detailed instructions" from him, and lost a lot more money.
It didn't quite stop there either. Bernie franchised his scam overseas. There was a UK Discovery Beach, run by a guy in Bristol, one Christopher David Barrell. It's the same sort of thing with the same sort of outcome (sorry about the number fluffs, by the confused victim; I daren't correct them):
After completing the (sra) a strategic review proposal (srp) was sent to us as part of the sra. within the sra there is a considerable amount of information and within this document there is written a guarantee to fund the project that alan burrell, chairman of wisetrack pty limited investments has signed.

The signed guarantee gave us the confidence to hand over £12,000 (australian) $3,2000. this was supposed to be our contribution to the £50,000 needed to start our business on the road to publishing.

thirteen months had passed and we had not received any substantial information including the promised business plan or the promised funding, business leads, backing of 'key' people or personnel that is stated in the srp of the dba gaurantee.
Folk seem to be mighty confused about both the Discovery Beach scams. For instance, one chap was ripped off by Chris Barrell in the UK, and finds Bernie O'Brien quite, er, helpful:
I have been dealing with Chris Barrell since the summer of 2007. He was representing Discovery Beach in Australia and professed to be the Master License holder for this company in the UK.

He also introduced me to a very convincing person called Ali Pourtahari who confirmed he was the Master Licensee for Discovery Beach International. I now find that after paying some £15,400 in total to Mr Barrell, he has neither license or ability to perform the promise he made to us which was "Guarantee" funding for our business. Both Mr Barrell & Mr Pourtahari were mentioned in conversation when I spoke with the Australian branch with a Mr O'Brien, and he was candid with his words but hinted that both of these people were misrepresenting the company and were dismissed some time ago.

It now appears that either Mr Barrell or Mr Pourtahari has stolen my money, and whilst the Chairman of the Company has suggested if a pay another £5,000 to him he will deliver where Mr Barrell left off, I am beyond broke now and have no way of finding further funding.

I spoke with Mr Barrell a week before Christmas and he assured me that it was not him who had my money, but passed it to Mr Pourtihari. My feeling is someone is lying and Mr Pourtahari is refusing to call me back despite Mr Barrell assuring me he will forward my details.

I know now I have been conned out of my life savings, who conned me I'm not quite sure. Mr Barrell is the top of my list, with Mr Pourtahari a close second. Mr O'Brien appeared genuine, but not willing to try putting things right without funds first.
Good old feline Bernie, cautiously combining candour with innuendo, and fishing for another upfront fee at the end there, from someone who just wants their money back from the last scam, executed by Bernie's reps in the UK. I hope the mark didn't give Bernie even more money. But scam victims do sometimes fall for a follow-up "money recovery" scam, as Bernie knows; which is why he is fishing.
Tip to these very confused victims: Barrell and O'Brien are both crooks. As for Mr Ali Pourtahari, I would ignore his resumé and give him a wide berth, too.
That isn't quite the end of Bernie. He seems to be quite adept at making himself look respectable. Here he is at a 2009 seminar at the Converga Green Economy Hub (page 2, 14:00). Bernie's subject is "Making Your Green Idea a Success". A success for whom, one naturally wonders. At that seminar, he is sharing a public platform with Anne Maree Huxley, CEO of the Aussie green sustainable industry body MOSS, who need a big loud wakeup call about Bernie.
Here is the last page of Bernie's predictably banal seminar presentation (I will spare you the rest of it), with the names of some more people who could do with a big loud wakeup call.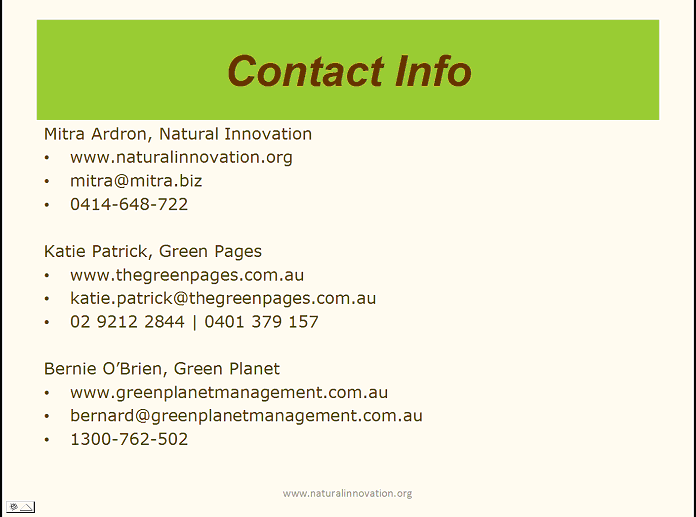 All of which leads us to Bernie's next vehicle, Green Planet Management. His LinkedIn profile proclaims him to be an analyst there (and we note that he owns at least three shirts):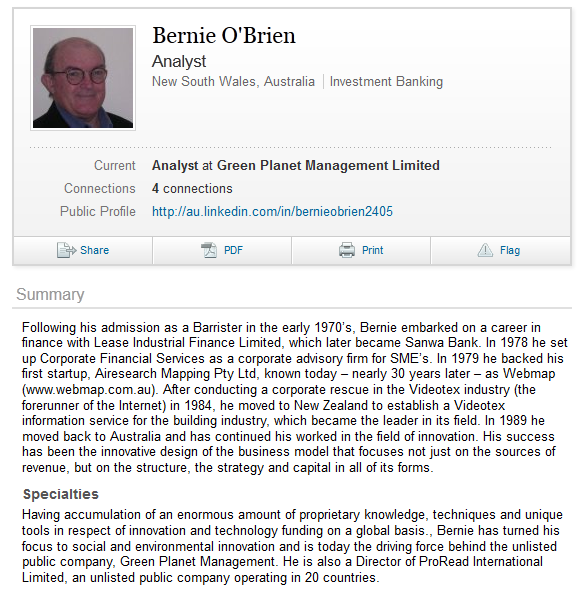 Oh, I should have asked the Australian Bar Association to confirm that Bernie O'Brien really is a barrister. It just seems so unlikely.
From Ripoff Report again:
This letter is aimed fair and square at Bernard Brien (BO) of Discovery Beach Australia.

Now calling them selves Green Planet Management www.greenplanetmanagement.com.au

The web site above is just simply a copy of the Discovery Beach (DBA) web site with a few names changed to suite the new name, (DBA) web site I notice is now parked. The only real difference that I can see is that instead of charging $399.00 or 400.00 pounds, (depending upon which country you live in) they are now offering the first stage assessment soft wear for free (FSA) wow!!! what a deal.
From the sound of it, when Discovery Beach was rumbled, Bernie changed the name, but not the scam. Since www.greenplanetmanagement.com.au is no longer a live site either, I imagine the outcome for his clients was the same under the new name.
But it won't necessarily only be Australian Greens nursing burnt fingers. It may be Macedonians too, and a very embarrassed British Business Group Macedonia, who, in late 2009, put would-be Macedonian entrepreneurs in touch with…Bernie O'Brien:
BBGM launches Investment for Innovation

The British Business Group launched "Investment for Innovation", a software platform that will help SME's, start-ups and Entrepreneurs to analyze an idea, its capacity to succeed in a market place and also prepare it in a suitable format for industry partners and venture capital groups and other potential financial investors.

"The platform aims to provide Macedonian entrepreneurs with a unique opportunity to  take their ideas to market confidently and correctly, and by doing so turning their business into a very attractive asset for British or other International companies" said the BBG's Chairman, Ray Power.

IFI (Investment for Innovation) consists of an assessment system for ideas and business models that will act as a filter to identify those projects with the most potential and then proceed in introducing those ideas to venture capital firms or institutional investors.

Furthermore, IFI gives companies or entrepreneurs a formal channel through which to submit business plans to a network of investors that have specifically partnered with the BBG to receive and review investment opportunities.

The benefit to investment groups and private equity firms is that when using the software or our manual filtering process, a supply of quality proposals are presented ready for review and for initial due diligence.

Investment for Innovation – is being provided in association with Green Planet Management, an Australian group which has used the software and investment process for over ten years.

For more information about IFI please contact us at via our website:  www.bbgm.co.uk
IFI is presumably pronounced "iffy".
I can't imagine it went terribly well. The BBGM has been silent about IFI ever since they announced it.
There are plenty of loose ends; but for me that's almost it with Bernie. He puts in a fleeting appearance in my next, doing a favour for another con man. I'd love to know what he is up to now, two years after the most recent sightings. My thanks to NC commenter Lanny Poffo, who put me onto 4chan; I will take a proper look at it. Maybe that's the place to find out how Bernie's getting on.
Next time we start in Australia, and dart back to the UK again. It will be like a badly-conceived fairy tale: we will encounter a great racing driver, and a not-so-great one; a Baron who is not a Baron, an Earl who really is an Earl, a Princess from a country  that doesn't exist any more, and a Prince, from another imperilled kingdom, who is not a giant lizard; and we will discover that Bradford isn't necessarily a city in Yorkshire (or in Pennsylvania), or a town in Wiltshire, but can be one of two different villages in Shropshire, too.
After that, it may get more confusing.