Two CalPERS insiders informed us that Justin Harwell, then the manager heading CalPERS' Information Security Office, was terminated last Friday, or as one put it, "was walked out Friday afternoon."
Consistent with his bio on LinkedIn, Harwell, who joined CalPERS in late 2017, was seen as having a strong background in information security and came from the private sector. Like star hire Elisabeth Bourqui, who was brought in as CalPERS Chief Operating Investment Officer, Harwell was unceremoniously defenestrated. The fact that CalPERS is terminating highly qualified staffers, apparently for political reasons, will only increase the institution's already considerable dysfunction and incompetence.
CalPERS has apparently scheduled 9:00 AM meeting on Tuesday to tell relevant staffers about Harwell's sudden departure. We sincerely doubt they were to be told anything approaching the truth.
Harwell had complained about being required to hire a staff member in a manner at odds with proper procedures. When that employee posed additional problems, Harwell escalated the matter, including to Doug Hoffner, the deputy executive officer of Operations & Technology and Matt Jacobs, the general counsel. As one source put it, "They told Harwell to suck it up."
Harwell took out his frustration by posting an anonymous review on the jobs site Glassdoor: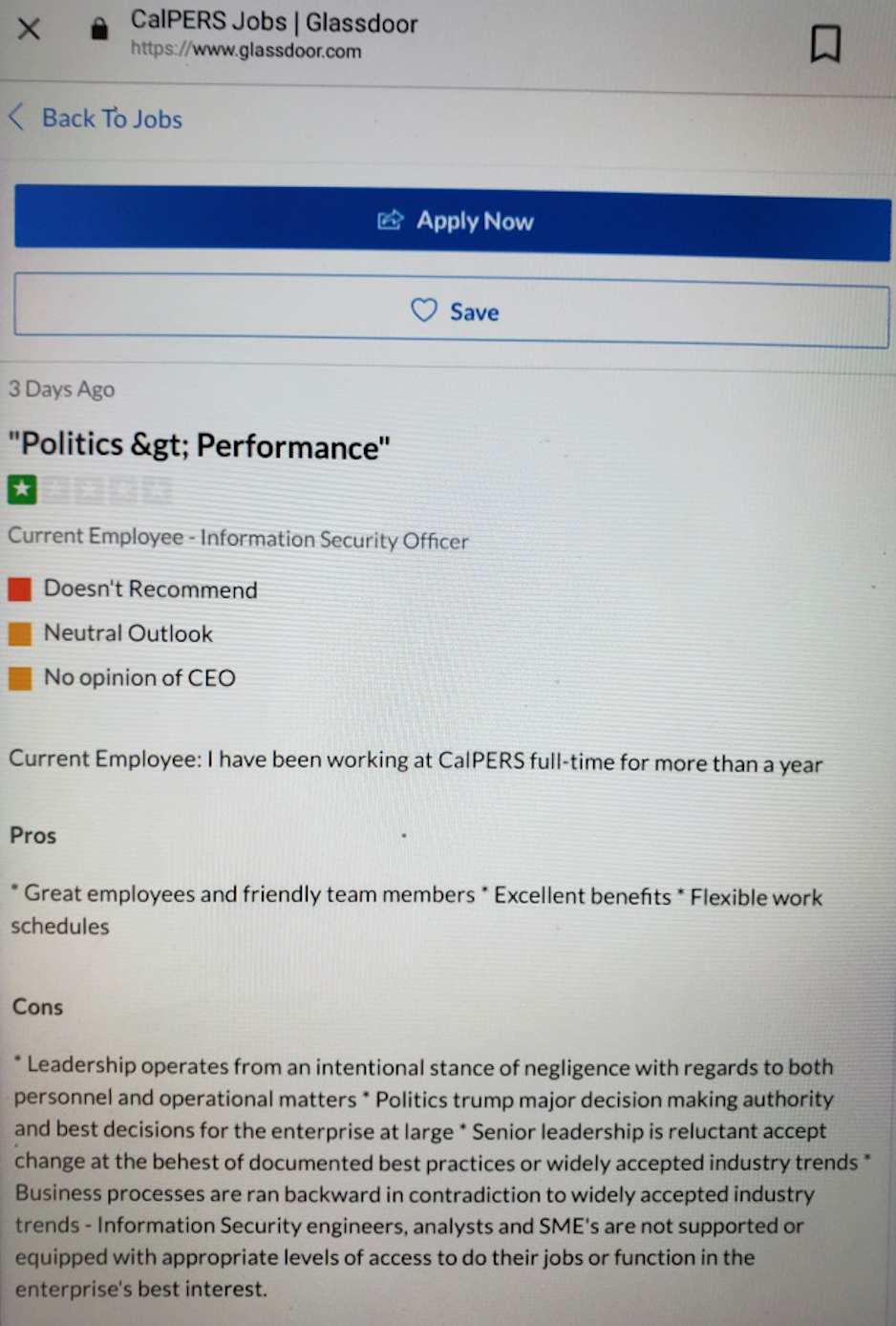 As you can see, Harwell did not cover his tracks.
Because CalPERS invests more time in managing PR than managing its operations, CalPERS took notice of the review what looks like close to immediately. You'll see the screenshot shows it as having been up only three days. One has to wonder, given the huge volume of reviews up at Glassdoor, if anyone outside CalPERS saw it.1
Harwell was called in and asked if he was the author of the Glassdoor review. He admitted he was. He was instructed to remove it and he did. One source says he was fired within two hours of that meeting.
By being so vindictive, CalPERS has now made the review and the culture of cronyism and cover-ups vastly more visible than it would have been. A more mature leader would have gotten Harwell to trash the review, let things cool a little bit, and then told him that his future at CalPERS wasn't very bright and he'd be wise to look for a new job.
But we've been told by people who worked with Frost for the better part of a decade in Washington that she was petty and vengeful, and she looks to be showing her true colors at CalPERS. She will find out that CalPERS is too important an institution to run like a junior high school clique. No one with better options will work for someone who isn't terribly competent and is abusive on top of it. If Frost's growing file folder of bad press clips don't do her in, CalPERS' faltering performance eventually will.
____
1 Of course, in the World According to Marcie Frost, even if no one outside CalPERS saw the negative review, the mere fact that CaLPERS employees saw it would be deemed harmful because it would undermine the actively-cultivated myth that everyone at CalPERS loves working for Marcie, and more important, that she really is doing a good job.