Readers, today you blew through our goal of 325 donations with 397. I am very grateful. (Of course, if you came in late, you can still join in!) A reader wrote:
I cannot thank you and Yves enough for the daily education I get from the Naked Capitalism site, and from the comments too.. I appreciate nothing more than folks that are pretty much straight down the middle, intellectually honest in a way that sees through the clutter (BS, or horsefeathers as my grandfather would say, the gentleman he was), and challenges me to rethink so much of what I thought I knew as a younger man.

All the best and please keep up the good work.
Note that comment applies to Yves as well; the NC tip jar is to your right, if you are absolutely feeling flush. And now, to seek some singing birds–
* * *
By Lambert Strether of Corrente.
Bird Song of the Day
I wanted Chimney Swifts from Mexico, but this turns out to be from Ohio. I cannot forbear from quoting:
Media notes

18′ capture of the swarm thickening and then entering the chimney. Set up NE of chimney. I did edit the facility sounds to make them a bit less prominent but did not apply NR, and overall it is a nice listen. Some amazing variety in the calls!

Observation details

Set up to record tonight and managed a nice capture after the local kids wandered off. Single birds started dropping around 7:33, with only about 30 well distributed in the sky at that time. Loose swirl started at 7:41. 40 in the roost by 7:57, and that doubled over the next one minute. Estimate 1440 by 8:03 (>1300 birds / 5 minutes). Few silent stragglers. Tonight they entered in a much more concentrated fashion than my previous count (9/10), which Jenny B says is more typical. She counted 1720, supporting our notion that we count conservatively by at least 10%.
Enjoy, good kitties!
* * *
#COVID19
At reader request, I've added this daily chart from 91-DIVOC. The data is the Johns Hopkins CSSE data. Here is the site.
I feel I'm engaging in a macabre form of tape-watching.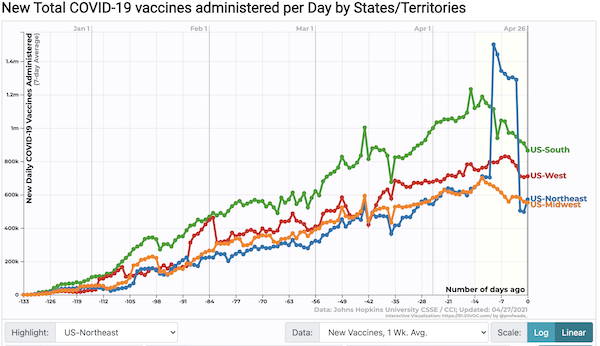 I know that these are daily vaccinations. But the pandemic is a multiplicative process. To me, the best curves of all would be rising continuously until there's a sudden drop, because there's nobody left to vaccinate. It's too soon to see these numbers dropping. This should worry people. (The Northeast jump was an enormous reporting error, now rectified, though I still have not been able to find it mentioned anywhere. Readers?)
.@JoeBiden doubled and met his original goal of 100mm shots in 100 days—with 8 days to spare. My @Morning_Joe chart: pic.twitter.com/k9HLxw0ND7

— Steven Rattner (@SteveRattner) April 27, 2021
Case count by United States regions: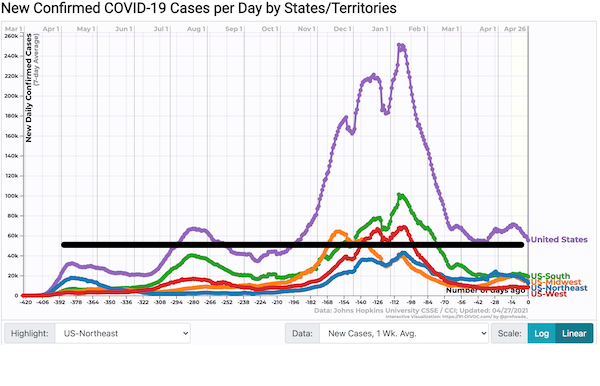 Continued good news. I'm not used to this at all.
"Why COVID-19 cases haven't seen sharp drop despite spike in vaccinations" [ABC]. "As of Monday, more than 140 million people, roughly 42.5% of the U.S. population, have received one vaccine dose, and more than 95 million people, roughly 29% of the total population, are fully vaccinated, according to the CDC. 'In Israel, when they had 45% fully vaccinated, the cases started to plummet,' Brownstein said. Brownstein said that patients who haven't scheduled their shots should do so as soon as possible so that the case numbers can go down and Americans are more protected against the variants."
The Midwest in detail: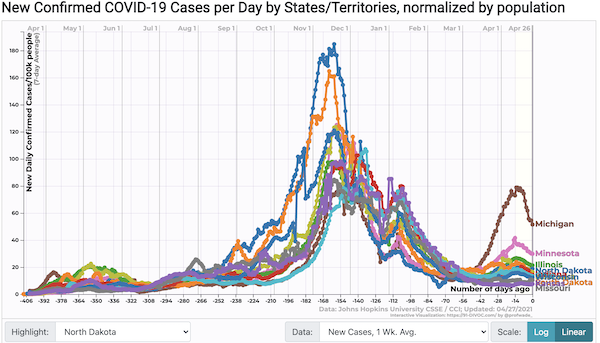 Continued good news. The Michigan curve is nice, but still at level only exceeded to last Fall's peak, 154 days ago. Michigan and Minnesota heading down, along with their neighbors (Could be that people actually do listen when Governors ask them do so stuff, but enough, and enough of them?)
Big states (New York, Florida, Texas, California):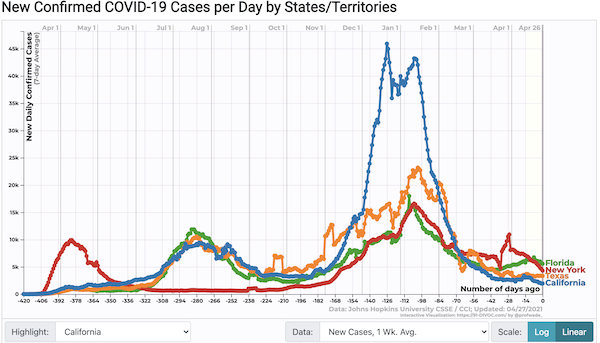 Florida, by a nose, now dropping nicely. California also dropping. Texas flat.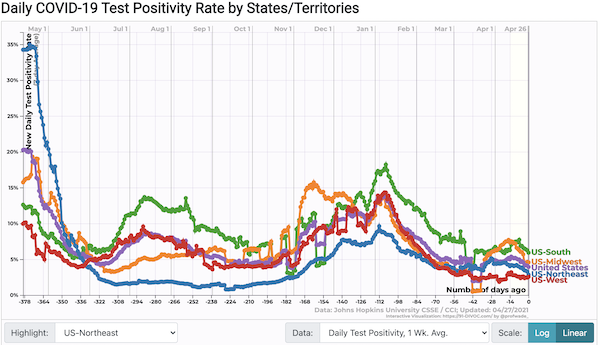 Down, except for the West, now flat.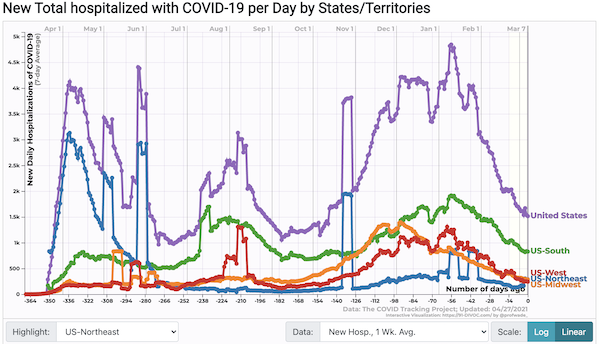 Still heading down, except for a slight rise in the Northeast.
Case fatality rate (plus deaths):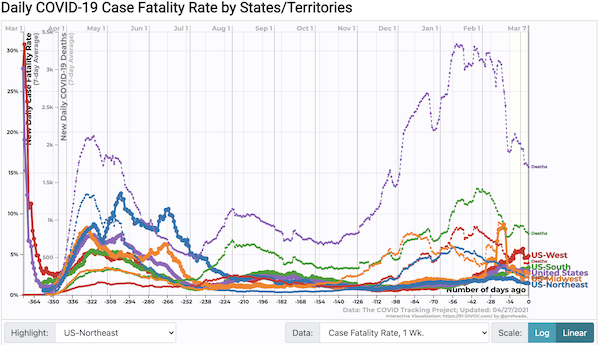 Good to see those deaths dropping. The fatality rate in the West has fallen again, for reasons as mysterious as those that caused its rise.
* * *
Politics
"But what is government itself, but the greatest of all reflections on human nature?" –James Madison, Federalist 51
"They had one weapon left and both knew it: treachery." –Frank Herbert, Dune
"They had learned nothing, and forgotten nothing." –Charles Maurice de Talleyrand-Périgord
Biden Administration
"Congress prepares for 'strange' and 'extraordinary' presidential address" [ABC]. "Biden's address to a joint session of Congress, usually a celebratory gathering of official Washington, has been reshaped by COVID-19 and lingering concerns about security after the Jan. 6 Capitol riot…. The House chamber, usually filled with more than 1,600 people, will hold just 200 spaced-out attendees this year in order to allow for social distancing. Everyone in attendance will wear a mask, though Biden will take his off to address lawmakers." • Spaced-out, eh?

"Empire Politician" [Jeremy Scahill, The Intercept]. The deck: "A Half-Century of Joe Biden's Stances on War, Militarism, and the CIA." • This is quite a project.

UPDATE "How Barack Obama's eight years shaped Joe Biden's first 100 days" [NBC]. "The early days of Joe Biden's presidency reveal a man who remembers the Obama presidency, and who doesn't necessarily want to repeat it. Both presidents inherited a crisis-ravaged economy, but their signature 100-day achievements look markedly different: Biden's stimulus plan was about 2½ times the size of President Barack Obama's. It was easy for voters to understand, centered on popular $1,400 cash payments for most people, while Obama's stimulus program was criticized as being too small and complicated, delivering small-dollar benefits in paychecks that polls showed many people didn't even notice. While Obama pared back his stimulus to win Republican votes, Biden met with Republicans once before he opted for a special process to go it alone. While conservative deficit hawks reined in Obama, Biden has brushed them off, arguing that now is the time to spend big. While Obama was hesitant to brag about his achievements, Biden's team regularly takes credit for the receding pandemic — and voters give him high marks. 'It's called learning from the past,' said Sen. Mazie Hirono, D-Hawaii, who has served in Congress under the last four presidents." • Learning from the past is something the liberal Democrats most definitely did not do, or they wouldn't have assumed that the Republicans who impeached Bill Clinton would do anything like good faith dealing. Apparently, it takes a lot to penetrate a West Wing brain.

UPDATE "Biden disrupts detractors with war on warming, not on coal" [E&E News]. "The White House's on-again, off-again emphasis on climate policy is one reason Biden's early tenure has defied easy narratives. The president has set new, ambitious goals like cutting greenhouse gas emissions in half by 2030. He's also backed off some of his more aggressive promises, and some progressives worry that climate could get left behind in his quest for a bipartisan infrastructure bill. 'The president's only red line [on infrastructure] is inaction,' White House press secretary Jen Psaki said last week at the close of a virtual climate summit attended by three dozen world leaders. Biden wants his plan to pass, she said, but his new climate pledge doesn't depend on it: 'We have several paths toward achieving that objective and that goal.' Now, with his climate summit behind him and a ferocious legislative battle ahead, Biden confronts a historic juncture that could determine whether the world's largest all-time emitter can lead the energy transition. If he fails, the United States might not have another chance to change trajectory before humans lock in catastrophic changes in temperature and sea-level rise. Democrats have failed before, first with the 2009 Waxman-Markey carbon cap-and-trade bill that died in the Senate and later through EPA's Clean Power Plan regulations that never went into effect. So now Democrats are trying something different. Although he has tried to avoid the Green New Deal label, Biden based his climate plan on a similar theory of politics. The old model of climate policy, which looked for ways to restrict fossil fuels through regulating and the market, imposed too many costs on too many groups. Instead, the government could essentially throw money at the problem. Massive federal investments could both accelerate decarbonization and cushion the transition. Julian Brave NoiseCat, vice president of policy and strategy at Data for Progress, a progressive public policy group, said the administration is emphasizing the investments and incentives that can boost clean energy. 'Biden and his team seem to have the view that carrots buy sticks,' he said."

UPDATE "How the Biden presidency looks from one pivotal Pennsylvania county, 100 days in" [CNN]. "Bethlehem is the largest city in [Northampton County], which sits on the eastern edge of Pennsylvania and is one of only 25 counties in America that, in the last four presidential races, voted twice for Barack Obama, followed by once for Trump and then for Biden." A compendium of not-very-insightful quotes. This one is the best: "'Certainly the temperature has been turned down and things are a little bit calmer,' said Don Cunningham, president and CEO of Lehigh Valley Economic Development Corporation. 'It's nice to not have all the noise coming out of Washington.'" • It doesn't feel like calm to me. It feels like anesthesia.

UPDATE "Scoop: Biden's secret talks with GOP" [Axios]. "Top White House officials have quietly been meeting — on the Hill and over the phone — with Republican senators who drafted a counterproposal to President Biden's infrastructure plan, multiple sources tell Axios. What we're hearing: The GOP senators say they're optimistic the Biden administration is open to concessions and can reach a compromise. They've been heartened by their talks with White House Chief of Staff Ron Klain, counselor to the president Steve Ricchetti and legislative affairs director Louisa Terrell. One idea is reaching a bipartisan deal on "Part I" of Biden's infrastructure package — the parts that Republicans consider "traditional" infrastructure, such as funding for roads, bridges and airports. That could force Democrats to tackle the second part, focused on child care, health care and climate change, via budget reconciliation." • Once, just once, I'd like to see the Democrats do "Lucy and the Football with Republicans." Does that make me a bad person?

UPDATE "Congress Eager to Increase Staff Pay But Fear Voter Backlash (1)" [Bloomberg]. • Do it. After the State of Maine stupidly gutted the Legislature's institutional memory with term limits, the only people who knew what the laws meant were the lobbyists.
Republican Funhouse
"After 100 days out of office, Trump's support softens in NBC News poll" [NBC]. "Even Trump's pull within his own party appears to have lessened, with 44 percent of Republicans saying they're more supporters of Trump than the GOP, versus 50 percent who say they're more supporters of the GOP than the former president…. It's the first time since July 2019 when party supporters have outnumbered Trump supporters in our poll, and it's also the first time that party supporters have reached 50 percent on this question. Strikingly, these numbers are coming as the perception of Trump's pull within his party couldn't be stronger. GOP politicians are still trekking to Mar-A-Lago. They're clamoring for his endorsement. And House Minority Leader Kevin McCarthy continues to hug Trump, even after what happened on Jan. 6. But close to 100 days after leaving office, Trump's standing — nationally as well within his own party — is weaker today than it was three months ago."
Democrats en Deshabille
"Former White House Adviser Is Charged With Stealing From Charter School Network" [New York Times]. "A former senior adviser in the Obama administration was arrested Tuesday on charges that he stole more than $200,000 from a network of charter schools that he founded and used the money to get a lower interest rate on a mortgage for a Manhattan apartment, federal prosecutors said. The founder, Seth Andrew, 42, is accused of taking money from bank accounts controlled by Democracy Prep Public Schools, which teaches mostly low-income students of color in New York and other states, and used it for the purchase of a $2 million apartment, prosecutors said." • The rent was too damn high….
Obama Legacy
Regarding "Why Barack Obama Was a Horrible President", this over the transom from alert reader SG:

When you write of Obama "whacking a US citizen with a drone strike" I'm afraid you're just not giving the man enough credit: a mere 2 weeks after the extrajudicial assassination of Anwar al-Awlaki, another drone strike killed al-Awlaki's 16 year-old son Abdulrahman (along with several others who had the extreme bad fortune to be dining at the same roadside restaurant where the younger al-Alawki had decided to have dinner). Abdulrahman had never even been accused of a crime. He had run away from his Denver home hoping to see his father, who had been on the run for over two years, one last time. After hearing of his father's demise, he was in the process of returning home when his own government decided to burn him alive (that is, after all what Hellfire missiles do). So not "a" U.S. citizen, but rather two. From the same family. And one of them a minor.

Obama should be in prison.

SG is correct. And yes, Obama should be in prison. As should Bush. And Trump.
Our Famously Free Press
"New York Post temporarily deletes, then edits false story that claimed Harris' book was given out in migrant 'welcome kits'" [CNN]. "The New York Post temporarily deleted, and then edited and republished, a debunked article that falsely claimed that copies of Vice President Kamala Harris' book were being included in 'welcome kits' given to migrant children at a shelter in Long Beach, California. The reporter who wrote the article, Laura Italiano, tweeted late Tuesday afternoon that she had resigned from the newspaper. Italiano tweeted: 'The Kamala Harris story — an incorrect story I was ordered to write and which I failed to push back hard enough against — was my breaking point.'" • Then again:

Kamala Harris' book being handed out to the kids in cages is more believable than "Joe Biden is FDR" and "Hillary lost Wisconsin because of Vladimir Putin"

— Doctor Fishbones (@DoctorFishbones) April 28, 2021
Stats Watch
Employment Situation: "Teen Job Gains Expected To Hit 2M Again This Summer" [Econintersect]. "Summer jobs created for teens aged 16 to 19 years old soared to 2.2 million during the pandemic-induced recession last year, as the types of jobs created en masse last summer were those that traditionally go to teen workers. With vaccines rolling into arms by the millions each day, better-than-expected retail sales, and a strong March jobs report, the summer of 2021 is shaping up to be a boon for teen job seekers, according to one workplace authority…. .'Retailers, quick-service restaurants, and amusement parks are looking for workers right now and many are having a hard time finding them, despite the 8.4 million Americans who are out of work,' said Andrew Challenger, Senior Vice President of Challenger, Gray & Christmas, Inc."
* * *
Shipping: "COVID Outbreaks Taking a Toll on the Ship Recycling Market as Well" [Hellenic Shipping News]. "According to the latest weekly report from shipbroker Clarkson Platou Hellas, "the recycling industry this week seems to have ground to a steady crawl with so much uncertainty enveloping the domestic markets. With Covid-19 cases rapidly increasing in India and outpacing the vaccination rollout in the country, the local market looks precarious once again as the authorities tackle this latest surge. This has meant that cutting activities have had to slow once again at recycling yards, due to oxygen bottle shortages (no supply from 22nd April) as well as further lockdown measures that are being imposed. Most recycling yards are still particularly sparse due to the lack of tonnage that has been available to them this year, and more surprisingly, is the lack of tonnage circulated that have required HKC green recycling resulting in the Indian recyclers being left on the side-lines as the Bangladeshi, and recently resurgent Pakistani, breakers benefitting from. However, with global steel prices remaining firm and Iron Ore soaring to a ten year high on the back of Chinese steel demand, the fundamentals for steel plate prices domestically to increase, and lack of available units, have meant that an aggressive buying appetite seems to be there from certain recyclers." • We wrote back in 2016 of a horrible ship-breaking fire in Gadani, Pakistan. If conditions in Gadani are the same now as they were then, and Pakistan is consider Green, heaven help India. (Also, fascinating cross-cutting confluence of crises: (a) steel shortage due to Covid recovery in China, and (b) oxygen shortage (for torches) due to Covid resurgence in India.)
Shipping: "Flexport: Trans-Pacific deteriorating, brace for shipping 'tsunami'" [Freight Waves]. "The number of container ships stuck at anchor off Los Angeles and Long Beach is down to around 20 per day, from 30 a few months ago. Does this mean the capacity crunch in the trans-Pacific market is finally easing? Absolutely not, warned Nerijus Poskus, vice president of global ocean at freight forwarder Flexport. 'It's not getting better. It's getting worse,' he told American Shipper in an interview on Monday. 'What I'm seeing is unprecedented. We are seeing a tsunami of freight,' he reported. 'For the month of May, everything on the trans-Pacific is basically sold out. We had one client who needed something loaded in May that was extremely urgent and who was ready to pay $15,000 per container. I couldn't get it loaded — and we are a growing company that ships a lot of TEUs [twenty-foot equivalent units]. Price doesn't always even matter anymore." • Boy, what a great market. Price signals actually work!
Shipping: "Ever Given insurance company says $900m compensation claim is unjustified" [Arab News]. "The insurance company for the Ever Given, which blocked the Suez Canal for almost a week in March, said it was disappointed by the court order to detain the vessel until $900 million compensation is paid after it had already made a generous offer to settle the claim." • No doubt! And from (paywalled) Lloyd's List: "Ever Given owners seek to cap Suez limitable claims at $115m."
Tech: "Facebook allows advertisers to target children interested in smoking, alcohol and weight loss" [Guardian]. "Facebook is allowing businesses to advertise to children as young as 13 who express an interest in smoking, extreme weight loss and gambling for as little as $3, research by the lobby group Reset Australia has found. The organisation, which is critical of digital platforms, set up a Facebook page and advertising account under the name "Ozzie news network" to see what ad options Facebook would provide through its Ads Manager platform. While Facebook will not allow the advertising of alcohol and other age-inappropriate content to people under 18, it does not prevent advertisers from targeting children determined by Facebook's profile to have an interest in alcohol, for advertising that might not appear explicitly to be about those topics. Facebook offered the page the ability to advertise to approximately 740,000 Australian children aged between 13 and 17, but then when the group refined the advertising by interest, found that, just as for those aged over 18, they were able to advertise to teens under 18 with interests in alcohol, smoking and vaping, gambling, extreme weight loss, fast foods and online dating services."
Tech: "Google bans DroidScript app over ad fraud allegation without reasoning" [Android Community]. Here is the original thread; it's Kafka-esque. I can't comment on the truth of Google's allegations, though of course Google is Evil. That said, it's clear that all the responses from AdSense to Appeals from the developer are from bots ("If you have a different question, please let me [sic] know" is a real gem). Perhaps Google every so often just picks a random business and nukes it, pour encourager les autres. I'm not sure I agree with you a hundred percent on your police work, there, Google, but on the bright side, that would let Google's cost center for deterring malefactors run on the cheap, algorithmically, with no humans involved at any level. In any case, if your business depends on a platform, you don't have a business.x
Tech: "Dominance of Apple and Google's app stores impacting competition and consumers" [Australian Competition and Consumer Commission]. "The ACCC has put forward a series of potential measures in response to its findings, including that consumers be able to rate and review all apps, that consumers have the ability to change any pre-installed default app on their device, that app developers be allowed to provide consumers with information about alternative payment options and that information collected by Apple and Google in their capacity as app marketplace operators be ring-fenced from their other operations." • Seems rather mild.
Tech: "GitHub Pages: Permissions-Policy: interest-cohort=() Header added to all pages sites" [Github]. "Websites can exclude a page from [Google's new] FLoC calculation by setting a Permissions-Policy header interest-cohort=() for that page."
* * *
Today's Fear & Greed Index: 63 Greed (previous close: 59 Greed) [CNN]. One week ago: 58 (Greed). (0 is Extreme Fear; 100 is Extreme Greed). Last updated Apr 28 at 2:38pm.
The Biosphere
"American Honey Still Contains Nuclear Fallout From the 1950s" [Popular Mechanics]. "It's important to note the levels are not high enough to be harmful, say the scientists, from the College of William & Mary. But how is radioactivity still lingering in honey production after 60+ years? The key ingredient is called radiocesium. Radioactive cesium is a fission product thrown off by hundreds of nuclear weapon test blasts from global superpowers, including the U.S., during the '50s and '60s. The isotope's radioactive half life is 30 years, meaning the worst of the radiation from these specific test blasts is well behind us. But the decades-old radiocesium is still in circulation for bees because it's close enough to the element potassium, one of the essential nutrients for plants, humans, and other animals. Plants mistakenly absorb radiocesium, believing it to be potassium. Honey not only picks up local plants' chemical composition, but magnifies it because of the mechanism of how honey is made, say the scientists. Bees consume nectar and, like the people who turn maple sap into syrup, concentrate the nectar so it's up to five times thicker. What's left has even more of the local chemical composition. …[L]evels spike in the southeast. Blame the geological nature of the region, where there's less readily available potassium because of the way rocks and soil are arranged. That means plants in the southeast grab more of whatever is around that seems like potassium, including radiocesium." •The Fable of the Bees in a different key.
Metaphor:
When the Wave touch the Sky
by conorhegyifilms pic.twitter.com/kZeJ3h0ugB

— Gabriele Corno (@Gabriele_Corno) April 27, 2021
Health Care
"A Backdoor Lets the Immune System Monitor the Brain" [Quanta]. "The researchers reported recently in the journal Cell that the immune system operates from a distance to constantly inspect the brain for signs of trouble. Immune cells, rather than making themselves at home throughout the brain itself, patrol the sidelines until they detect a threat. 'Immune surveillance of the brain takes place. It's absolutely normal, like in any other tissue,' said a coauthor, Jonathan Kipnis, in whose lab at Washington University the research took place. 'The only exception is that instead of this happening within the tissue, the brain pushed all its immune activity to its borders.' Using several kinds of imaging and tracing, the researchers tracked the cellular choreography that makes up this surveillance system. They saw that antigens — foreign substances, such as bits of pathogens — were washed from the brain in a flow of cerebral spinal fluid. This fluid streamed through a network of vessels that Kipnis' lab identified a few years ago and swept the antigens along so that they accumulated in the back of the brain. Here, in the area around the dural sinuses — channels on the brain's border that drain fluid out toward the body — the antigens came into close proximity to immune cells. 'Everything's actually highly concentrated in that one particular site,' Rustenhoven said. These vessels curving around the back of the brain proved to be a hub of immune system activity. The researchers tracked antigens and other substances crossing the arachnoid barrier, an obstacle that's known for its impermeability but which, they found, leaks in this particular area. Immune cells are waiting there. When these cells find a worrisome antigen, like one that suggests disease, they initiate a chain reaction that creates an immune response." • This is [family blogging] amazing stuff. We really had not idea how the immune system works. (And are we really sure the communication is one way?)
"The Cuboid: A DIY air purifier that's better than a box-fan" [Dynomight]. "The only significant cost is the fan ($30) and the filters ($70 for 4). This is more expensive than a box fan design, where the fan costs $19 and you only need 2 or 3 filters. However, as mentioned above, the cost of extra filters evens out in the long run since they need to be replaced half as often." • This looks really good (DIY mavens please chime in). So if your school board is whinging that they can't do anything about aerosols because HVAC, or some consultant is trying to sell them fancy tech that doesn't work, show them this.
"US Public Health Neglected: Flat Or Declining Spending Left States Ill Equipped To Respond To COVID-19" [Health Affairs]. The Abstract: "The COVID-19 pandemic has prompted concern about the integrity of the US public health infrastructure. Federal, state, and local governments spend $93 billion annually on public health in the US, but most of this spending is at the state level. Thus, shoring up gaps in public health preparedness and response requires an understanding of state spending. We present state spending trends in eight categories of public health activity from 2008 through 2018. We obtained data from the Census Bureau for all states except California and coded the data by public health category. Although overall national health expenditures grew by 4.3 percent in this period, . Moreover, state spending levels on public health were not restored after cuts experienced during the Great Recession, leaving states ill equipped to respond to COVID-19 and other emerging health needs." • Thanks, Obama, good job.
"The detection dogs tracking poachers and Covid-19" (video) [BBC]. "Marlo is sniffing out coronavirus in the UK, and Thor is tracking poachers in Tanzania Read." • I will admit there are no tracking cats. So dogs really are good for something.
Guillotine Watch
"Elon Musk props up carbon removal research with $100 million competition" [CNN]. • The headline. Doesn't the idea that carbon removal is being "propped up" by one heroic billionaire veer perilously close to propaganda?
Class Warfare
"1 big thing: 'Cancel culture' comes for books" [Axios]. "Simon & Schuster faced a petition opposing authors associated with the Trump administration, including Mike Pence, The Wall Street Journal reports. The petition garnered 216 internal signatures and 3,500 from outside, including well-known Black writers." • PMC class consciousness, one of the unintended consequences of Trump's election. I think there could be a nice niche market for consultants willing to purge publishers' backlists of people like Ezra Pound (fascist), T.S. Eliot (anti-semite), John Berryman (drunken abuser), Mark Twain (used the N-word), Flannery O'Conner (reactionary Catholic), Agatha Christie (colonialist), Jane Austen (where did the prospective husband's money come from, anyhow?), and Emily Brontë (Heathcliff, ZOMG). Can't "these people," just for one second, get over themselves? Oh, and Homer (micro-aggressions).
News of the Wired
"Early alphabetic writing in the ancient Near East: the 'missing link' from Tel Lachish" [Cambridge University]. "The origin of alphabetic script lies in second-millennium BC Bronze Age Levantine societies. A chronological gap, however, divides the earliest evidence from the Sinai and Egypt—dated to the nineteenth century BC—and from the thirteenth-century BC corpus in Palestine. Here, the authors report a newly discovered Late Bronze Age alphabetic inscription from Tel Lachish, Israel. Dating to the fifteenth century BC, this inscription is currently the oldest securely dated alphabetic inscription from the Southern Levant, and may therefore be regarded as the 'missing link'. The proliferation of early alphabetic writing in the Southern Levant should be considered a product of Levantine-Egyptian interaction during the mid second millennium BC, rather than of later Egyptian domination."
"macintosh.js" [Felix Rieseberg, GitHub]. "This is Mac OS 8, running in an Electron app pretending to be a 1991 Macintosh Quadra. Yes, it's the full thing. I'm sorry…. This is a toy – it's not the best nor the most performant way to emulate an old Macintosh. It is, however, a quick and easy way to experience a bit of nostalgia if you're not trying to do anything serious with it."
* * *
Readers, feel free to contact me at lambert [UNDERSCORE] strether [DOT] corrente [AT] yahoo [DOT] com, with (a) links, and even better (b) sources I should curate regularly, (c) how to send me a check if you are allergic to PayPal, and (d) to find out how to send me images of plants. Vegetables are fine! Fungi and coral are deemed to be honorary plants! If you want your handle to appear as a credit, please place it at the start of your mail in parentheses: (thus). Otherwise, I will anonymize by using your initials. See the previous Water Cooler (with plant) here. Today's plant (AM):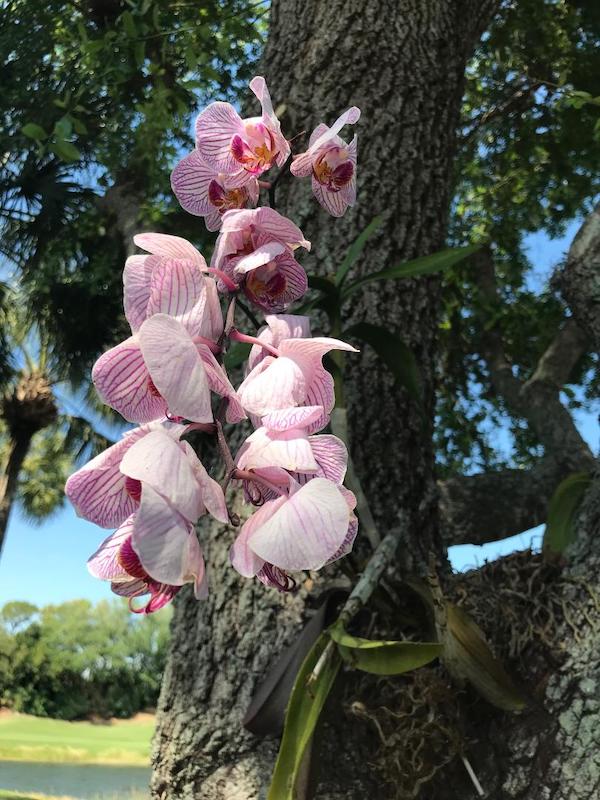 AM writes: "Windy day, so challenging to capture. Orchid left to its own devices in tree for the summer. North Naples, FL 3/25/2." You can practically see the orchid climbing the tree!
* * *
Readers: Water Cooler is a standalone entity not covered by the recently concluded and — thank you! — successful annual NC fundraiser. So if you see a link you especially like, or an item you wouldn't see anywhere else, please do not hesitate to express your appreciation in tangible form. Remember, a tip jar is for tipping! Regular positive feedback both makes me feel good and lets me know I'm on the right track with coverage. When I get no donations for five or ten days I get worried. More tangibly, a constant trickle of donations helps me with expenses, and I factor in that trickle when setting fundraising goals:
Here is the screen that will appear, which I have helpfully annotated.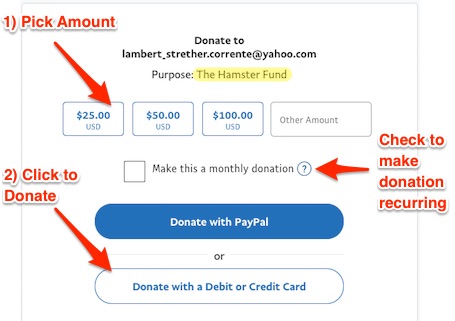 If you hate PayPal, you can email me at lambert [UNDERSCORE] strether [DOT] corrente [AT] yahoo [DOT] com, and I will give you directions on how to send a check. Thank you!