On the one hand, I should be flattered that Brad DeLong took the time and trouble to take two posts (here and here) to respond to my comments on an earlier post of his, in which I objected to his and Summers' notion of having the government fund either directly or indirectly, the purchase of mortgages. On the other, as I will discuss below, he objects to my argument by invoking theory, which was (although I did not make that explicit) one of the reasons I took issue with his original post, namely a lack of reference to facts on the ground in the housing market. I'll admit I didn't invoke data in that particular post because it was getting long and I've covered that ground extensively elsewhere, but that might have misdirected him.
He mentions in his current post that he and Summers also advocated the recapitalization of banks; note I did not object to that (although I am not keen about government funded recapitalization unless the industry also put on a very short leash, I view that as a more efficient and therefore lower cost way to salvage the financial services industry than propping up either the mortgage or housing markets. Those I see as inefficient and therefore more costly, but more in the short term more politically palatable ways to address the same end because the costs are largely invisible to the great unwashed public, at least till the losses and dislocations come home to roost).
Let me give you the guts of DeLong's riposte:
That's Smith's argument: that Larry Summers and I neglect the implications of the fact that "the government cannot keep asset prices from declining to their fundamental value." How sound is it?

The fundamental value of any risky asset–housing, say–depends on (a) per-period value or profit, (b) the time profile of safe interest rates, (c) the quantity of risky assets that the private financial sector must bear, (d) the amount of risk associated with each tranche of risky assets, and (e) the risk-bearing capacity of the private market. All of things are things that can be high or low–and that the government can affect:

A competent government that keeps the economy near full employment boosts future profits and values; an incompetent government that fails to stem an economic collapse into depression diminishes them.

Similarly, a competent government that keeps asset prices from being pushed into fire-sale territory by irrational pessimistic panic diminishes the amount of risk associated with each tranche of risky assets.

The Federal Reserve controls the time profile of safe interest rates. No argument.

The government can buy up or guarantee risky assets, thus diminishing the quantity that the private market must hold–unless you adopt some hyper-Barrovian pose and are willing to maintain that Bernanke-Paulson puts are not net wealth.

The risk-bearing capacity of the private market can be extended via financial regulation that diminishes the chance that a relatively uninformed investor is being victimized by someone with inside information, and widens the pool of investors willing to bear risk.

What, then, is this "fundamental value" to which asset prices must decline if government policy can have effects–profound effects on nearly each of the factors on which fundamental value depends?

The Marx-Engels-Hayek-Smith line of argument does attempt a parry. It says that the root problem is overproduction–that we have too many houses. Attempts to change fundamentals will mean that those who build more houses will continue to earn more profits, and so we will have more and more and more houses, and we will have an even greater overproduction crisis some time in the future. So we must make sure that housing prices are so low that nobody builds another house for a long time to come, and that is the only way to minimize the misery coming out of the collapse of the housing bubble.

I have never been able to make this "overproduction" argument make sense. If the government provides a subsidy–like a mortgage insurance subsidy–then we will indeed have more of whatever the government subsidizes, but there is no reason to think that this is in any way a big problem or an unsustainable situation. It may well be a waste of the government's money to provide the subsidy: taxpayers might rather endure a housing crash and a depression than be forking out extra taxes to pay mortgage guarantees. That's an empirical and a cost-benefit issue.
If I read DeLong's argument correctly (and readers are invited to disagree), he rejects the idea that there can be such things as asset bubble because they are based on an idea promulgated by economists not held in much esteem these days (Marx-Engels-Hayek) of overproduction.
In fact, there are other constructs for this precisely this sort of bubble made by economists held in higher repute. Consider the abstract of George Akerlof's and Paul Romer's "Looting: The Economic Underworld of Bankruptcy for Profit":
During the 1980s, a number of unusual financial crises occurred. In Chile, for example, the financial sector collapsed, leaving the government with responsibility for extensive foreign debts. In the United States, large numbers of government-insured savings and loans became insolvent – and the government picked up the tab. In Dallas, Texas, real estate prices and construction continued to boom even after vacancies had skyrocketed, and the suffered a dramatic collapse. Also in the United States, the junk bond market, which fueled the takeover wave, had a similar boom and bust.

In this paper, we use simple theory and direct evidence to highlight a common thread that runs through these four episodes. The theory suggests that this common thread may be relevant to other cases in which countries took on excessive foreign debt, governments had to bail out insolvent financial institutions, real estate prices increased dramatically and then fell, or new financial markets experienced a boom and bust. We describe the evidence, however, only for the cases of financial crisis in Chile, the thrift crisis in the United States, Dallas real estate and thrifts, and junk bonds.

Our theoretical analysis shows that an economic underground can come to life if firms have an incentive to go broke for profit at society's expense (to loot) instead of to go for broke (to gamble on success). Bankruptcy for profit will occur if poor accounting, lax regulation, or low penalties for abuse give owners an incentive to pay themselves more than their firms are worth and then default on their debt obligations.
Similarly, Carmen Reinhart and Kenneth Rogoff have circulated an elegant and rather disconcerting paper, "Is the 2007 U.S. Sub-Prime Financial Crisis So Different? An International Historical Comparison" From their paper:
The first major financial crisis of the 21st century involves esoteric instruments, unaware regulators, and skittish investors. It also follows a well-trodden path laid down by centuries of financial folly. Is the "special" problem of sub-prime mortgages this time really different?

Our examination of the longer historical record, which is part of a larger effort on currency and debt crises, finds stunning qualitative and quantitative parallels across a number of standard financial crisis indicators.
I could provide other support, but I figured I'd limit myself to some contemporary economists held in high esteem. Yet De Long chooses to assert that the only basis for my argument is "Marx-Engels-Hayek" which has the interesting effect of putting me in the same camp as admittedly famous names who are seen in most quarters as outdated and/or cranks who might have had an occasional valid observation.
De Long also quotes Keynes in a manner that suggests that I am on the side of cold water Yankees who want to punish speculators and that does a disservice to the economy as a whole. I hope some readers will go through the DeLong post and do a sanity check on whether I am being unduly sensitive, but I read a veiled ad hominem attack in how he constructs his argument and cites Keynes to misconstrue my point.
As an aside, I must also note that DeLong did not indicate the date of Keynes quote, which also says that the "world was enormously enriched by the constructions of the quinquennium from 1925 to 1929." That may well be true; that period (in terms of innovation) may have had more in common with out dot-com era. But I find it hard to see how the world, or even America, was enriched by five years of housing (and to a lesser extent, commercial real estate) speculation, particularly now that we are going into a period of energy scarcity. Costly-to-heat McMansions will be as fashionable and useful as bell-bottoms. Similarly, the Dow did not return to its 1929 peak till 1954. A generation of wealth was destroyed to pay for those enormously enriching constructions of 1925-1929, and enthusiasm towards stocks did not return till the 1960s. I wonder if Keynes would have toned down his positive words for the 1925-29 period had he had a full view of the costs.
DeLong, in essence, argues that there is no such a thing as fundamental value because government can influence a lot of the variables that determine value. Yes and no.
One of the things that I have done frequently over my career is value financial assets, often in markets where it is very difficult to find benchmarks or regulatory or technological change makes valuation a tricky task. And as most investors know, market prices can trade away from fundamental values for a very long time (currencies are particularly noted for this behavior). As Keynes said, "The market can stay irrational longer than you can remain solvent."
Nevertheless, there are several important points DeLong misses:
1. The Fed's influence over interest rates is limited. It can only play with the short end of the yield curve. For instance, even though it would have liked to bring down long rates as well as short rates, inflation fears have led to some particularly weak ten-year auctions, and fixed mortgages key off longer-dated Treasuries.

2. The government's ability to take effective action to shift prices in a market as large in the housing market is limited; we are already seeing policy measures unintended consequences that come close to negating the benefit of the initial measure.

Housing is a $20 trillion market. Mortgages are estimated to have a face value in the $11 to $12 trillion range. Paul Krugman compared the Fed's efforts with the TAF and other moves to increase liquidity to currency intervention and drew some of his cartoons to illustrate. But he noted that the Fed's influence is limited:

OK, this is just like the way you analyze sterilized intervention in currencies. And the usual problem with such intervention applies: the financial markets are so huge that even big interventions tend to look like a drop in the bucket. If foreign exchange intervention works, it's usually because of the "slap in the face" effect: the markets are getting hysterical, and intervention gives them a chance to come to their senses.

And the problem now becomes obvious. This is now the third time Ben & co. have tried slapping the market in the face — and panic keeps coming back. So maybe the markets aren't hysterical — maybe they're just facing reality. And in that case the markets don't need a slap in the face, they need more fundamental treatment — and maybe triage.

This means that to move mortgage prices, the federal government would have to become a big enough buyer to have a price impact. I have no idea how big that number is, but given that other measures have failed, it will be very large. And these large scale efforts to shore up the housing market have either been ineffective or have backfired, as we detailed in an earlier post. Similarly, John Dizard pointed out that expanding the role of Fannie and Freddie, every politician's favorite solution to the problem, is likely to create systemic risk:

This process of risk control on the part of the GSEs creates systemic risk for the fixed-income markets. GSE hedging tends to be pro-cyclical….. So the hedging activities tend to accentuate market moves. As rates rise and bond prices fall the GSEs are, in effect, selling fixed-income derivatives into a falling market. As long as the derivatives books are small relative to the size of the market, that is not a big problem. When the GSE derivatives books got big, that was a problem.

By 2001 Fannie and Freddie together had more than 10 per cent of the total market in dollar-based interest rate derivatives. That concentration of risk was worrisome for the central banks. As we wrote at the time, they were concerned that the banks and brokers who were the counterparties for the GSEs would need back-up for these commitments from the Federal Reserve Board. Worse, from the point of view of the Fed, and Alan Greenspan in particular, the GSEs' management had financial incentives to continue to expand their books of business….

Then Mr Greenspan, the GSE regulators and their geeky allies got lucky. A management compensation scandal broke at the GSEs ….

Unfortunately, the squeezed balloon of mortgage credit just bulged out elsewhere. The GSEs, and the rest of the financial markets, assumed more credit risk, and they are now incurring those very real losses….

If this balance sheet growth does happen, the GSEs will be back to assuming the same rate risks that were so alarming four or five years ago, only bigger. And they will be attempting to hedge their rate risks using counterparties that are far more capital constrained than before.

Another constraint on the Federal government's ability to act is our massive current account deficit. Japan is the only precedent I can think of for an asset-propping exercise of this scale, and most do not deem it to have been a very successful experiment. And Japan at least had the advantage of a very high domestic savings rate and thus could manage its crisis internally. Brad Setser has already found ample signs that private capital flows are drying up and we are largely dependent on foreign central banks. Dizard indicates in a current article in the FT that the Fed is unwilling to balloon its balance sheet to provide lending facilities for banks (it has maybe $300 billion of capacity left before it would have to issue more liabilities).

3. Subsidies and interventions to prop up the housing market, which does nothing for the competitiveness of the US economy, will divert capital from other uses. Note that the US already has one of the most heavily subsidized housing markets in the world, between the mortgage interest deduction, FHA, and Fannie and Freddie.

4. DeLong views the current situation as "irrational pessimistic panic." I'd say what we are having instead is a rude awakening that trees do not grow to the sky. He was not evidently not following the markets closely in 2006 and 2007, when signs of irresponsible lending were rampant and you saw bubble-like growth in almost every asset class except the US and Zimbabwe dollar (oh, and the yen, the foundation of the carry trade which helped turbo-charge this situation). Has DeLong considered the nasty problem of counterparty risk in the credit default swaps market? Many people believe that was the main reason for the Bear bailout, that Bear as a CDS protection writer could not be permitted to default (or have uncertainty about the value of its contracts) for it would precipitate a massive unwind in the CDS market. That is a train wreck waiting to happen. The damage to the large financial firms that have become central to credit intermediation could be as bad as that caused by the mortgage market meltdown. As I said above, these markets are too big for the government to rescue, and it is wasting valuable firepower trying to do so.

A colleague who has security clearances and close contacts at the Treasury and Fed (yes, I know some people on the dark side) said some months ago that the Fed and Treasury were looking into a partial nationalization of the banking system. This is from an Administration that is ideologically opposed to that sort of measure. That (and the blunt comments of the Japanese that we need a government bailout of our banks, which is completely out of character for them). This is not irrational panic.
Let's get away from abstractions.The old fashioned way to value financial assets is via discounted cash flows (and yes, this is problematic because you have implicit assumptions about reinvestment rates, you need to choose a discount rate, and most models use a terminal value computation which inevitably swamps everything in the calculation. Comparables is another popular method, although that has the convenient effect of muddying the question of price with value.; it's what real estate appraisers and those who value non-income generating assets, such as fine art, use).
Housing is priced in relation to prevailing income and rentals. There is ample evidence that housing is now (still) considerably overpriced in relation to incomes (click to enlarge):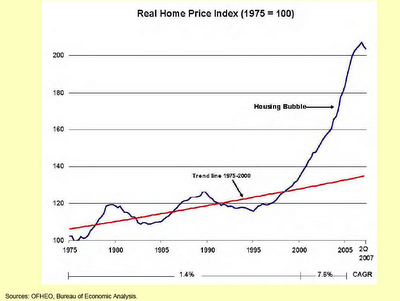 This chart from the Reinhart/Rogoff paper suggests the trajectory our housing prices are likely to follow. Note that in the "Big Five" which they felt was the most germane comparison for the US credit contraction, real housing prices reverted to their pre-bubble level, which shows we have a long way to go: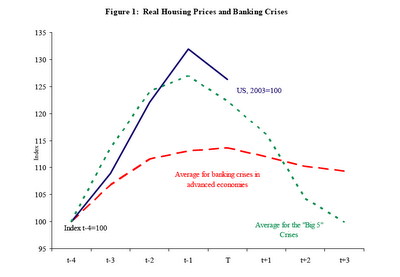 This chart illustrates how banks' willingness to lend unprecedented amounts against income led to unsustainable increases in buying power: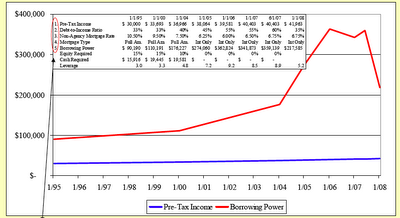 And a final thought from Dean Baker, "Why Is Congress So Anxious to Make Homeownership Unaffordable?":
That is a question that reporters might try asking proponents of Congressional plans to prop up housing prices in bubble inflated markets. There is no obvious public interest that i can see in sustaining above market house prices. The housing bubble has prevented millions of young families or people moving into places like New York, Boston, Los Angeles from being able to afford to buy a house or alternatively forced them to stretch their budgets hugely and take on dangerous debt levels.

It might be reasonable to think that Congress would want these prices to return to trend levels as soon as possible. Instead it seems determined to use taxpayer dollars to sustain inflated prices. Someone should as them why.