A colleague, who is close to a number of fund manager talking heads, observed that there was an uncharacteristic, gaping disparity between what many of them are saying on TV ("it'll be over in a quarter or two") and their far more downbeat private views. He did not offer a reason for their lack of candor, but I'd assume it is a reluctance to fan fears in already edgy markets.
Today's interview at CNBC with David Kotok of Cumberland Advisors may embolden some of these commentators to become more outspoken.
Kotok argues that the financial crisis is only about half way over and another leg down is in the offing. His main reason is that banks have continuing needs for capital and at the current costs in the markets, the math doesn't work. Some firms will be unable to raise funds privately.
Kotok also believes with rising international political tensions and other advanced economies faltering, we could see a strong dollar next year in combination with rising oil prices.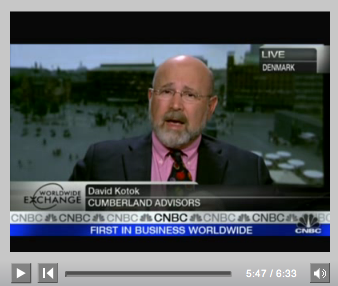 Click here for the video and related news story.