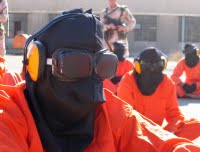 Shortly after President-elect Barack Obama is sworn-in to the Chief Executive's office, plans will be announced for the swift closing of Gitmo's sordid chapter in the so-called war on terror. But in a shocking about-face of opinion (to those and readers who think they know me), I will beg to differ with Obama about the imminent policy reversal.
Not, of course, that I think the chapter shouldn't be closed. It should and non-too-soon. But America's little breeze-block, barbed-wired gites-in-the-sun for the morally-compromised and legally-challenged may yet have some legs and alternative uses. I am certain I am not the only one to conjure up alternative uses, but I will nonetheless put them to you. First, Gitmo would be a just place to deliver [many] of the lamest (and I haste to call them "public servants") decision-makers in America's history who've past or presently mal-served the American people. Legal luminaries (ahemmm…) such as Alberto Gonzales, the Dark Lord, Mr Rove, Scooter Libby, as well as Gulf War architects Wolfowitz, Feith, and Perle. Then of course there could be a wing reserved for Delay, Lott and Jack Abramoff, and the original enablers of the Bush-presidency-fiasco, brother Jeb, and Florida's DARling Katherine Harris.
And there is no shortage of solitary cells, suitable for the likes of Mozillo, Cassano, Fuld, in addition to the host of negligent officials at the SEC, Fed, and Treasury (and Congress) who promulgated and defended the lack of public interest as a policy unto itself. Can't you see it: Friday night movies replaying for their edification Michael Douglas' rendition of "Greed is Good". Torture? I do have objection to the physical kind, but see nothing wrong with the loud unceasing piping-in 24-7 of Limbaugh, Savage, Hannity and O'Reilly.
Surely there are others to fill the ranks: the new administration could rendite Gordon Brown and his former cohort enablers who, contrary to current belief, have wrecked the economy of Great Britain on a scale on par with that achieved by the Luftwaffe, by encouraging, permitting, justifying and apologizing for a leverage-binge equivalent to – if not greater than – that of the of the former colonials.
Surely you'll all have a few personal favorites you think worthy of an extended all-expense paid "holiday" in the sun…