Dear readers, this is a bit of an experiment (think of it as the econblog analogy to open source).
When Geithner presented his bank plan, such as it was, I was particularly disgusted by the "public/private partnership plan rubbish. It struck me as a costly way to paper over the irresolvable conundrum with Paulson's two failed "let's buy bad assets" plans, his private sector MLEC, and the taxpayer funded TARP.
The problem with both is that there is a gap between the market price of the bad assets and where they are carried on the bank's books (of course, in theory, this paper should be valued at market, but between Level 3 accounting and other fudges, this is less true than we'd all like to believe). So the banks will sell only at book value or a higher price, meaning above market (there would be no need for this sort of nonsense if the garbage was carried at market value; they could simply unload it; they are not willing to sell it for less, since they would book a loss, and Uncle Sam does not want to inflict losses on bank, even when it would be in the collective best interest).
So in the TARP scenario. the Treasury would pay an above-market price, which would constitute an undisclosed subsidy (the public would not know the split between fair value for assets purchased and overpayment) and considerably reduce the likelihood of achieving the government's PR spin, that the taxpayer would not lose money on this exercise.
I had not thought more deeply about the public/private partnership idea, because it could not close this gap; it merely represents a convoluted (and likely more costly) way of disguising the underlying problem from the public. And I had also assumed (or more accurately hoped) that it would, like the Paulson variants, die a slow death as the Treasury realized it could not make it achieve all the intended objectives.
But that assumption could be very wrong. It is possible the program will be created, but will be too small (as in there will only be a small subset of dud assets that the banks will be amenable to unloading that will also appeal to investors under the program's constraints) to make real difference to any institution. Thus the public/private partnership will have enriched investors without achieving any useful end.
I not focused on any of the speculation on what the program might look like, figuring we'd all have a chance to analyze it once finalized. But that may be a mistake. It might be better to foment discussion on the program now, while it is still in play, in the hope that the media might pick up on this theme and carry it forward.
To that end, I am featuring a message sent by a reader who calls himself MinniRenter. He also sent an Excel spreadsheet; I snapshotted the output.
I encourage readers to focus on his assumptions first. If his assumption are wrong (or perhaps correct, but not the only scenario under debate). then it does not make much sense to dig into his analysis. But if the assumptions pass muster, then further prodding makes sense.
From reader MinniRenter:
This spreadsheet shows that the Public/Private (P/P) plan is inferior to the initial TARP idea (TARP). That does not mean TARP I is a good idea. Here are the rough details that I have heard about the P/P:

-Government pays bank difference between market price and book price (or price that keeps the bank solvent).

-Private buyer pays market price.

-Private buyer is paid a preferential or hurdle return before the government gets a dime.

-After the government is repaid in full the two parties share gains pro-rata.

This idea was proposed as an enhancement to the TARP because the government doesn't know how to value these assets. The attached spreadsheet shows that the information that the private buyer reveals, does the governmnet absolutely no good, unless the private buyer is wrong.

I suppose one argument for P/P over TARP is that there are some assets that the bank would not be able to offload in P/P that they would be able to get rid of under TARP. I would counter that P/P is not guaranteed to do anything for the banks because the criteria dictating how many and which assets are sold is the generation of good returns for the private investors. Private investors will not just continue to buy assets because Timmy says the banks are not solvent yet. So it tries to accomplish recapitalization with a program that is really designed to make private investors rich.
Click to enlarge: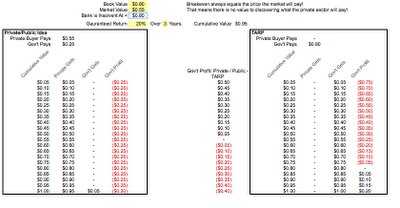 Needless to say, comments appreciated.