The Milken Institute has released a new report on the housing/credit crisis, which is a preview of a book to be released this spring (hat tip reader Dwight). What I found particularly interesting, given the Institute's conservative leanings, is that the policy recommendations were on the whole, middle of the road. They acknowledged the need for regulation (but urged that it focus on preventing future crises, with tougher restraints on liquidity, credit, and capital leverage, and monitoring of off balance sheet exposures (frankly, I'd be done with them). It also did not call for ending subsidies to homeowners (admittedly, it would take a very long time to wean Americans off that, even if there was the political will for it), but a change in practices. I don't see this tone as representing a change in the Institute's stance but a pragmatic recognition of what is feasible in the current environment.
Some of the charts I found noteworthy. My favorite Robert Shiler factoid is that housing prices, from 1890 onward (no typo) have increased at a real rate of 0.4%. The first chart shows how stupendous the recent runup was: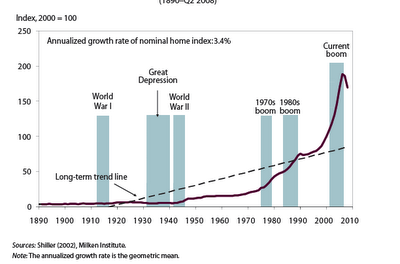 Even though many readers no doubt recall that downgrades were coming a mile a minute, I hadn't seen a tally before: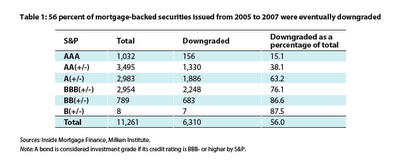 More good stuff here.