Monkeys 'teach infants to floss' BBC
Women opt out of math/science careers because of family demands Science Codex. Please tell Larry Summers.
AIG Bonuses – It Gets Worse Bruce Krasting. This post is NOT about AIG bonuses, but about other less than stellar ways your taxpayer dollars are being put to work.
Railroad Bailout May Offer a Model for Detroit Louis Uchitelle, New York Times. Is it just me, or do you read Uchitelle as damning the Conrail success with faint praise?
Accounting: a Narrative Art? CFO. Does that mean accountants and regulators will need to study deconstruction?
Downturn takes toll on US earnings Financial Times
Air passenger numbers drop for first time in 17 years Times Online
Credit Default Swaps – Exercises in Surrealism Satyajit Das. Good detail. Also disputes the widely held view that the Lehman CDS settlement was a non-event.
A Fred Goodwin or Dick Fuld in all of us Lucy Kellaway, Financial Times
China details auto stimulus plan for rural residents Xinhua (hat tip reader Steve L)
Antidote du jour (hat tip reader Paul for the photo).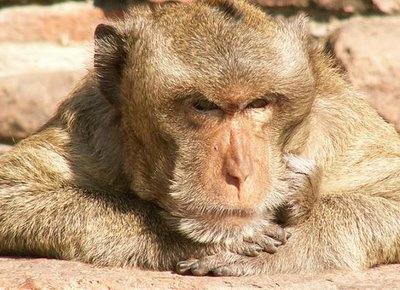 This video may not be your sort of thing, but I find it gives me a boost. ESPN deemed it to be the second best individual sports performance of the 20th century after Wilt Chamberlin scoring 100 points in a single game.
And I saw this comment on Amazon on a book about the Secretariat:
I was wounded on 12/24/72 on the Bassac River,Vietnam.I came home and was at the Philadelphia Naval Hospital in April of 73
when I first heard of Secretariat.My Mom was a an avid horse racing fan,so I watched his Derby and Preakness on T.V..I felt that I had to see this horse in person so when I went to New York to see my parents I went to the Belmont on the day he ran.
I was feeling really bad about myself from the war,but when I saw him in the circle before he went out to the track,I felt cleansed.I don't want to sound all flowery and all,but I'm sorry if no one understands.They weren't there with me.He looked me right in the eye and I felt good for the first time in a long time.I didn't feel that I would ever feel good again,but a horse changed all that in me with just one look.Imagine that.For making me feel better,I owe him that,and will alwys love him for it.I bet $100.00 dollars on him that day.I still have the ticket.
Also, in the last 48 hours, a reader sent me an email with a lot of darling pictures, some captioned, one showing a white tiger hugging someone. I can't find it in my inbox or trash. Don't ask me how it disappeared. Please resend. Thanks.