Chernobyl 'shows insect decline' BBC
Harlan Ellison ANGRILY Sues Paramount Over His Old "Star Trek" Script The Fiction Circus. I am a long standing Ellision fan (how many of you have read The Glass Teat, for instance?). A mighty fine rant.
A Little Flab May Weigh Heavily on Life Expectancy, Study Shows Bloomberg. The definition of "a little flab" is awfully generous.
Is AIG Insolvent? Angie Littwin. Lawyers weigh in on clawing back AIG bonuses.
Citigroup Dividend Payments Still Ongoing Huffington Post
Cuomo Discovers All Kinds Of Outrageous AIG Bonus Facts Henry Blodgett, Clusterstock
Just What We Needed — More Homes Jack McHugh, The Big Picture
January's TIC data … Brad Setser
The Geithner Betting Line Paul Kedrosky
'Covenant-Lite' Loans Face Heavy Hits Wall Street Journal. Curiously fails to mention the biggest problem of cov-lite deals. Borrowings with normal covenants allow creditors to step in and force management to take remedial action at an earlier stage in the "company in trouble" process. Cov-lite means restructurings, more likely, bankruptcies, take place when the company is in more dire straits. That increases the odds that a company will not be able to use Chapter 11, but will instead be forced into liquidation, greatly increasing job losses.
Paying Workers More to Fix Their Own Mess David Leonhardt, New York Times. Today's must read.
Antidote du jour. There was a two legged dog in my neighborhood. It was blond, maybe 40 pounds, pointy ears that folded a bit. She would go out regularly in a stroller, sitting up like an overgrown toddler, and seemed very happy.
This is from reader Aaron:
Mrs. Voz pulled this puppy out from under a house in Hawaii, and I raised her…..

I would be honored if you showed her picture.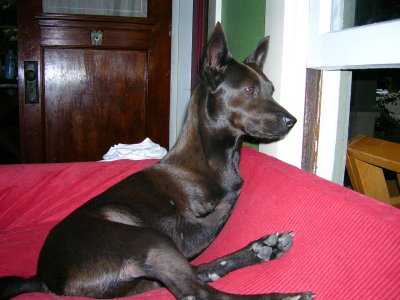 From reader Don: