Submitted by Rolfe Winkler, publisher of OptionARMageddon
Ahead of official announcements regarding stress test results, OA thought we'd publish our latest update for banks' tangible common equity, a metric that is likely to figure prominently in the results.
A recent Reuters report said "U.S. regulators want the top 19 banks being stress-tested to have at least 3% [TCE]." In other words, regulators want leverage ratios below 33x.* Surreal, no? That the banking system has grown so bloated that 32x leverage can be considered "healthy?"
Using the 3% Test, the results for the nation's nine largest banks are mixed…..four pass, five fail…..
And by the way, this is before "stressing" the balance sheet per future "adverse" scenarios. As you can see, most banks fail the test before they even sit for it…
(Click to enlarge)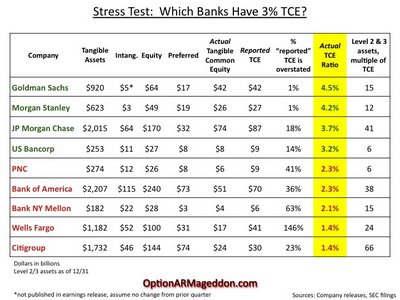 To be clear, this is not a prediction of the government's verdict. As Jack Ciesielski of The Analyst's Accounting Observer points out: "there is no iconic definition of TCE. Treasury may come up with one of their own that takes into account questionable items" so that all the banks pass. That would be consistent with early reports….
The banks themselves have varied definitions of TCE. The measure is supposed to be the true acid test of bank capital, which means it should be calculated conservatively. ALL intangible assets have to be backed out.* To calculate the TCE Ratio in the highlighted column, I'm using a very conservative calculation.**
Banks' own methodology for calculating TCE varies. The "% overstated" column is meant to show which ones have taken the most liberties. (Interested parties can contact OA via e-mail to purchase our data set containing more detailed info about each bank's calculation methodology, as well as quarterly TCE data and Level 1/2/3 assets dating back to Q1 '08.)
A huge caveat with this data is that these companies have off-balance sheet exposures. Some of them huge. And many have big chunks of "other assets" on balance sheet, some of which may be intangible. When there is disclosure for these, it varies. So to keep the data consistent, both are excluded. Hopefully the stress testers got a decent view of these risk buckets in order to factor them into results….though I wouldn't count on it….
Incidentally, I added the right-most column in order to give readers a sense for the degree of vulnerability on the asset side of bank balance sheets. Level 2 ("mark to model") and Level 3 ("mark to myth") asset values are the ones over which management has the most discretion. These days management can't be trusted so it's our bet that those with the biggest discretionary buckets—JPM, BofA, C—are the ones sitting on the largest losses.
—————–
*All the banks fail to back out mortgage servicing rights from TCE, even though these are intangibles under GAAP. Some banks (BofA, Wells, Chase) have substantial MSRs, others (GS, MS) don't. Some banks add back "def'd tax liabilities" related to intangibles (BNY Mellon, Wells, Chase, PNC). This is not conservative. Two banks (Wells, PNC) goosed TCE by reclassifying "noncontrolling minority interests" from liabilities to equity.
**TCE = shareholder's equity (excluding noncontrolling minority interests) – goodwill – intangibles – preferred – MSRs.
Fair Disclosure: OA has short positions in companies mentioned in this post.