Readers may know we have oft pointed to the work of Carmen Reinhart and Kenneth Rogoff on financial crises. They have built a large database of past crises, and have compared the US to past crises countries. Their conclusion was that the US looked like a typical crisis country "only more so", and in two presentations, compared our progress to date to the trajectory of past postwar crisis countries. Their conclusion is that financial crises are protracted affairs. For instance, it typically takes the stock market 3 1/2 years and the housing market over 5 to bottom.
The IMF, in its latest World Economic Outlook, confirmed the Reinhart/Rogoff take, based on its own analysis of business cycles in 21 countries from 1960 onward (click to enlarge)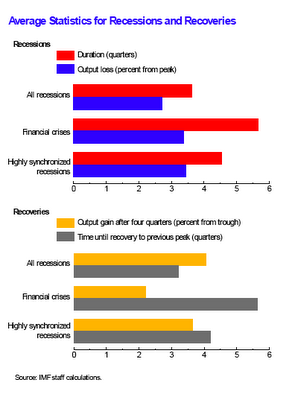 From the summary:
.
..recessions associated with financial crises have typically been severe and protracted. Financial crises typically follow periods of rapid expansion in lending and strong increases in asset prices. Recoveries from these recessions are often held back by weak private demand and credit reflecting, in part, households' attempts to increase saving rates to restore balance sheets. They are typically led by improvements in net trade, following exchange rate depreciations and falls in unit costs.

Globally synchronized recessions are longer and deeper than others. Excluding the present, there have been three episodes since 1960 during which 10 or more of the 21 advanced economies in the sample were in recession at the same time: 1975, 1980 and 1992. The duration of a synchronous recession is, on average, nearly 1½ time as long as the duration of the typical recession. Recoveries are usually sluggish, owing to weak external demand…

The analysis suggests that the combination of financial crisis and a globally synchronized downturn is likely to result in an unusually severe and long lasting recession.