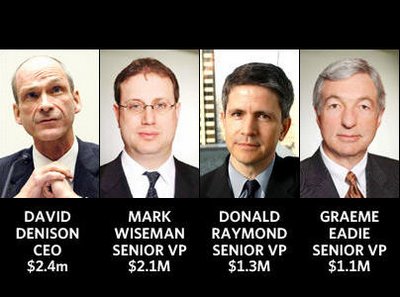 Last week I commented on CPPIB's 19% loss in FY2009. On Thursday, CPPIB released its 2009 Annual Report and it's worth going over some details below.
[Note: For some strange reason (probably to annoy me), CPPIB locked their PDF file, so I had to embed images below. Click to enlarge the images to properly view text and tables.]
We begin on page 4 where there is a discussion on management compensation:
We then skip over to page 54 to see the following:

This brings us to the summary compensation table:

As you can see, even though the senior officers did not get their STIP, they still got phenomenal total compensation packages, way above what ordinary Canadian citizens receive.
And that four year rolling return benefits the senior officers because if you go back 100 years and look at a portfolio of 60% stocks/40% bonds, you'll see there were very few negative rolling four-year returns.
Moreover, as I wrote last week:
Can you please stop with this four year rolling return nonsense? You lost 19% or $23.6 billion in FY2009 and you have the audacity to even think you deserve any bonus whatsoever? For what? To retain your talented investment managers?
I would add that FY2009 losses wiped out four years of contributions but senior managers collected millions over those years.
CPPIB's 2009 Annual Report did provide a discussion on benchmarks on pages 18-21:

And on private market benchmarks, they state the following on page 21:
In the case of private equity, we select a benchmark that matches as closely as possible the geography and industry of the underlying investments. Accordingly, energy company operating in the United Kigndom would be benchmarked against the U.K. energy sector with an adjustment for the increased leverage inherent in many private equity structures.
They go on to state that the same principles are applied to benchmarking other types of active investment strategies such as real estate and infrastructure.
They also show a table at the bottom of page 21 showing how they translate actual and benchmark return into an incentive compensation system for private equity:

If this all sounds too sophisticated and complicated to you, that's because it is. I believe CPPIB is complicating these benchmarks deliberately to blow smoke and hide what they really are.
Importantly, given the size of the CPP Fund, there is every reason to believe they are primarily investing in large private equity buyout funds in the U.S. and Europe and if this is the case, there is simply no need to set benchmarks according to specific geography and sectors.
Ever heard of the KISS principle (Keep it Simple Stupid)? Give me a benchmark like MSCI World Equity and add a spread to reflect illiquidity and leverage of private markets and for pete's sake, publish your benchmarks in private markets!
What we got in this 2009 Annual Report was a justification for paying outrageous compensation following a disastrous year and a complicated explanation of private market benchmarks.
What a joke. Is this the transparency and accountability Canadians can be proud of? I can just imagine what hedge fund managers struggling with hurdle rates and high water marks are saying to themselves: "Damn, how do I get a gig at CPPIB so I can get a big fat comp based on four year rolling returns?"
***Update***