Monoline insurers were last year's story, but I have a prurient interest in some of the smoldering hulks of the credit crisis.
Readers may recall that in January-Feb of last year, seemingly imminent demise of monolines looked to be ready to set off financial armageddon, since monoline (and AIG) credit enhancement was critical to a lot of structured credit instruments. The theory was if the monolines lost their AAA ratings, a lot of parties that held credit enhanced paper would have to mark it down or sell it at a loss (some buyers had bought AAA paper for regulatory reasons, and they were presumed to need to ditch it if it were downgrades).
The monolines, despite their protests that they really were OK, were nevertheless eventually all downgraded. To a degree, they had a point: many of their guarantees pushed payout out so far into the future that their public financials (on a mark-to-market basis) did paint an unduly harsh picture. The flip side was they had guaranteed a lot of toxic dreck, and even if they might not have to pay out on it till 2050, many investors decided they were no longer comfortable with their business model and headed for the exits. And since the rating agencies were insistent that they raise more equity , the stock price whackage was a bit of an impediment.
Even with hindsight, it's hard to parse out the role the meltdown of the monolines had in the greater unravelling. The increase in agency spreads in late February 2008 seemed to be the immediate trigger for the Bear Stearns implosion, but the fate of the monolines was hanging in the balance then too, and probably played into a destructive dynamic.
MBIA had some special features that made it a standout the generally sorry monoline story, and not in the positive sense. It had a captive reinsurance operation that looked sus. And it had a particular fondness for the most dubious structured credit paper, collateralized debt obligations.
CDOs are resecuritizations. They take the bottom tranches of bond deals (for RMBS, the BBB through junior AAA slice) and put them in a new vehicle and tranche it up again. The problem, as we saw with subprime, is that if the risks of the bonds are really not that diverse, the resecuritizaton serves to concentrate rather than reduce risk, particularly if the real risk is macroeconomic rather than a local/regional downturn.
So the monoline got themselves into a world of hurt thanks to writing guarantees on CDOs based on dodgy residential mortgages.
And the next iteration is likely to be CDOs with heavy exposure to commercial mortgage backed securities (by contrast, ones composed of whole loans would not be as troubling, since a CDO made of whole loans is functionally equivalent to a commercial real estate mortgage backed security, or a CMBS. It's a first, not a second, generation securitization).
And as you can see, MBIA has a lot in the way of commercial-real-estate-related CDO exposures, a whopping $45 billion (click to view full chart, hat tip reader Scott):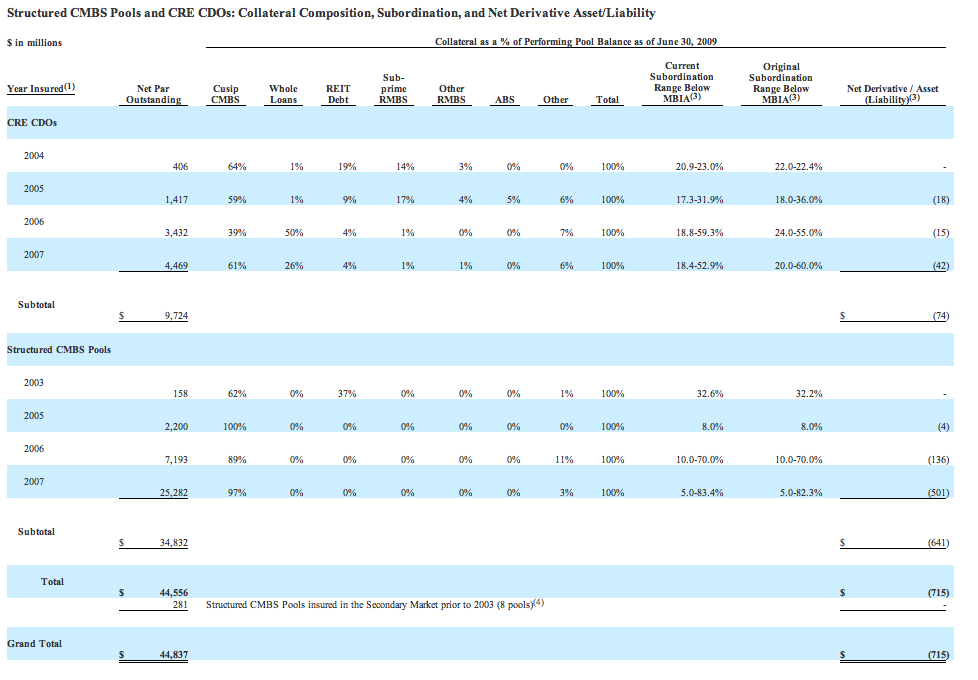 One reader, CDO Trader, noted:
… similar to the old ABS CDOs, the CMBS bonds [in the CDOs] were usually mezz-y. Those deals could have catastrophic losses in a few years…. Also, take a look at how active they were in 2006-2007! It looks like as AIG slowed down, MBIA grabbed the reins. I always knew they had a lot of garbage, but even I was shocked when I read that report!
To translate: "mezz-y" means composed of heavily of mezzanine (BBB) tranches, which is not a good thing.
Another MBIA factoid: they are, amazingly, counting some CDO squareds as being worth something north of zero, see item number 20 (click to view entire table).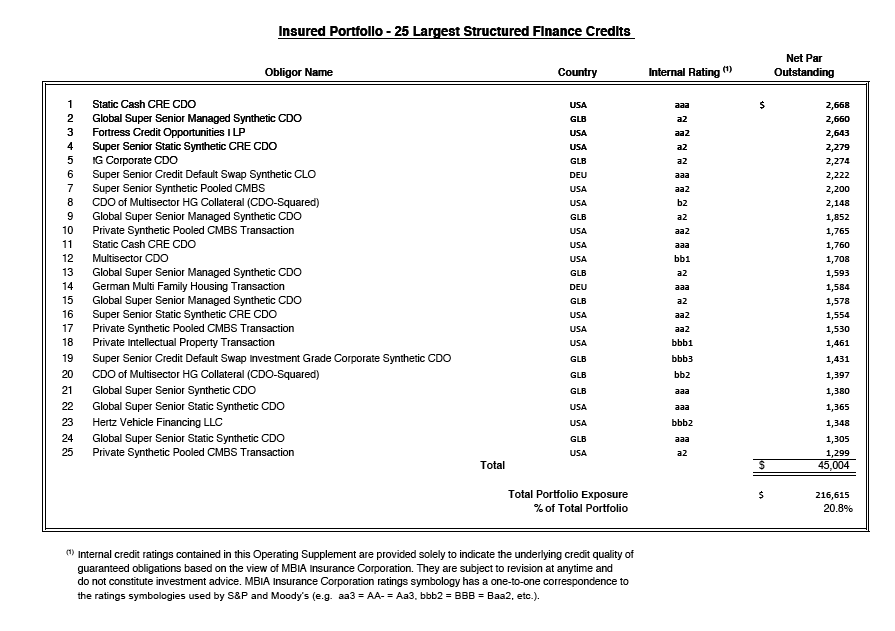 Need I say more?