The deep-sea crab that eats trees BBC
Enemies need not be insane Christopher Caldwell, Financial Times. This piece makes a more important point.
Good news for slimmers as scientists rethink calorie counting Times. Huh? The UK has just about as bad an epidemic of overweight and obesity as the US, and the officialdom is saying it's OK to eat….more? And one thing not well known in the US: the "healthy" ranges of weight for men and women (based on height) were shifted to heavier ranges in the 1980s (I believe). The current ranges are markedly higher than those considered healthy in the 1960s.
Britain the economic 'sick man of Europe' Independent. So much for all of the Euro-bashing during the crisis….but their banks hold a ton of toxic dreck relative to their capital bases.
Bair calls U.S. bank bailout "not a good thing" Reuters
Discretion and financial regulation Steve Waldman. A very smart post, but he underplays a key point, raised in his headline. Regulators were NOT very easily cowed pre 1980. Banks were both given more rope (a LOT more) and the environment changed. Before, the regime was "banks stay within their cage, they need to ask for waivers to get out." The new assumption is "banks can wander freely on the savannah, maybe we'll need to put electrical fences around a few watering holes filled with poison, but not much else." We've seen what happens when we let them wander, the government has to fly in Medivacs as huge public expense to rescue them from their own excessive venturesomenesss. I would submit the big default is the "regulate as an exceptional event" default, which makes regulators timid about decision-making and makes them disinclined and slow to act.
The Tippling Point Josh Reviews Everything
Study: 2,266 Veterans Died Last Year Because Of Lack Of Health Care Boom2Bust
Employment Policy Robert Waldmann, Angry Bear
Sinking Dem polls force Stimulus 2.0 James Pethokoukis
Job Losses Mount, Enduring and Deep Floyd Norris, New York Times.
It's the stupidity economy Paul Krugman.
Goldman To Private Insurers: No Health Care Reform At All Is Best Huffington Post (hat tip reader John D)
SP 500 Volumes and Cash Flows Fading Jesse
Morgan Stanley's Roach Says Yuan Concern 'Seriously Overblown' Bloomberg. Hhm, everyone gives lip service to rebalancing but no one is willing to take the pain. See Death by Renminbi Thomas Palley for a contrasting take.
Superstar CEOs Suck Paul Kedrosky. One of my favorite early bear calls on a CEO was Michael Armstrong (and I told everyone I knew to sell AT&T in May 1999. No one listened, of course…).
Investigating Iceland's financiers Financial Times. Today's must read.
Antidote du jour (hat tip reader Tim C). I may have featured the first picture, but lacked the whole story.
Black bears typically have two cubs; rarely, one or three. In 2007, in northern New Hampshire, a black bear Sow gave birth to five healthy young. There were two or three reports of sows with as many as 4 cubs, but five was, and is, very extraordinary. I learned of them shortly after they emerged from their den and set myself a goal of photographing all five cubs with their mom – no matter how much time and effort was involved. I knew the trail they followed on a fairly regular basis, usually shortly before dark. After spending nearly four hours a day, seven days a week, for more than six weeks, I had that once-in-a-lifetime opportunity and photographed them. I used the equivalent of a very fast film speed on my digital camera. The print is properly focused and well exposed, with all six bears posing as if they were in a studio for a family portrait.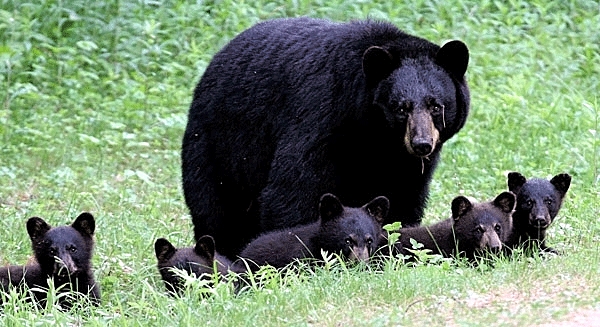 I stayed in touch with other people who saw the bears during the summer and into the fall hunting season. All six bears continued to thrive. As time for hibernation approached, I found still more folks who had seen them, and everything remained OK. I stayed away from the bears as I was concerned that they might become habituated to me, or to people in general, and treat them as `approachable friends'. This could easily become dangerous for both man and animal.
After Halloween, I received no further reports and could only hope the bears survived until they hibernated.
This spring, just before the snow disappeared, all six bears came out of their den and wandered all over the same familiar territory they trekked in the spring of 2007.
I saw them before mid-April and dreamed nightly of taking another family portrait, a highly improbable second once-in-a-lifetime photograph.
On 25 April 2008, I achieved my dream.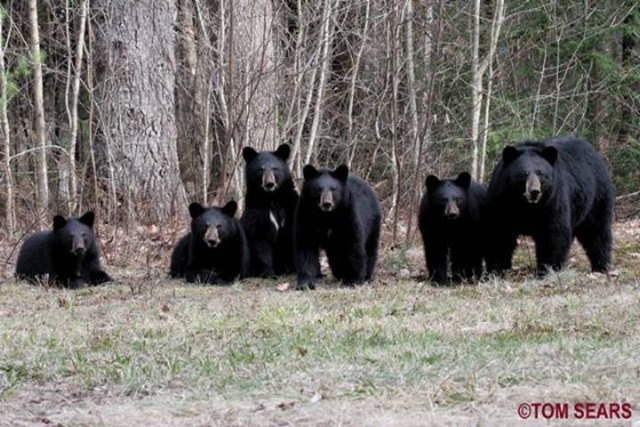 When something as magical as this happens between man and animal, Native Americans say, "We have walked together in the shadow of a rainbow". And so it is with humility and great pleasure that I share these exhilarating photos with you. Do pass them on!