The February report from the Congressional Oversight Panel makes for sobering reading. It forecasts $200 to $300 billion in losses coming from commercial real estate loans, and notes these were not considered in the famed stress tests, since that process looked only through 2010, when the losses from CRE will peak later.
Some snippets (hat tip reader Richard Smith):
The health of the commercial real estate market depends on the health of the overall
economy. Consequently, the market fundamentals will likely stay weak for the foreseeable
future. This means that even soundly financed projects will encounter difficulties. Those
projects that were not soundly underwritten will likely encounter far greater difficulty as
aggressive rental growth or cash flow projections fail to materialize, property values drop, and
LTV ratios rise on already excessively leveraged properties. New and partially constructed
properties are experiencing the biggest problems with vacancy and cash flow issues (leading to a
higher number of loan defaults and higher loss severity rates than other commercial property
loans).94 Falling commercial property prices are increasing debt-to-equity ratios, decreasing the
amount of equity the borrower holds in the property (putting pressure on the borrowers) and
removing the cushion that lenders built into non-recourse loans to protect their original
investments (putting pressure on the lenders).
Yves here. Construction loans can and will deliver large losses. Even though construction loans require interest payments during the building and lease-up/sales period, this is all a finesse, since the interest is paid out of the loan balance. So a lender on a construction project that has come to look dodgy has unattractive choices: he can try to foreclose by finding a covenant violation (he will hopefully recover some of the yet-to-be spent proceeds but be stuck with a partially completed project) or allow it to be completed and face the high odds of foreclosure later (completed project but not capable of repaying the loan). And given that the prices of commercial properties have fallen by an average of 40% and have further to drop, the loss severities will be steep.
The report has lots of useful factoids, like how the loans are distributed across the banking industry and total size of market ($3.4 trillion). But here are the money quotes: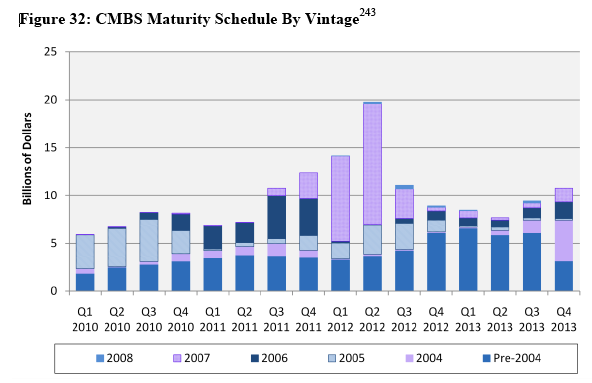 Between 2010 and 2014, about $1.4 trillion in commercial real estate loans will reach the
end of their terms. Nearly half are at present ―underwater‖ – that is, the borrower owes more than the underlying property is currently worth. Commercial property values have fallen more than 40 percent since the beginning of 2007. Increased vacancy rates, which now range from eight percent for multifamily housing to 18 percent for office buildings, and falling rents, which have declined 40 percent for office space and 33 percent for retail space, have exerted a powerful downward pressure on the value of commercial properties.

The largest commercial real estate loan losses are projected for 2011 and beyond; losses at banks alone could range as high as $200-$300 billion. The stress tests conducted last year for 19 major financial institutions examined their capital reserves only through the end of 2010. Even more significantly, small and mid-sized banks were never subjected to any exercise comparable to the stress tests, despite the fact that small and mid-sized banks are proportionately even more exposed than their larger counterparts to commercial real estate loan losses.

A significant wave of commercial mortgage defaults would trigger economic damage that could touch the lives of nearly every American. Empty office complexes, hotels, and retail stores could lead directly to lost jobs. Foreclosures on apartment complexes could push families out of their residences, even if they had never missed a rent payment. Banks that suffer, or are afraid of suffering, commercial mortgage losses could grow even more reluctant to lend, which could in turn further reduce access to credit for more businesses and families and accelerate a negative economic cycle.

It is difficult to predict either the number of foreclosures to come or who will be most immediately affected. In the worst case scenario, hundreds more community and mid-sized banks could face insolvency. Because these banks play a critical role in financing the small businesses that could help the American economy create new jobs, their widespread failure could disrupt local communities, undermine the economic recovery, and extend an already painful recession.

There are no easy solutions to these problems.