A correspondent e-mailed me about his belief that credit market valuations are more than a big dubious. For instance, subordinated tranches of commercial real estate bonds, which at the lows of last year were trading at 30 cents on the dollar are now at 90 cents. He thinks (and this is a space he knows) that a lot of it will go to 5 cents on the dollar.
This is an extreme example of liquidity-charged valuations versus projected future fundamentals, aka the greater fool school of investing. But at a price of 90, how much upside is there, even on a greater fool thesis?
Jeremy Grantham, in his April newsletter (hat tip reader Richard A) also sees evidence of frothiness:
So now, Bernanke begs us to speculate, and we are obedient. Despite being hammered down twice in 10 years and getting punished for speculating, we again pick ourselves up off of the canvas and get back into the good fi ght. Such persistence is unprecedented – 20 years for each really painful experience has been the normal recovery time – but Uncles Ben and Alan have treated us so well in these two disasters that, with hindsight, they don't feel so bad after all. Yes, the market is still down a lot in over 10 years and on our data is likely to have a second consecutive very poor decade, but we have had two wonderful recoveries in which the more speculative you were, the more money you made. So why not break the historical rules and try a third time? Perhaps this time it will be lucky.

Still, it does seem inefficient for the Fed to help us up and then lead us off the cliff again. And to do it twice seems like sadism. And for us to play the game once more seems like lining up behind hot stoves and begging, "Please, can I burn my hand a third time?" Investors used to be more pain averse. It used to be "once bitten, twice shy." This time, surely it should be "twice bitten, once bloody shy!" The key shift seems to be the confi dence we now have in Bernanke's soldiering on with low rates and moral hazard to the bitter end, if necessary, cliff or no cliff. The concept of moral hazard has changed. It
used to be a vague expression of intent: "If anything goes wrong, I will help you if I can." It seems to have been transmuted into a cast-iron commitment. The Fed seems to be pledging that it will bail us out after every flood. All that is lacking is a rainbow!

Speculators are not stupid. They see that after each crash, a long, artifi cial period of low rates and easy financial borrowing has been delivered. They see that Bernanke is an unreconstructed Greenspanite in that he refuses to address bubbles, but will leap to help ease the pain should a bubble break. With asymmetry like that, why not speculate? And so another bubble appears and then another. This time, the
recovery for the total market was 80% in one year, second only to 1932, and the really speculative stocks are almost double the market, as they also were in 1932. But frankly 1932 was far worse than our crisis where, according to our research, only 7% of the market value of speculative stocks remained, compared with 35% this time. Back then, they deserved that kind of rally. And even though I guessed last
April that we would have a quick rally to 1100, this looks quite likely to be far more.
Despite his reservations, Grantham sees the odds favoring stocks moving higher both near and intermediate term: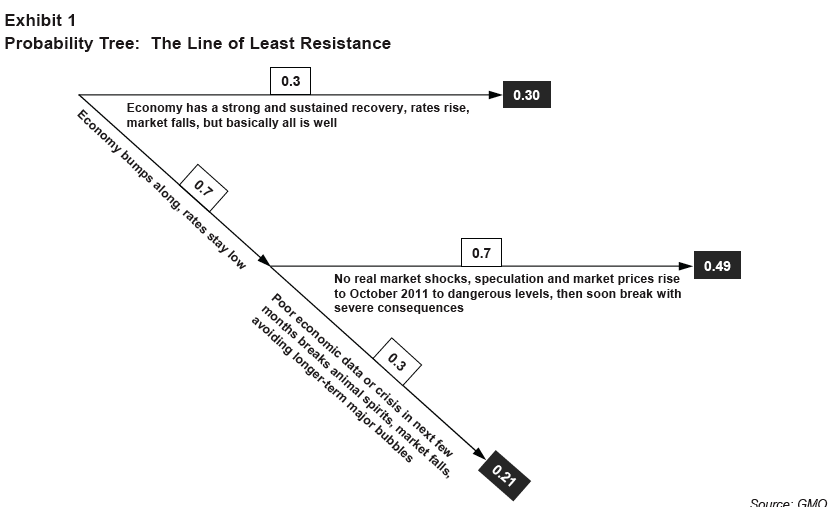 Do readers see other examples of similar (arguable) valuation disparities?