This Sydney Morning Herald story (hat tip reader Gordon) highlights a Bank of England report that not only points out the magnitude of the financing needs of major banks over the next few years, a daunting $5 trillion, but also indicates that US and European bank refinancings are falling short of their rollover calendar. This suggests that we may witness a combination of balance sheet shrinkage and more covert and overt funding support.
From the Sydney Morning Herald:
Banks around the world must refinance more than $US5 trillion ($5.8 trillion) of debt in the coming three years, a massive rollover that poses threats to financial stability and growth.

The need to replace these funds, which are medium and long term, will place pressure on bank profit spreads and in turn may either prompt deleveraging, where banks sell assets that they can no longer economically finance, or simply lead to a bout of credit rationing, where borrowers must pay more to borrow, thus crimping investment and economic growth…

US banks have issued $US230 billion of debt in the first five months of the year, about 60 per cent of the rate they need to achieve over the three year period. Euro zone banks have issued $US133 billion, or about 70 per cent of their needed run rate.

One easy to see consequence is that, all things being equal, the cost for banks to issue debt should rise, as should competition among banks for consumer deposits. It is possible that a global desire to save more helps to blunt this effect, but even so the macroeconomic effect and the effect on asset prices will both be strongly downward.
The Bank of England June 2010 Financial Stability Report gives a more detailed breakdown: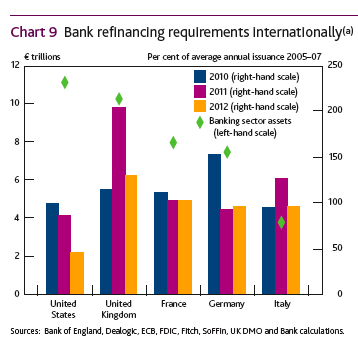 This is what deleveraging looks like…and note that these challenges remain after banks have already made progress in improving their capital buffers. This chart shows the fall in UK banks' overall leverage (click to enlarge):