A fresh Gallup poll reports that Americans are most worried about….federal debts (hat tip Marshall Auerback via the Atlantic):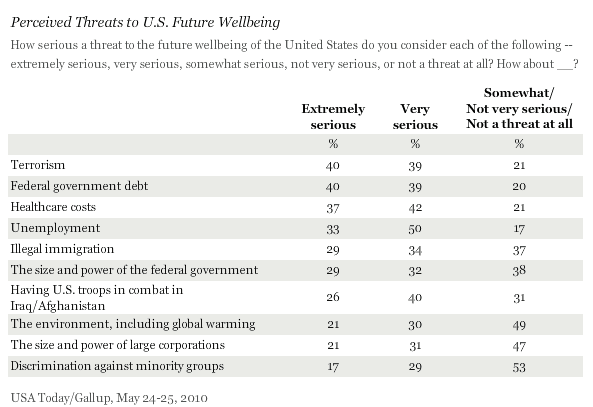 Gallup also provided a tally of how members of each party view the issue: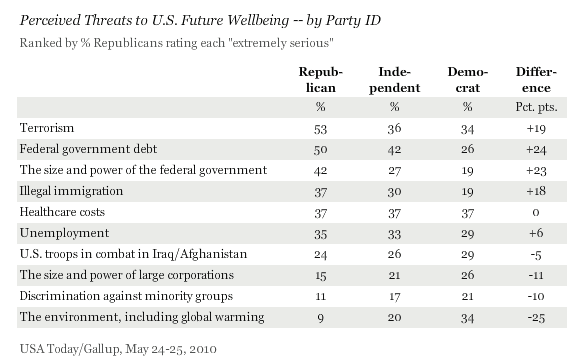 It would appear the ground has been laid rather effectively for (among other things) an assault on Social Security and Medicare. As we have pointed out before, Social Security is not under any immediate stress, and it would take only some minor tweaks to alleviate the (well off in the future) strains. And contrary to popular perception, the reason Medicare spending will get out of hand is due to projected medical cost escalation, not demographics. In other words, the "crisis" in Medicare is a symptom of our broken health care system, and not an entitlements problem per se. But in addition to the continued ability of Big Pharma and the health insurance industry's ability to make a bad situation worse, as witness our healthcare "reform," consumers have also been deeply conditioned to see more treatment as better. From both a cost and side effects perspective, this is simply not often the case. As reader Francois T stated apropos a New York Times article that caused consternation among people who know the terrain:
My oh my! One could write a volume or two about that. I'll limit myself to the obvious, at the expense of the details.

Their [Abelson and Harris] article and the saga surrounding its writing:

http://www.healthbeatblog.com/2010/06/the-new-york-times-attacks-the-dartmouth-research-part-1.html

http://www.healthbeatblog.com/2010/06/yet-another-source-distressed-by-how-the-nyts-presented-its-data-in-a-story-about-the-dartmouth-rese.html

is a prime example of, when it comes to health care, Americans in general harbor very deeply rooted preconceived notions that pretty much preclude any meaningful and long-lasting reform.

The one operating in the minds of Abelson and Harris is the most toxic: More is always better. They cannot possibly bring themselves to admit, despite the overwhelming evidence of 30 years (!!) of solid, peer-reviewed research demonstrating there are ways to provide better health care outcomes while doing less, but in a SMARTER way. The evidence is crystal clear, but so are the prejudices. Since this is politics, prejudices win, hands down. Being journalists for the NYT, Abelson and Harris seem incapable of going beyond the vulgus populus.

It is important to note here that the attacks on the Dartmouth research were almost inexistent during the period post Clinton failure to reform health care…until Obama started his own attempt. A cursory Lexis-Nexis search is quite convincing in this respect. Those who stand to lose income or power during a health care reform will first and foremost attack it. Mind you, they have the tremendous advantage of playing on those preconceived notions I alluded to above.

So ingrained are these, that even senators and congresspersons who know the Dartmouth very well (yes, there are some that do) will never, ever tout the evidence publicly. Press them a bit about why they don't, and one shall witness oratory escape maneuvers that would put Houdini to shame. It is just not (yet) "politically feasible", as they say.

Apart from the Dartmouth research, there is another irrefutable piece of evidence that, when it comes to health care, smart beats more: The VA system.

http://www.washingtonmonthly.com/features/2005/0501.longman.html

Now, before everyone jump at my throat with the Walter Reed scandal, I would recommend reading Best Care Anywhere, by Philip Longman (updated edition 2010)

As per Maggie Mahar:

In the 2010 edition of Best Care Anywhere Longman also recounts how the Bush administration attempted to dismantle the open-source VistA software culture that Kizer had built, "doing its best to recreate the dysfunctional VA of the 1970s." Meanwhile, as more vets turned to the VA for care (in part because the care was so much better than it had been in earlier years), the Bush administration failed to provide enough funding, leading to long lines and not a few complaints.

Fortunately for the veterans, the situation has dramatically improved since the change in Administration. (There is still a lot of work to be done, but the trend is toward improvement)

The bottom line is this: Since 1994, the turnaround of the VA system demonstrate it is possible to provide good outcomes with high patient satisfaction (except in psychiatric services, but this is another long and complex story) by following what the evidence provides, instead of being guided by which reimbursement schemes is the flavor du jour.
Similarly, the fear about rising deficits is misplaced right now. As George Soros pointed out in a speech today in Vienna, the action of righting an economy when it faces serious financial stresses is a lot like straightening out a car that has gone into a skid: you need to turn the wheels into the skid, which looks like taking it further off the track where you want it to go, until it regains traction and you can then steer it back to its proper path. In this case, we need an expansion of public debt to offset the needed contraction in private sector debt, and then to (Soros did point out that this was a tricky operation). Otherwise, a resumption of the crisis is in the cards.
There is considerable evidence that the deficit fears in general, and the attack on entitlements in particular, has been marketed actively. Our colleague Tom Ferguson explains below: