Apologies for thin links. Have to be up early for me on Sat.
DIY Air Quality Balloons Instructables. I want one.
Ice island breaks from Greenland BBC
In pictures: Discovering the wreck of HMS Investigator BBC (hat tip reader John M)
Deflation Watch: Deflation is Right Credit Bubble Stocks
Late Night: Jane Hamsher on Obama's Boys' Club That Won't Listen to Women Who Were Right FireDogLake. I'm not big on gender stereotyping…but maybe this not playing team sports does have long term effects….
BlackBerry irritates spy masters Financial Times
Bank Of America, JPMorgan Chase Fail To Repeat Perfect Quarter Shahien Nasiripour. Couldn't have that, it would prove the markets were rigged.
Wait A Minute — Why Does Mark Hurd Get $50 Million Severance When He Lied In His Expense Reports?* Henry Blodget
Greenspan Calls for Repeal of All the Bush Tax Cuts New York Times. I am certain Dean Baker and Brad DeLong will have a field day with this one. The article says Greenspan is to the left of Obama (not hard, admittedly) because he wants to balance the budget in a deep recession with 16.5% U6 unemployment.
What collapsing empire looks like Glenn Greenwald (hat tip reader Francois T)
Antidote du jour (hat tip reader blintrick). Via New Scientist: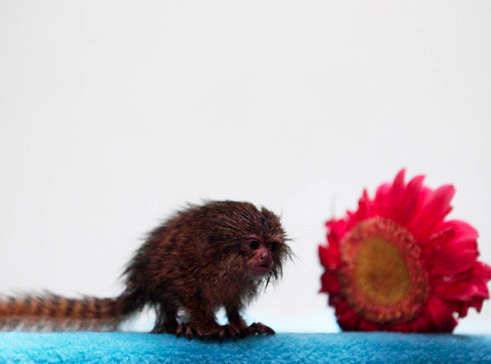 This is not a gremlin – it is the world's smallest monkey, the pygmy marmoset (Callithrix pygmaea).
With an adult body length of only 14 to 16 centimetres, and weighing as little as 120 grams, the endangered pygmy marmoset is one of the smallest primates discovered. They are normally found in the rainforest canopies of South America, however this chap was confiscated after being found inside the clothes of a Peruvian citizen by police.
This marmoset will now recover at a primate rescue and rehabilitation centre near Santiago, Chile.