Climate change talks 'backslide' at Bonn BBC
Sauna endurance finalist collapses and dies in 110C Telegraph. Whoever came up with this terrible idea is culpable. This was bound to happen at some point.
Fishermen in Gulf 'ghost town' fear for future Financial Times
Obama's Endangered Economists Toby Harshaw, New York Times. Serious gossip!
Romer Post-mortem Economists for Firing Larry Summers. More gossip!
Beck omits own analogy comparing Obama White House to 'Planet of the Apes' Raw Story
Obama Anti-Business? Think Again Ezra Klein, Newsweek.
The Washington Post Tries New Tactic in Campaign to Cut Social Security Dean Baker
Progressives Shouldn't Defend the Individual Mandate: The Difference Between Ideology and Blind Partisan Defense Jon Walker, FireDogLake
Microsoft shares retreat after downgrade Associated Press. Read the bit about college student preferences….
A Tale of Two Chinas Morningstar (hat tip Paul S)
Public Pension Shortfalls: Don't Forget Braindead Economists Dean Baker
Putting Our Brains on Hold Bob Herbert, New York Times (hat tip reader Francois T)
Ill Fares the LandNew York Review of Books and The Prospect interview: Tony Judt Suggested as a commemoration by Kendall.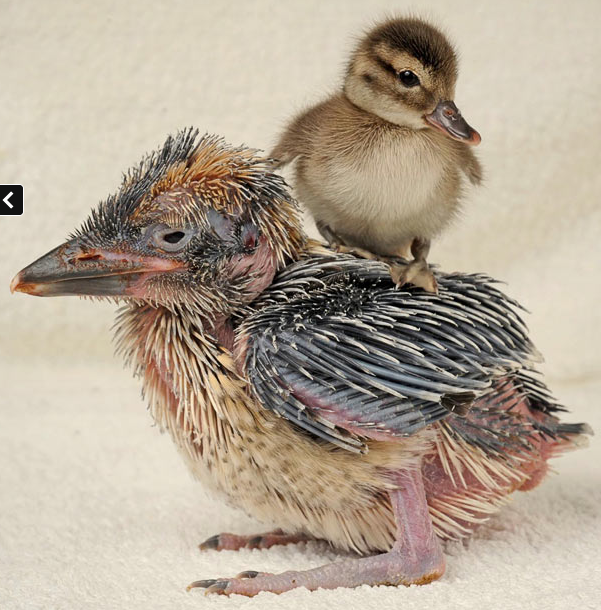 This baby six-week old kookaburra called Kookie and a tiny duckling have struck up a friendship at the Seaview Wildlife Encounter, near Ryde in the Isle of Wight. Kookie was saved by staff after they feared his parents would kill him. And the duckling was rescued from one of the park's aviaries because he was thought too small to defend himself against larger birds. Keepers took a chance and decided to see what would happen if they were put together. The duckling instantly cuddled up under Kookie's protective wing, thinking he was his mum and Kookie didn't seem to mind playing the caring parent