As Satyajit Das remarked, our post global financial crisis malaise has some troubling elements in common with Japan's post bubble era. One biggie is denial of the seriousness of the hangover, which per Das lasted for five years in Japan.
The bizarre aspect of the crisis response in the US was the speed and recklessness with which the Fed cut interest rates. Remember "75 is the new 25"? And the central bank dropped policy rates below 2%, which many regarded as a crucial level (as in below there, the Fed would have perilously little wriggle room. As super-low Fed funds rates failed to defibrilate the financial system, it then moved to implement its now famed alphabet soup of rescue facilities, so as to rescue firms formally beyond its discount window/Term Auction Facility reach by propping up prices of assets to which they were heavily exposed (letting them be pledged to the Fed for loans prevented selling as a way to achieve liquidity).
Initially, continued low rates seemed like an obvious idea if you thought on conventional lines: low rates mean low borrowing costs, surely that will spur economic activity. But banks have been making terms more stringent on consumer loans, and have actually increased interest rates despite lower funding costs. On the business side, credit to small businesses is reported by many to be tight, but the bigger impediment is that most business aren't terribly keen to borrow given the not-so-hot economic outlook.
But low rates initially operated as a big subsidy to the banks, a way for them to rebuild their balance sheets on the sly. The low rates were accompanied by a steep yield curve, meaning a larger than normal gap between their funding costs (short term) and their lending returns (pegged off of longer dated reference rates, which are normally higher to being with, but in the early post crisis era, the gap was particularly large). This was one of the big drivers of supersized bank profits in 2009.
But the Fed has made it clear that it isn't giving up on low rates any time soon. As a result, the yield curve has flattened, reducing this source of easy bank earnings. In addition, low rates wreak havoc with certain products like mutual funds, where the expenses associated with the product now exceed investment yields. Since the industry is committed to a $1 net asset value per share policy, that means many money market mutual funds lose money. It is also causing trouble with bread and butter investment products like annuities.
The Wall Street Journal gives an overview of some of the casualties. Note the problem starts in large measure from the fall in yields of longer-dated instruments: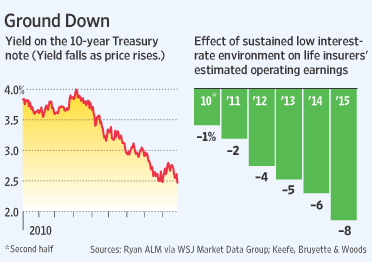 Persistently low rates could force firms to rethink or even exit from businesses. Consider fixed-rate annuities and life-insurance products that offer a guaranteed minimum payout. If insurers, when selling products, didn't match that liability with assets generating similar income, losses could ensue.

Firms usually hedge much of that risk. But they also face the prospect of declining business for some new products offering lower guaranteed payouts. Sales of fixed-rated, deferred annuities, for example, fell 45% in the second quarter of 2010 from the same period a year earlier, according to insurance-industry group Limra.

Insurers also can expect to generate lower income from their huge investment portfolios. Analysts at Keefe, Bruyette & Woods estimated that U.S. life insurers could see a 2% reduction in 2011 earnings and 4% in 2012 if yields stay at currently low levels.

Banks, too, are feeling the pinch. Many have already taken deposit rates close to zero and have converted high-yielding certificates of deposit to lower rates. That gives them less room to cut funding costs. The amount they can earn from lending or investing, though, is under continued pressure, shrinking banks' net interest margins.

If rates stay at current levels, U.S. regional banks could see net interest margins decline from an average of about 3.54 percentage points in the third quarter to some 3.44 percentage points this time next year, according to Credit Suisse analyst Craig Siegenthaler. That compares with margins well above four percentage points before the crisis.

Brokers such as Charles Schwab and TD Ameritrade Holding; banks with big brokerage or asset-management operations, such as Bank of America and Morgan Stanley; and trust banks, such as Northern Trust and State Street, face threats, Sanford C. Bernstein analyst Brad Hintz notes. One is the greatly reduced returns firms can generate from cash in so-called sweep accounts that hold customer funds between trades, as well as money-market accounts. Another is the falloff in securities lending margins and activity.
The financial sector needs to shrink, so reducing some of these activities is not necessarily a bad thing. But super low rates and government efforts to drive credit to the housing market means this process is taking place with distorted market signals at work. I'd feel a lot better if we'd forced more clean-up of bank balance sheets, in particular write down and restructuring of loans, so that we would be on a path to getting the banks off the official dole.