Today, quite a few commentators fell in with the take of the writeup by Real Time Economics on a speech by Paul Volcker given a conference on macroprudential regulation hosted by the Federal Reserve Bank of Chicago. Its lead-in:
Former Federal Reserve Chairman Paul Volcker scrapped a prepared speech he had planned to deliver at the Federal Reserve Bank of Chicago on Thursday, and instead delivered a blistering, off-the-cuff critique leveled at nearly every corner of the financial system.

Standing at a lectern with his hands in his pockets, Volcker moved unsparingly from banks to regulators to business schools to the Fed to money-market funds during his luncheon speech.
Now admittedly, it's refreshing to see someone of Volcker's stature make some candid comments about banks and financial regulation. And taken in isolation, some of his remarks were suitably critical. For instance, he characterized investment banks as
…trading machines instead of investment banks [leading to] encroachment on the territory of commercial banks, and commercial banks encroached on the territory of others in a way that couldn't easily be managed by the old supervisory system
His most critical remark was:
The financial system is broken. We can use that term in late 2008, and I think it's fair to still use the term unfortunately. We know that parts of it are absolutely broken, like the mortgage market which only happens to be the most important part of our capital markets [and has] become a subsidiary of the U.S. government
And he took a swipe at fancy finance:
We had all our best business schools in the United States pouring out financial engineers, every smart young mathematician and physicist said 'I don't want to be a civil engineer, a mechanical engineer. I'm a smart guy, I want to go to Wall Street.' And then you know all the risks were going to be sliced and diced and [people thought] the market would be resilient and not face any crises. We took care of all that stuff, and I think that was the general philosophy that markets are efficient and self correcting and we don't have to worry about them too much.
He also expressed healthy skepticism on whether financial regulatory reform would work. For instance, Volcker contended that leaving too much to regulator judgment put them in too weak a position relative to banks who would resort to political pressure to get their way. He also wondered whether resolution authority would work as advertised.
But did anyone who took up the line that this was tough talk actually watch the speech?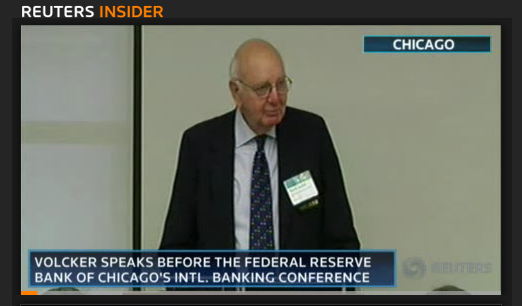 You can view it here.
Unfortunately, the reactions to Volcker's speech say far more about politics and PR in the US than they do about what he actually said. Volcker's comments were delivered in a moderate, occasionally perplexed tone. He was often candid and descriptive, far from "blistering." And despite the Wall Street Journal headline, "Volcker Spares No One in Broad Critique," in fact he left many targets untouched (bank pay, accounting chicanery, "free market" ideology, cognitive capture of regulators and the revolving door between regulatory positions and lucrative private sector roles, predatory behavior by financial firms). In fact, Volcker was a defender of traditional commercial banks, noting that they have special role via acting as depositaries and payment services, and complaining of how money market funds were encroaching on their turf and providing similar functions without having the same degree of oversight and capital requirements. He also spent a fair bit of his talk extolling the Fed as the logical party to serve as the lead financial regulator, while somehow missing that the central bank did a horrific job in the runup to the crisis and is chock full of monetary economists who have no interest in financial firms' inner workings.
Indeed, Volcker actually said (and I am not making this up), that the mess in the economy was NOT the result of the financial crisis. His formulation is rather astonishing. He depicts the financial crisis as the result of real economy imbalances, as opposed to the build up of speculative excesses in a grossly undercaptialized, tightly coupled financial system (starts at 9:30).
But in saying that I don't mean to blame the crisis on the regulators or even on the market. I mean, this crisis got so serious, it's so difficult to get out of this recession because of disequilibrium in the real economy. You know the story…when the bubble in housing burst, then the financial system came under great pressure, you don't blame it for originating the crisis, in fact, under pressure, it broke.
Huh? The idea that the real economy distortions produced the crisis. as opposed to deregulation led to excessive leverage in financial firms and were the primary cause of distortions in the real economy, is barmy. Contrast Volcker's take with that of Meryvn King, Governor of the Bank of England in a 2009 speech:
Two years ago Scotland was home to two of the largest and most respected international banks. Both are now largely state-owned. Sir Walter Scott would have been mortified by these events. Writing in 1826, under the pseudonym of Malachi Malagrowther, he observed that:

"Not only did the Banks dispersed throughout Scotland afford the means of bringing the country to an unexpected and almost marvellous degree of prosperity, but in no considerable instance, save one [the Ayr Bank], have their own over-speculating undertakings been the means of interrupting that prosperity".

Banking has not been good for the wealth of the Scottish – and, it should be said, almost any other – nation recently. Over the past year, almost six million jobs have been lost in the United States, over 2 ½ million in the euro area, and over half a million in the United Kingdom. Our national debt is rising rapidly, not least as the consequence of support to the banking system. We shall all be paying for the impact of this crisis on the public finances for a generation.
To put none too fine a point on it, King is the top central banker an a country where financial services constitutes a bigger proportion of GDP than the US, yet he does not hesitate to place blame for the crisis where it belongs, on the banks (and he is willing to eat crow for regulatory lapses). Volcker, by contrast, offers a critique which is hardly controversial, yet gives the industry a pass.
The reason Volcker's speech was greeted with overdone enthusiasm is that Americans are fed such a steady diet of propaganda by the officialdom that anything that bears some resemblance to observable reality is bracing by mere virtue of contrast. Think of Bernanke's freakish calm (he looks medicated to me, although he apparently isn't) and well honed ability to give testimony remarkably devoid of content, or Geithner's bobbing and weaving when under the spotlight. But this circling of the wagons fools no one; indeed, Obama's weak poll ratings and the success of the Tea Party show that polished story lines have not dispelled well warranted public anger against the banks and their enablers.
Note also the timing of this episode. This sort of talk, no matter how tame compared to what really ought and needs to be said, could have had a real impact while the financial regulatory reform negotiations were on. Volcker is virtually the only public figure with the stature to carry real weight in disputing the sort of palaver trotted out by the banksters in defense of their pet desires. But he was kept on a short leash by the Obama administration, apparently tasked only to defend the so-called Volcker rule, which was meant to get banks out of the proprietary trading business but was watered down to a considerable degree. But that simply confirms what we already know too well: that even Volcker's modest reform ideas were more than what the bank-friendly Administration was prepared to support.