Dear readers, apologies, the site was down most of the evening. With the higher traffic due to intensive mortgage coverage, I'm pushing the limits of my current setting (despite the little Blogger icon many of you see in the address line, this site is in WordPress….and WordPress does NOT scale well. It's fine with blogs of normal traffic levels, but at high traffic levels, even with hypercaching, it's a resource hog. I did cast about last year for a solution. However, the recommendations I got were wildly divergent, this even after providing considerable data. That meant a lot of the respondents really did not understand my service needs, and as a non-techie, I'm in no position to discern which if any might be correct). So please bear with me.
Update 10:00 AM: This wasn't a normal traffic problem. I've been hit by denial of service attacks. The logfiles show massive traffic spikes. So I guess I'm annoying people who like fighting dirty.
Moon impact 'formed Saturn rings' BBC
Bee-Killing Disease May Be Combination Attack, Researchers Say BusinessWeek (hat tip reader John M)
Ann Coulter may face voter fraud charges: report Raw Story
Newsweek 'in merger talks' with Daily Beast website Independent
Wen warns against renminbi pressure Financial Times. So Wen makes it very clear: the "disaster" that would result is unemployment in China. Therefore everyone else in the world must have unemployment instead. Wen fails to explain how what might indeed be disaster for China is so terrible for the rest of the world.
Credit for the Recovery Daniel Gross, New York Times
The Emerging Anti-Trade Coalition, and Its Dangers Robert Reich
IMF supports a new round of Quantitative Easing Eurointelligence
Last Redoubt of Structural Unemployment: Policy Uncertainty Mike Konczal
Tech CEOs tell US gov't how to cut $1 trillion from deficit NetworkWorld
Investigation of Lender Processing Services by Florida Attorney General
NY Fed takes $180m hit on Hilton debt restructuring Financial Times. This is not the last time bomb lurking in the Maiden Lane portfolios.
UK house prices fall by record 3.6pc in a month Telegraph
Waivers Address Talk of Dropping Health Coverage New York Times. This shows the stupidity of the Obama plan. You need everyone in one big risk pool. Otherwise, the insurers cherry pick.
Mortgage Pact Set For Wells, 8 States Wall Street Journal
The Blundering Herd Vanity Fair (hat tip reader Crocodile Chuck)
The rise and rise of correlation Financial Times.
Antidote du jour. From New Scientist, "New species discovered in Papua New Guinea" (hat tip reader blintrick):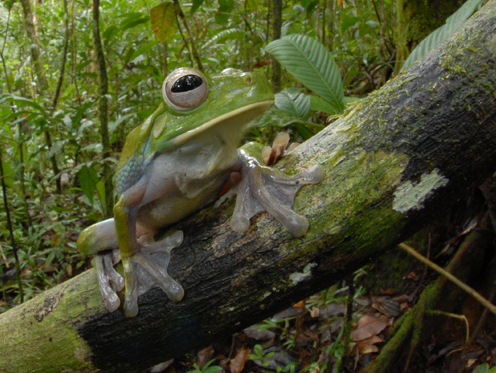 This Australasian tree frog was found living 30 metres above the ground.
Researchers often heard them croaking gutturally from the forest canopy, but only managed to find this one male.
It is probably a new species, though its DNA will have to be checked to be sure.