This interview of Maria Bartiromo, of her new book, The Weekend That Changed Wall Street, was taped back in September. Some readers may deem it to be a bit softball, but a book TV program isn't a format that lends itself to pointed questions. In fact, I found the experience a bit like what I have been told about S&M: even though the domme looks like the party in charge, in fact her job is to administer the precise amount of pain the submissive signals that he wants. Bartiromo is obviously very seasoned, and at certain junctures (for instance, when I tried interrupting her, another where she anticipated and cut off a follow up question) she signaled pretty clearly that she wasn't going to go into controversial territory.
As reader Herbert B said,
I must give her credit for avoiding saying a single word that would put so much as a chip in CNBC's rice bowl. What little she revealed, however, was worthwhile.
Enjoy!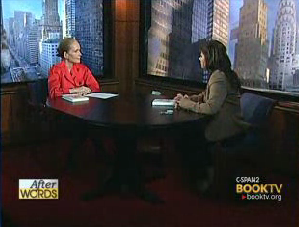 You can view the segment here.
PS I'm personally less than happy with this show, since one of my conditions for doing it was that they mention ECONNED. As you can see, that didn't happen. They took a shot of the cover during the taping, and it was edited later, so they don't have an excuse for this lapse.