By Tom Adams, an attorney and former monoline executive, and Yves Smith
As reported in the Financial Times, Senator Carl Levin of the Senate permanent investigations released damaging e-mails in which Goldman traders discuss "killing" some mortgage-related CDS shorts in May 2007. Levin understood the implications, that damaging the shorts would allow Goldman to buy CDS even more cheaply, but did not tease out the logical conclusion. This move was a likely a major step that allowed Goldman (and fellow dealers not under investigation who likely pursued parallel strategies) to package its remaining mortgage dreck into CDOs, which were launched as the reported squeeze evidently took place, and unload as much toxic inventory as possible before the wheels came hopelessly off the subprime bandwagon.
Goldman gives the usual pious denials, arguing that the market tanked, but the market action in later March to June 2007 belies their claims. And Levin may have unwittingly given Goldman an out by pegging the time of the short squeeze a bit late.
It's a bit hard to see on the scale of this chart, but CDS spreads on subordinated bonds widened markedly in February and continued into March of 2007. And even though that move looks tame compared to what later came to pass, it was enough to create havoc in the subprime market.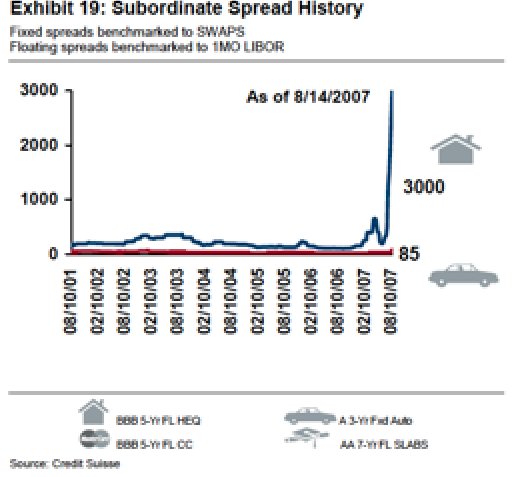 Another way to look at it is from the ABX index (which is a price index rather than a CDS spread index). For instance, the BBB 206-2 index, which traded in the 97-96 range in December 2006, fell to 73 at the end of February. The BBB 2007-1 index, launched at 98 in late January, dropped to 70 by the end of February.
So what had happened? You can clearly see the that spreads kicked way up in early 2007, then dropped nearly all the way back in April, then blew way out by end of July. This change was in the absence of any fundamental improvement in the market. . If anything, the continuing drumbeat of bad news should have solidified the impression that a bubble was coming to an end and saner valuations would prevail.
In addition, Tom Adams was a market participant at that time. All of the hedge funds he spoke to then complained about how some banks were making margin calls on their portfolios of sub bonds, even though the spreads didn't reflect such marked down values. It isn't hard to imagine that Goldman, the biggest prime broker, was a major actor, as well as Deutsche Bank (another major player in the CDO market and the number three prime broker) as well as Morgan Stanley (number two prime broker, but a minor CDO market participant)
In part, the short squeeze would have been caused by the last fling of CDO issuance, which was quite significant in April to June. Anyone trying to issue a CDO to clear out their inventory would have benefited from such a short squeeze, since they got their CDOs off at better prices.
Of course, many banks were using the apparent improvement in conditions to say the worries were overblown. That's a very convenient view to take when you are trying to sell lemons. It made it difficult for professionals who recognized that something was amiss but had institutional pressures to be in the market to ask for more credit protection and better prices.
Not surprisingly, Paulson and Bernanke were cheerleaders for the last blowout of subprime. Bernanke declared subprime to be contained in March, with an estimate of losses well below that of any private sector analyst (recall Bernanke was relatively new at his job then, and this comment was widely seen as proof of Fed out-to-lunchness, particularly since subprime had never been a market of much interest to them). But banks jumped on it immediately and used his remarks to push for lower spreads on CDS.
And the happy talk continues, as these May 17 remarks from Bernanke demonstrate:
All that said, given the fundamental factors in place that should support the demand for housing, we believe the effect of the troubles in the subprime sector on the broader housing market will likely be limited, and we do not expect significant spillovers from the subprime market to the rest of the economy or to the financial system. The vast majority of mortgages, including even subprime mortgages, continue to perform well. Past gains in house prices have left most homeowners with significant amounts of home equity, and growth in jobs and incomes should help keep the financial obligations of most households manageable.
We know all too well how this movie really ended.