I'm clearly a hopeless old fart. In my youth, the hot joke gift was a Pet Rock. No kidding, it sold millions and made someone very rich. But then Pet Rock 2.0 was Tamagouchi, the electronic pet that responded to how much care you gave it. Distressingly like a real pet, it would die of neglect.
A new version of joke gift is the non-gift, or more accurately, empty box that looks like it contains a joke gift. I'm sure Derrida would have had a field day with this. From Gizmodo (hat tip reader Cocomaan):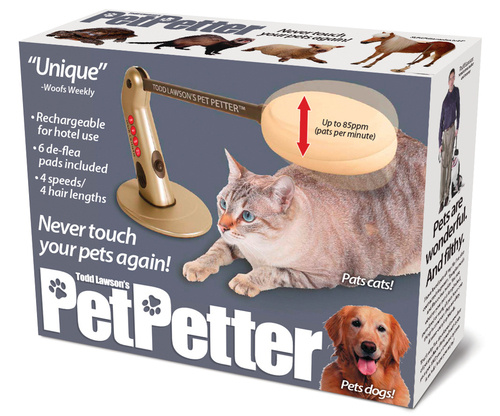 The Pet Petter is for poor sad pets who no longer get any cuddles. It goes at a speed of 85ppm (pets per minute)….or it would, if it were a real product. Because you see, these gift boxes are completely empty, with the idea being you put the real gift inside and trick the recipient. You better not put a real alarm clock or pet grooming tool in these boxes, or you may just get throttled.
To show you readers how much time I spend trolling the Web for pet stories, 85 pets per minute is way too fast. I recall reading a study that determined that optimal pet stroking (as determined by physiological reactions in pets, I forget which type, but I assume the usual mammal suspects) is 1-3 seconds per stroke.
But you can go one level of abstraction higher than that. CreditLoan.com shows some of the options open to what was the Second Life cohort and has now broadened out considerably:
You certainly don't want your pet penguin to be the only one without a cool derby hat this winter, right? And your barbarian warrior just isn't complete without a sword that also fires laser beams….

Online networking games such as FarmVille, in which players try to stock and maintain an electronic farm in real time, are growing in popularity. And as these games, which include such online worlds as Club Penguin and MafiaVille, attract more players, an entire industry has sprung up to sell weapons, vehicles, clothing and gifts for the avatars that populate these games.

That's right: There are companies out there selling make-believe products to people playing make-believe games with make-believe characters…

Don't be fooled, though, into think that the sale of virtual goods is kid stuf….. the market for virtual goods in the United States is expected to soar to $2.1 billion in 2011. That's up from $1.6 billion in 2010…

The biggest beneficiary of this virtual economy so far is a company called Zynga. Started four years ago by tech-guru Mark Pincus, the company owns the most popular online social networking games out there, including the incredibly busy FarmVille….The game boasts more than 52.6 million players…

Here's the most surprising fact about the virtual economy and online social networking games: They're becoming more popular than traditional shoot-em-up or adventure video games.

Look at Zynga. The company's value recently surpassed the stock value of Electronic Arts, the nation's largest maker of traditional video games…That's a seismic shift. Zynga is now worth $5.51 billion, according to research firm SharesPost, Inc. Meanwhile, Electronic Arts has been valued at $5.16 billion on the Nasdaq Stock Market.