I often enjoy Joe Nocera's take on Wall Street, but like some other well known financial writers, he has become overly close to his subjects. No where is this more evident than in a stunning little aside in an otherwise not bad piece on the Financial Crisis Inquiry Commision's report, which points out that it is long on potentially helpful detail, short on analysis.
Here is the offending section:
But I wonder. Had there been a Dutch Tulip Inquiry Commission nearly four centuries ago, it would no doubt have found tulip salesmen who fraudulently persuaded people to borrow money they could never pay back to buy tulips. It would have criticized the regulators who looked the other way at the sleazy practices of tulip growers. It would have found speculators trying to corner the tulip market. But centuries later, we all understand that the roots of tulipmania were less the actions of particular Dutchmen than the fact that the entire society was suffering under the delusion that tulip prices could only go up. That's what bubbles are: they're examples of mass delusions.

Was it really any different this time? In truth, it wasn't. To have so many people acting so foolishly required the same kind of delusion, only this time around, it was about housing prices. Getting to the bottom of that requires less the skills of an investigator than the talents of a psychologist.
This verges on counterfactual as far as both the tulip mania and our crisis just past are concerned.
Recent research shows that much of the popular view of the tulip mania is myth. First, its acute phase was short in duration, lasting a mere five months, and appears to have been set off by the creation of a futures market, which allowed for levered bets to be made (it is admittedly difficult to get conclusive information, and a lot of the futures trades entered into were never actually completed).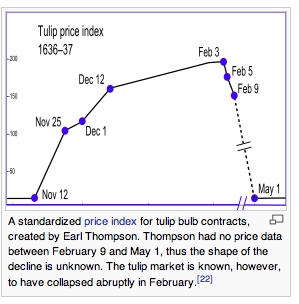 Second, the mania did not sweep Dutch society Comparatively few people were involved, and contrary to Nocera's account, borrowing played little to no role in the speculation. Per Wikipedia:
While Mackay's account held that a wide array of society was involved in the tulip trade, Goldgar's study of archived contracts found that even at its peak the trade in tulips was conducted almost exclusively by merchants and skilled craftsmen who were wealthy, but not members of the nobility. Any economic fallout from the bubble was very limited. Goldgar, who identified many prominent buyers and sellers in the market, found fewer than half a dozen who experienced financial troubles in the time period, and even of these cases it is not clear that tulips were to blame.[35] This is not altogether surprising. Although prices had risen, money had not exchanged hands between buyers and sellers. Thus profits were never realized for sellers; unless sellers had made other purchases on credit in expectation of the profits, the collapse in prices did not cause anyone to lose money.
In addition, some economists even contend that the price rise in tulips (which was less than the classic account by Charles Mckay indicates) was warranted by fundamentals (although the idea of a "fundamental value" of tulip bulbs, which were a luxury items, sounds difficult to establish). By contrast, housing debt is bigger than the US Treasury market, and homeowners were encouraged to spend their paper profits via home equity loans and second mortgages.
But whatever you make of the tulip mania, Nocera's positioning is troubling. First, he repeats and amplifies an underlying fallacy of the FCIC report, that the crisis was at its root a housing bubble. That is simply not true. As we recounted on this blog in the months before its onset, there was an alarming compression of risk spreads in every credit market around the world. If this was a mania, how does Nocera explain it operating across all debt markets, most of which had nothing to do with US housing (take emerging market and the CLO market, for starters) and where prices were set by professional investors rather than the presumed gullible public?
In addition, the math simply does not add up for treating the housing market in isolation as the cause of the crisis. The subprime market is roughly $1.2 trillion. Even in 2009, expected defaults (ultimate, realized to date are considerably lower) were around 30%; they are now more like 40%. One can argue those aren't all due to bad lending; we also have losses due to high and persistent un and underemployment (these are considered to be normal credit losses, as in "shit happens" as opposed to defective lending). So for the purposes of parsing out bad lending from knock on crisis effects, let's use the 30% default level as representing bad lending decisions.
Even with a default, on housing, investors will get a recovery from the sale of the house. It's much lower than in normal housing cycles, so we'll use a 70% loss (as in 30% recovery). That gives you losses of about $250 billion, or 1.8% of GDP. This would have been a S&L level crisis (remember, we had dumped a lot of the bad paper on foreign banks) in and of itself, not a financial system heart attack.
One of my pet peeves is that the focus on housing qua housing completely misses other critical drivers that made bad housing debt the detonator of a global financial crisis. One was the activity of subprime shorts. For every $1 in BBB subprime bonds, Standard & Poors estimates ten times amount was created in CDS on those bonds, which were typically created as part of synthetic or heavily synthetic CDOs. And who was on the other side of those trades? Leveraged institutions that could not take much in the way of losses: AIG, European banks, US investment banks, monolines. And those dominoes falling set off other failures. For instance, commentators continue to ignore that the damage to the monolines led to the failure of the auction rate securities market (the dealers stopped propping it up because they did not want to hold inventory that would fall in value when the monolines were downgraded, which was clearly inevitable). The seize up in the ARS market in turn kicked off a series of disasters in the municipal market, as borrowers had to pay punitive rates on their ARS and often on related swaps.
Third, he seeks to shift blame from "particular Dutchmen" whose presumed counterparts today would be particular members of the financial services industry, and instead society as a whole. Since everyone is to blame, no one is to blame. That's a very convenient posture for a reporter on the securities industry beat.
Nocera takes a similar, albeit less obvious, industry flattering view on the Dylan Ratigan show. Start watching at around the 5:20 mark to about 7:40:
Visit msnbc.com for breaking news, world news, and news about the economy
Nocera may sound reasonable, but his rejection of criminal cases is based on false dichotomies and straw men. He's right that criminal cases in the financial arena are often hard to win, but that is no justification for throwing up your hands. And the Bear Stearns cases he cites unfortunately say more about how ill prepared the SEC is to pursue credit markets cases (not an area of SEC expertise) than whether that case was winnable.
The SEC's prosecution of the case was widely seen as inept; it relied far too heavily on extracts from e-mails and the timing of certain trades made by the managers. In a huge lapse, they appear not to have grilled the defendants or done other discovery to ascertain whether the defendants might offer other explanations for these seemingly damning facts. This was a failure of basic litigation blocking and tackling, a rookie level mistake. So why doesn't Nocera instead call for the SEC to beef up its litigation staffing, or bring in top courtroom talent, as he Department of Justice does upon occasion in high profile cases?
Nocera conveniently forgets that Eliot Spitzer threatened to indict AIG on accounting fraud (amusingly, the Wall Street Journal harrumphed about how abusive that was, when AIG's using finite reinsurance and later proof of continued lax controls, as witness its $20 billion losses on its securities lending attest) and that Ken Lay, Andy Fastow, and Jeff Skilling were all convicted in Enron, the mother of financial complexity. In the end, sixteen Enron employees pleaded guilty, and five more individuals, including Merrill Lynch staffers, were convicted.
In the movie Inside Job, Spitzer set forth the way to get convictions at big financial firms: start with the widespread use of company funds to pay for drugs and prostitutes for employees and clients. Use that wedge to get staff to turn evidence of financial crimes. With insiders providing a road map and testimony, criminal prosecutions become winnable. All it takes is a prosecutor with guts and a squeaky clean personal life.