The notion underlying the Volcker rule is that too big to fail institutions have a government backstop and therefore their activities should be restricted to the types of intermediation that support the real economy. The taxpayer has no reason to fund "heads I win, tails you lose" wagers. Various firms, most notably "doing God's work" Goldman, has tried to play up the social value of its role, whenever possible wrapping its conflict-of-interest ridden trading activities in the mantle of "market making".
A big problem in taking about market making versus position trading is that, Goldman piety to the contrary, the two are closely linked. Even though all the major dealer banks created proprietary trading operations to allow top traders to speculate with the house's capital, plenty of positioning also takes place on dealing desks. While dealers are obligated to make a price to customer (well, in theory, it's amazing how many quit taking calls in turbulent markets), they are shading their prices in light of how they feel about holding more or less exposure at that time. And the dealing desks, just like the prop traders, are seeking to maximize the value of their inventories over time.
A Goldman discussion of risk management presented yesterday (hat tip reader Michael T) gives reason to question that much has changed on Wall Street regarding the role of position taking, now taxpayer supported, in firm profits. One slide shows that nearly half their positions are held more than 45 days.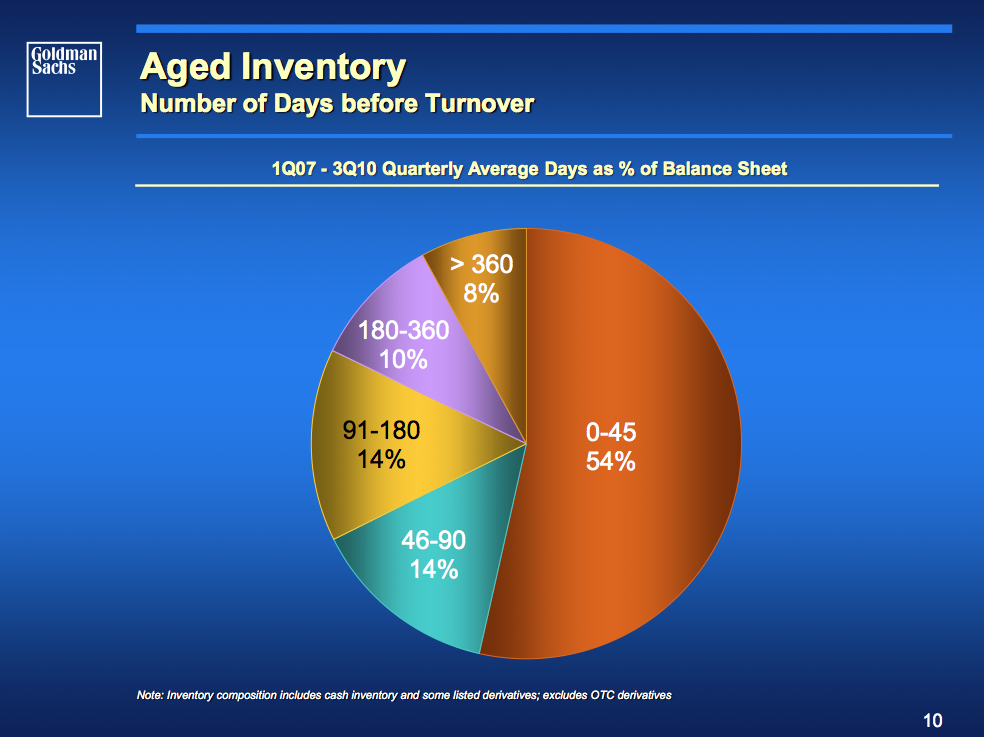 However, before making further comment, we must note that both the rather long time frame (why show an average from the crisis to now? the environments were wildly different) and the exclusion of OTC derivatives makes this slide useless in terms of understanding the length of Goldman exposures, which therefore suggests it was crafted to obfuscate. But even taking it at face value, Ace Greenberg of Bear Stearns, who was considered a hands-on and effective risk manager (he was not in that role when the firm imploded) had a much simpler management rule: any position over three weeks old was to be sold.
Note that the presentation weighs heavy on the use of Value at Risk, and shows Goldman to be running lower VAR relative to market volatility. There are widely-discussed problems with VAR which lead it to understate risk, for instance, that it by design chops off tail risk, which is the risk that will kill a levered firm, and that the correlations used to measure the risk reduction of exposures in different instruments and markets, behave very differently in stressed markets. But reader Michael C pointed out that VAR can be useful as a proxy for position risk assumption, so running ANY VAR means a firm may be taking position risk and thus running afoul of Volcker Rule precepts:
What is Prop Trading?

That's an easy question to answer.

Any position that ends up in the Var exposure is prop trading.

Var measures exposure to market risk. Var is the measure of market risk used to determine the amount of capital required to support the trading activities at banks under the BIS capital framework. There is no uncertainty about what constitutes trading risk (prop trading) . Indeed, the market risk capital requirements were designed to enable the prop desks at banks the flexibility to manage the market risks of their prop activities free of regulatory interference regarding the component pieces, provided they held capital against the books.

Market Risk exposure (which includes credit risk translated into market risk through capital market and derivative activities (i.e CDO and CDS)) arises through the trading activities of the institution.

The "who can tell what's customer driven and what's prop trading " argument is completely bogus. If the activity leaves the institution with net market risk exposure, that activity is prop trading. I believe this is Volcker's view.

To determine what is appropriate prop trading for an institution, review the Var exposure by trading desk at each institution, then determine which prop trading desk rightfully belongs in a federally backstopped institution. To be precise, review the positions feeding the Var. The risk calculation methodology issues are irrelevant for this argument.

For example, if the structured products desk at GS generates market risk and thus Var, and if it's a major profit center, GS needs to convince us that this is an activity that should be supported by any type of govt support…

GS's defense that the prop trading represents a sizeable but small % of their revenues is nonsense. They may make the lions share of their trading profits on transaction spreads, but the additional % they designate as prop trading on the residual exposure is a piece of the whole trading activity that is considered as "prop' trading under the global banking standards.
Reader comments on the disingenuous or merely sanctimonious elements of the Goldman presentation are encouraged.