When a smaller earthquake struck near Tokyo a couple of days ago, I wondered if worse was on the way soon.
Japan has been overdue for a major earthquake, given their historical frequency. Perversely, there was much more worry about the impact of a major quake on Japan when it was an economic force to be reckoned with (perhaps a subconscious wish to cut the seemingly unbeatable Japanese down to size?). While the horrific death count that resulted from the last great quake in 1923, led the Japanese to impose vastly tougher building codes and continue to improve upon earthquake-related technology, events like this too often have a nasty way of defeating careful planning. But this tremblor, which registered a formidable magnitude 8.8, was off the northern coast, but still has produced serious disruptions in Tokyo. There are no good reports of the damage yet. From the New York Times:
The quake that struck 2:46 p.m. was followed by a series of aftershocks, including a 7.4-magnitude one about 30 minutes later. The U.S. Geological Survey upgraded the strength of the first quake to a magnitude 8.8.

The meteorological agency issued a tsunami warning for the entire Pacific coast of Japan. National broadcaster NHK was warning those near the coast to get to safer ground.

The Pacific Tsunami Warning Center in Hawaii said a tsunami warning was in effect for Japan, Russia, Marcus Island and the Northern Marianas. A tsunami watch has been issued for Guam, Taiwan, the Philippines, Indonesia and the U.S. state of Hawaii.

The quake struck at a depth of six miles (10 kilometers), about 80 miles (125 kilometers) off the eastern coast, the agency said. The area is 240 miles (380 kilometers) northeast of Tokyo.

In downtown Tokyo, large buildings shook violently and workers poured into the street for safety. TV footage showed a large building on fire and bellowing smoke in the Odaiba district of Tokyo.

In central Tokyo, trains were stopped and passengers walked along the tracks to platforms.

Footage on NHK from their Sendai office showed employees stumbling around and books and papers crashing from desks.

Several quakes had hit the same region in recent days, including a 7.3 magnitude one on Wednesday.

Thirty minutes after the quake, tall buildings were still swaying in Tokyo and mobile phone networks were not working.
The buildings are designed to sway but it must be really disturbing to see them move that much.
From the Wall Street Journal:
A powerful earthquake, measured at 8.8 magnitude, struck Japan Friday afternoon, causing damage in Tokyo and sparking warnings of a 6-meter-high tsunami along the country's northeastern coast.

The yen, Tokyo stocks and Japanese government bond yields fell, with the benchmark Nikkei Stock Average closing 1.7% lower and the dollar rising to around 83.20 yen from 82.80 yen.

Television reported smoke rising from a Tokyo port building, and fire in the capital's waterfront Odaiba district.

The tsunami watch was in effect for Indonesia, the Philippines, Taiwan, Hawaii, Russia and the Marianas.

The magnitude was revised upward from 7.9 magnitude by the U.S. Geological Survey.

Public broadcaster NHK showed cars, trucks, houses and buildings being swept away by tsunami in Onahama city in Fukushima prefecture.
I hope all reader in Japan and their loved ones are safe.
Update 3:15 AM: I'm watching BBC live. The studio in Tokyo is still getting aftershocks. They showed footage of a massive refinery fire in Chiba prefecture, east of Tokyo. Hundreds of thousand of people are stranded as subway and trains service has been suspended.
Tsunami map (hat tip Richard Smith):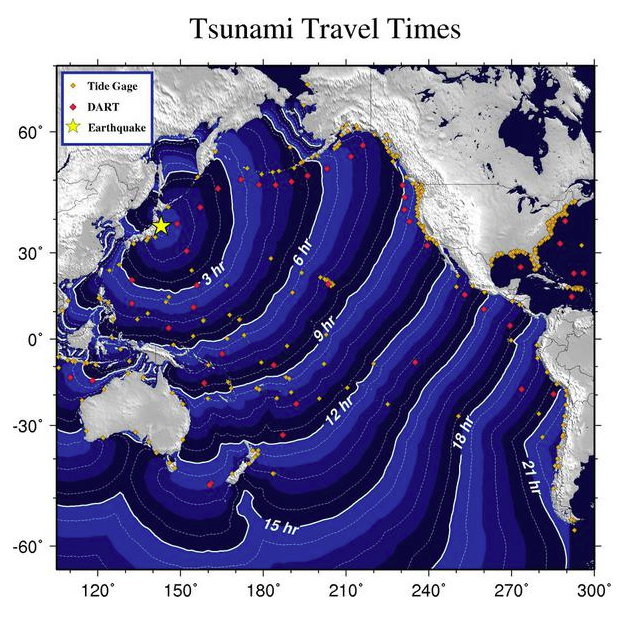 Update 3:25 AM Wow, Wikipedia already has an entry.
Update 4:00 AM:
Japan's earthquake Financial Times. Updated frequently, liveblog style
Watch NHK in English for more earthquake news (hat tip Clusterstock)