The urban legend that Eskimos the Inuit have more words for snow than the rest of us nevertheless has intuitive appeal. A population might indeed develop a richer vocabulary to describe phenomena its members consider to be important. Consider how oenophiles make a show of describing the flavor of wines in ways that elude mere mortals. And it turns out the Sami, the natives inhabiting the arctic zones of the Scandinavian countries, do have hundreds of words for snow.
In keeping with underlying logic of the Eskimo snow words theory, as propaganda has become a more prevalent part of our culture, the terminology to describe it has also grown. "Agitprop" has been around for a while and has creaky lefie overtones. The World War II "Tokyo Rose" became "Baghdad Betty". The sanitized terms "hype" and "spin" or somewhat more pejorative "spin-doctoring", which describe the general phenomenon, have now been joined by descriptions of more specific activities, like "swift-boating" and "astroturfing". I'm a bit saddened to see that Jane Hamsher's "veal pen" hasn't take off in the same way some other expressions have, but it might be because "veal penning" does not roll trippingly off the tongue.
Today, Lambert Strether provided us with a new coinage which seems to have real potential. From his post "Ezra Klein: 'Move along people, move along. There's no fraud here!'":
A lot of banks and investors held assets based on mortgages they thought were safe. They weren't. That meant that no one knew how much money they really had, or how much money anyone else really had. So the market did what woodland creatures do when they get confused and scared: It froze. And so, too, did the economy. As the unemployment rate shows, we're still not completely thawed out.

Really? Some investors — especially the little guys — may have believed the ratings agencies and "thought" mortgage-backed securities were "safe." Sophisticated investors probably did not. And the bankster criminals who looted billions using accounting control fraud certainly did not.

That single paragraph should disqualify Klein from ever writing on financial topics again. In fact, it should cause Klein such blushing shame and toe-curling embarassment that he resigns his position, shaves his head, and becomes a Buddhist monk in hopes of avoiding the fate that karma surely has in store for him. In fact, that single paragraph should give rise to a new verb, "to klein," signifying not merely bullshit, but bullshit where the bullshitter is so primally and narcissistically unaware that their bullshit is bullshit, so pure in the untrodden innocence of their own snow job …. That they're still collecting a paycheck from chinless wonder Fred Hiatt. That one paragraph should disqualify Klein from ever writing again for any news gathering organization. Then again, Klein types for Pravda. So there's that.
We'll see soon enough if this one gets traction.
Update 3:00 AM: I have gotten a query via e-mail disputing the idea that there was anything wrong with what Klein wrote. To be clear, even though his paragraph seems anodyne, that's precisely why it's troubling. Klein's defender argued that all he was doing was invoking a conventional narrative, that of a run on the shadow banking system, where repo acted as deposits, senior tranches of debt were used as collateral and viewed as safe, uncertainty increased about the value of those tranches, haircuts increased as they were viewed as risky, and then panic and market seizure resulted.
The problem is that this broad brush, both the Klein discussion and the e-mail version, serves to exonerate the dealer banks who were originating and packaging dodgy private label mortgages into RMBS and CDOs. It's ultimately the "whocoulddanode" defense that is too often used to shield people who should have and often did know better from being held accountable.
Repo haricuts widened well before the collapse. Repo tenors also started shortening considerably before Sept 2008. Over 70% went to overnight by early 2008, IIRC. But the haircut widening/tenor shortening was still considerably in arrears of insider and more public knowledge that private label mortgage paper was toxic. Look at Goldman's behavior per the Levin report. They marked their exposures down but were peddling the paper to client at the stale, meaning inflated, marks!
The paper was known to be risky by late 2006 and increasingly in 2007. Investment banks were rushing like crazy to package up everything RMBS like they had in inventory or in warehouses they had funded into CDOs and shove them out the door. The fact that money market funds (who were the big repo lenders) were not as fast to respond to the increasing evidence of the true state of the risks fits Lambert"s narrative. The repo lenders were the chumps.
The rating agency downgrades of AAA recent vintage private label RMBS were early 2007. They were large and widespread downgrades. It was obvious the CDOs were toast too but the rating agencies waited six months (August 2007) to downgrade them and went through them like howitzers.
The problem is Klein effectively exonerates the Street, as if no one knew the paper was bad. That's just wrong as of spring 2007. But the money market funds were slow to wake up. Notice how long it took them to haircut AAA paper in a serious way: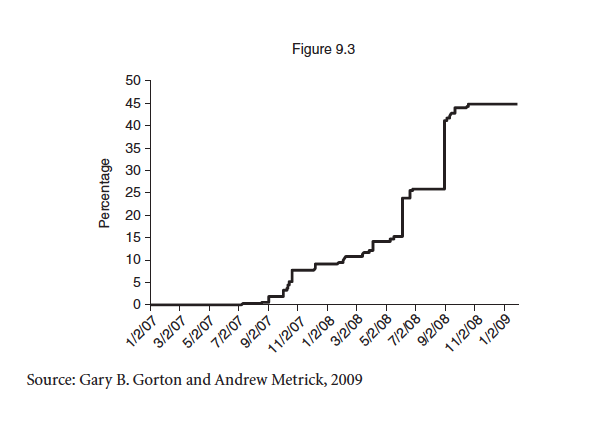 That chart is across a broad swathe of structured credit paper. Haircuts on AAA rated ABS (asset backed security, meaning almost entirely subprime) CDOs went to 95 as of August 2008. That meant it was effectively worthless.