In an article in the Telegraph, "How the Fed triggered the Arab Spring uprisings in two easy graphs," Andrew Lilco argues that " the Fed seems very clearly to have achieved more in the Arab world in six months than the Pentagon achieved in decades." (hat tip Richard Smith):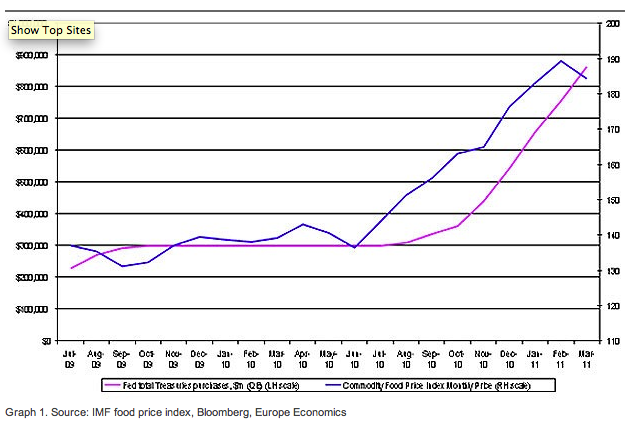 The first plank of his argument is a point most readers and many foreign central banks believe is happening but the Fed insists is a collective fantasy, namely, that the Fed's continued loose money policies and its QE programs have fueled commodities price hikes (note even if you don't believe strongly in an operational link, you can argue for investor expectations: the Fed looks determined to reflate, and if you believe as many do that the Fed will overshoot, finding inflation hedges is sensible. Why arguing that is depicted as economic Luddism is beyond me).
The second point comes from Paul Mason's blog, that rising food stress increases the odds of revolution: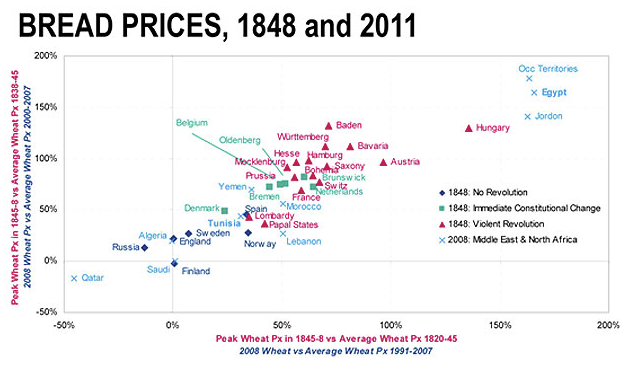 The food stress/revolution point is not new; Clusterstock had a good recap in February of a stab by Nomura of analyzing the vulnerability of various countries to revolution based on youth population and GDP per capita. Note I am pretty certain Clusterstock was asked to revise this post; the version I saw earlier had more countries (IIRC 25) and had two other key metrics: what their food imports/exports were as a percentage of GDP (importers are more vulnerable to commodity price moves) and food as a percent of average household budget (countries with typical citizens living at or not much above survival level are clearly at risk).