Lordie, I can't believe someone who professes to understand markets has written, at length, that caution, no, "excess of overcaution," was a major contributor to the criss. Or has Felix Salmon been spending too much time with lobbyists from ISDA and SIFMA?
I hate seeming rude, but Felix has a habit of tearing into Gretchen Morgenson for errors much less significant than the one he made in a post today. He wrote, apropos this chart, which comes from FT Alphaville: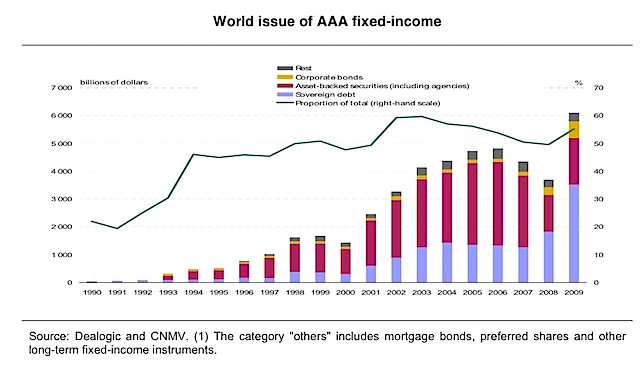 The big-picture thing to remember when looking at this chart is something which I've said many times before — that it wasn't an excess of greed and speculation which led to the financial crisis, but rather an excess of overcaution, with an attendant surge in demand for triple-A-rated bonds. On a micro level, triple-A securities are safer than any other securities. But on a macro level, they're much more dangerous, precisely because they're considered risk-free. They breed complacency and regulatory arbitrage, and they are a key ingredient in the cause of all big crises, which is leverage….

Then look at the green line. Triple-A debt wasn't a huge part of the bond market back in the early 90s, but for the past decade it has invariably accounted for somewhere between 50% and 60% of total global fixed income issuance. That's possibly the most horrifying bit of all: it simply defies credulity for anybody to be asked to believe that more than half the bonds issued in any given year are essentially free of any credit risk.
Now anyone who had read the Financial Times in 2006-early 2007 or was in the credit markets then would know that this statement, "it wasn't an excess of greed and speculation which led to the financial crisis, but rather an excess of overcaution" is demonstrably counterfactual. All you had to do was look at the spreads for risky assets. There was a simply astonishing compression between the yields of perceived-to-be-risk-free assets, such as Treasuries and their toxic counterfeits, the AAA rated tranches of CDOs and CLOs, and risky assets, like the lower-rated tranches of the same bonds, as well as junk bonds. If there was "overcaution" you would have seen a wide spread between AAA bonds and lesser-rated bonds.
But to Felix's point, demand for AAA paper was robust. But that was not the result of caution; two big drivers of demand (particularly for "manufactured" AAA paper, the kind created by structured credit legerdemain, was as repo to serve as collateral for OTC derivatives positions, and for bonus gaming. In the 1980s, the ONLY acceptable collateral for repo was Treasuries; that started expanding as time went on to other AAA rated assets (and even lower rated assets, but the haircuts were significant). We described both in ECONNED. First on the explosion of OTC derivatives stoked demand for AAA instruments:
Brokers and traders often need to post collateral for derivatives as a way of assuring performance on derivatives contracts…

Due to the strength of this demand, as early as 2001, there was evidence of a shortage of collateral. The Bank for International Settlements warned that the scarcity was likely to result in "appreciable substitution into collateral having relatively higher issuer and liquidity risk."

That is code for "dealers will probably start accepting lower-quality collateral for repos." And they did, with that collateral including complex securitized products that banks were obligingly creating.

As time went on, repos grew much faster than the economy overall. While there are no official figures on the size of the market, repos by primary dealers, the banks and securities firms that can bid for Treasury securities at auctions, rose from roughly $1.8 trillion in 1996 to $7 trillion in 2008. Experts estimate that adding in repos by other financial firms would increase the total to $10 trillion, although that somewhat exaggerates the amount of credit extended through this mechanism, since repos and reverse repos may be double counted. The assets of the traditional regulated deposit-taking U.S. banks are also roughly $10 trillion, and there is also double counting in that total (financial firms lend to each other).

In other words, this largely unregulated credit market was becoming nearly as important a funding source as traditional banking.21 By 2004, it had become the largest market in the world, surpassing the bond, equity, and foreign exchange markets.
Now I must confess I have not tried to update the BIS chart. But I have a sneaking suspicion that while derivatives outstandings took a hit in the crisis, between a rise in risk aversion and a concerted effort in credit default swaps land to reduce the notional amount outstanding by netting out offsetting positions, that the old pattern of derivatives outstanding growing more rapidly than the economy has resumed. And now that no one is terribly interested in using AAA rated CDOs as collateral for repo, Treasuries are probably even more important as repo collateral than they were before the meltdown.
A second, significant demand for AAA rated paper was structured credit product creators uncharacteristically eating their own cooking because it enabled them to game their firms' bonus systems. If you hedged an AAA instrument with a credit default swap from a high rated counterparty, Basel II allowed firms to treat it as having no capital requirement (and there was considerable latitude in the rules as to how much or little hedging was necessary to achieve this happy outcome). US banks in theory had analogous capital weightings, but their higher funding costs for this sort of activity and less permissive treatment of the hedges meant they didn't do this sort of trade in anywhere near the same volume (save at Merrill, which engaged in accounting chicanery).
The net effect of these so-called negative basis trades were to allow the trading desks to credit FUTURE income (often years into the future), namely, the yield on the instrument less the funging and hedge costs, discounted to the present and was credited to the desk's P&L. Nothin' like getting paid on income never to be earned.
Now how significant was this activity? Again, from ECONNED:
J.P. Morgan estimated that Merrill and other major CDO vendors like Citigroup, UBS, and Deutsche Bank wound up keeping roughly two-thirds of the top-rated tranches of the 2006 and 2007 deals, which accounted for the bulk of the value of a transaction, typically 65% to 80%.
Read that again. 2/3 of the AAA CDO tranches were retained by the issuers. These were most assuredly NOT "overcautious". Has s Felix forgotten some of the pre-crisis dismissals of caution, like US investment banks hoovering up subprime originators and servicers in late 2006 and early 2007? Or how about former Citigroup CEO Chuck Prince's famously ill-timed expression of optimism in a Financial Times, right before the crisis began in earnest (early July 2007):
Chuck Prince on Monday dismissed fears that the music was about to stop for the cheap credit-fuelled buy-out boom, saying Citigroup was "still dancing".

The Citigroup chief executive told the Financial Times that the party would end at some point but there was so much liquidity it would not be disrupted by the turmoil in the US subprime mortgage market.
It's alarming that someone like Felix, who not merely lived through the crisis but also chronicled it in some detail, seems so keen to engage in revisionist history.