As much as your humble blogger still regards Elizabeth Warren as preferable to Scott Brown in the Massachusetts Senate race, the evidence from her campaign is that she is no progressive, unless you define "progressive" to mean "centrist/Hamilton Project Democrat willing to throw a few extra bones to the average Joe."
We've warned repeatedly that Warren not being all that left leaning was a real possibility. Her views on anything other than consumer banking regulation were unknown; she was a Republican prior to her conversion experience through extensive research into bankruptcies, which revealed that the overwhelming majority were responsible people who hit a stretch of serious bad luck. As much as her and her daughter's book The Two Income Trap is well thought out and argued, they structured the problem as narrowly as possible, around the bidding war for housing and how it led more wives into the workforce, ending their role as secret insurance policy/potential breadwinner. The bigger frame, which Warren ignored, was stagnant worker wages and rising income disparity. Including those issues would have led Warren to consider issues like taxation (how income taxes have become less progressive and have also become more favorable to income from capital) and our multinational-favoring trade deals, and our lobbying-driven industrial policy.
A particularly ugly revelation came in the Boston Herald. On the one hand, the Herald is far from in the Warren camp, so it is possible that her remarks were taken out of context. But on the other, the Herald would see saber rattling as a plus, which perversely means they'd be less likely to exaggerate her views:
"Our number one responsibility is to protect Americans from terrorism, that's our job, so being tough on terrorism is enormously important," said Warren yesterday at a campaign stop in Gloucester.

"We should take nothing off the table, but the facts are still emerging," the Senate candidate said when asked if she would support military action against Iran.
Huh? Protecting Americans against terrorism is number one? That means it ranks ahead of the rule of law, among other things. And this from a law professor. Glad we got that clear.
I lived for a bit in London when IRA bombing were a much more clear and present danger to people on the street than terrorism in the US is or was (you are vastly more likely to die in a drunk driving accident than in an airline crash or from terrorism. If you were rational, you'd minimize use of your car rather than worrying about terrorists in the woodpile). The Brits were simply not rattled by them. Yes, everyone was watchful for abandoned packages, but the populace also seemed determined to preserve a sense of normalcy and not let institutions or even daily routines suffer. So I find it astonishing that US citizens, aided and abetted by statements like Warren's, now seem to have fallen into authority-serving Pavlovian responses when the word "terrorist" is invoked.
And if the Iran drumbeating continues, the episode at its center is likely to be treated by history as a Gulf of Tonkin incident equivalent. The New York Times and CNN both registered skepticism, which is atypical for the mainstream media. Glenn Greenwald was more pointed:
To begin with, this episode continues the FBI's record-setting undefeated streak of heroically saving us from the plots they enable. From all appearances, this is, at best, yet another spectacular "plot" hatched by some hapless loser with delusions of grandeur but without any means to put it into action except with the able assistance of the FBI, which yet again provided it through its own (paid, criminal) sources posing as Terrorist enablers. The Terrorist Mastermind at the center of the plot is a failed used car salesman in Texas with a history of pedestrian money problems. Dive under your bed…

But no matter. The U.S. Government and its mindless followers in the pundit and think-tank "expert" class have seized on this ludicrous plot with astonishing speed to all but turn it into a hysterical declaration of war against Evil, Hitlerian Iran.
I don't take Warren's "facts are emerging" caveat seriously when facts like this are already on the table. And in case you managed to miss it, "We should take nothing off the table" includes nuclear options. Even veiled threats like this legitimate whatever nuclear plans Iran has underway. Israel, its ally the US, Pakistan and India all have nuclear weapons. It's hard to make a case against getting nuclear capabilities from the perspective of protection the population (note yours truly does not have a point of view as to where Iran is on this matter, but my recollection is that the earliest credible estimates put Iran as being years away from having weapons). After all, Warren just argued that security is the top priority for Americans. Why should Iranians feel any differently?
But back to the issue of Warren's belligerent tone. She's fallen in line with the Democratic party orthodoxy, which is treating this Marx Brothers version of an assassination effort as a major incident. I've been at a loss to understand the enthusiasm, but there are probably at least two causes. First, Romney came out strongly in favor of begin aggressive with Iran, as a cynical wag noted, a war would be a Republican jobs plan. Obama is not about to be outflanked. Second, he may hope that if hostilities broke out before the election, he'd get a boost from being a war president.
If her statement about Iran was just one example, it might simply be a personal departure from an otherwise prototypical "progressive" position. All of Warren's three brothers served in the military, after all. But we've seen other tells that she is more centrist than the liberal fundraising apparatus that has latched on to the Warren product would lead you to believe.
For instance, I've had a number of readers ping me, concerned and perplexed to Warren's response to a question in the Democratic primary debates about Occupy Wall Street: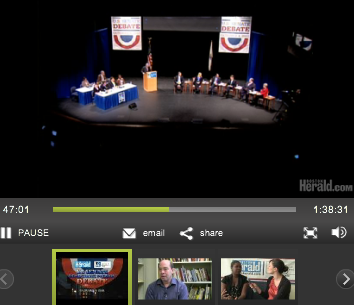 Click through to the video here and watch starting at 49:50. The question is "What do you think of the Occupy protests and would you join them?" Two candidates have a go before Warren, giving her time to think. Each answers the question in a direct manner, the first expressing enthusiasm and saying he would join them, the second expressing sympathy and saying he has physical issues that prevent him from participating, but if he were able, he'd probably go. Each gets a positive reaction from the audience.
Warren, by contrast, pointedly avoids giving a straight response and goes a bit off the rails. Her first statement is about obeying the law, and several readers took it to mean she was accusing OWS of being a bunch of lawbreakers. She gave the impression that she's more concerned about whether they play by the rules or not than whether they have real concerns (and those concerns are broader than just bad behavior by banks). Then she talks about how the banks broke the country mortgage by bad mortgage. She may have meant that as part of her "obey the law" message, but it comes off like an effort to save a flubbed opener. Then she says that's why she wants to run for Senate. In other words, her message, at best, is she doesn't agree with how OWS is seeking to effect change. They should vote for people like her instead.
Similarly, there's a troubling part to the preamble to her now famous "nobody got rich on their own" clip. She's evidently been asked about the budget deficits, and she lists three major causes, tax cuts for the rich, failure to raise taxes to pay for the two Iraq wars, and a Medicare drug plan that was a huge gimmie for Big Pharma. That's actually not true. Far and away the biggest driver the growth of our Federal debt, bringing it from roughly 23% of GDP to 75% of GDP, was the global financial crisis. The US suffered both a plunge in tax receipts and an increase in spending due primarily to automatic stablizers like food stamps, where spending goes up in bad times (the stimulus package contributed only at the margin).
But there is more worrisome subtext to her brief discussion here. She talks about putting the Iraq wars on a credit card and leaving future generations to pay for them. She seems to have fallen for the balance budget meme, when the proper role of government fiscal policy is to accommodate the actions of the private sector, meaning households and business. Households want to save for retirement and emergencies, and the tacit assumption is business invests household savings. But as we've discussed in earlier posts, businesses have ceased being proper capitalists and have also been net savers, even during the last expansion, since 2003. Unless a country is running a trade surplus, and the US is not in that category, the government needs to accommodate the desire of the private sector to save by deficit spending. Otherwise wages fall and the economy contracts, and that makes the debt to GDP ratio worse.
Now it is difficult to be certain based on these brief comments, but Warren seemed to regard the debt problem as serious, meaning she'd support Obama's deficit hawkery, which is not a sound approach right now. Moreover, her "don't do things like that again" is unrealistic. She'd clearly favor reversing tax breaks for the rich, which would be a good start, but even if you buy here analysis, that's not a sufficient solution. Her stance on Iran makes it hard to back shrinking the military. And our earlier post tonight citing the work of Tom Ferguson tells us that Congresscritters fall in line with what the leadership wants, and the leadership is bought and paid for by special interest groups. The health care lobby outspends the banks. If she thinks she can dent the influence of Big Pharma on legislation, she is smoking something very strong.
Mind you, if you are in Massachusetts, I am not telling you not to vote for Warren. I am simply warning you that she is not the Great Progressive Hope. She came to a strongly liberal view on a comparatively narrow set of issues, on how banks have looted customers, based on intensive research. She does not have that depth of expertise on many, if any, of the other topics she opines on. She has surrounded herself with mainstream Democratic advisors, the bulk of them with links to Harvard. She may wrap her views in populist rhetoric, but I strongly suspect, ex banking reform and other consumer protections, she'll be far more centrist than most of her enthusiasts anticipate.