Earth is warming, study concludes BBC
Is Nuclear Power Really a Trump Card Against Global Warming? Counterpunch (hat tip reader Carol B)
Dancing the "Republican Two-Step" with Copyrights, Patents, and Corporations Rudi Colloredo-Mansfeld and Mark Peterson Common Reader (hat tip Steve Mihm)
Almost All Americans Eat Too Much Salt: CDC Bloomberg. As someone with low blood pressure, this sort of headline annoys me. And how do they explain Japan, where there is even more salt in the diet than here, and life expectancy considerably exceeds ours?
Study of US popular music links luxury alcohol brands with degrading sex EurekaAlert. "Degrading" is not exactly a scientific term. The lack of specificity as to how the sex depicted was "degrading" as opposed to just, say, graphic, raises questions about the study.
Tennessee Becomes First State To Fight Terrorism Statewide NewsChannel5. This looks like the TSA expanding its mandate to the war on drugs. Aargh.
UK Committee Suggests Libel Rules For Websites eWeek
Irate News Corp. Shareholders to Take Murdoch to the Woodshed New York Times
Rivets Starting to Pop in Greece Credit Writedowns
1 vs. 99: Keystone XL seizes private US land for oil to China Food Freedom (hat tip reader Aquifer)
Americans for Greater Inequality New York Times (hat tip reader Robert M)
WSJ on Occupy: Up Is Down Common Dreams (hat tip reader Aquifer)
Semi-Random Notes on the Occupy Wall Street (OWS) Movement Charles Hugh Smith (hat tip reader René)
NPR: They are the 1%? LoveScientist, FireDogLake. More OWS censorship.
Unoccupying Melbourne MacroBusiness
Fed Is Poised for More Easing Wall Street Journal
Census Bureau Reports Public Pension Assets Decline Over $726 Billion for State and Local Public Employee Retirement Systems in 2009 US Census Bureau (hat tip reader Hugh)
Wal-Mart Cuts Some Health Care Benefits New York Times
Citigroup Deal to Go to Judge Critical of S.E.C. Practices New York Times
Antidote du jour. Elephants cleaning the neighborhood in Thailand (hat tip reader furzy mouse):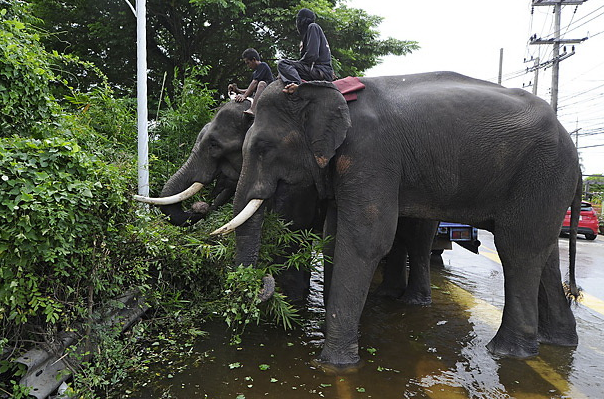 And a bonus, also courtesy furzy mouse: