By Philip Pilkington, a journalist and writer living in Dublin, Ireland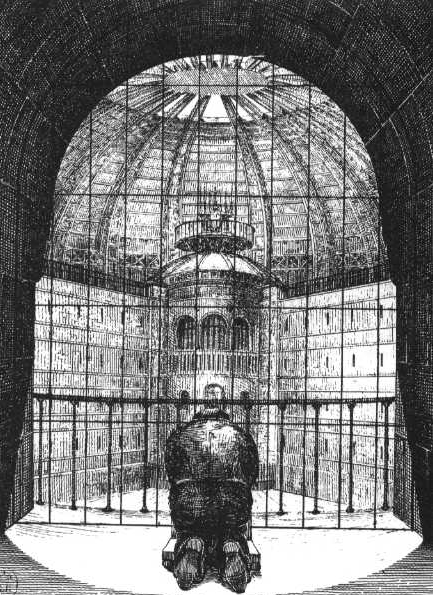 A prisoner kneels before the watchtower in a drawing of Jeremy Bentham's 'Panopticon'. The Panopticon was an architectural form that Bentham envisioned for a variety of social institutions. The idea was to have a central platform where an observer could cast their gaze over all the observed, thus making them feel constantly under watch and ensuring, in Bentham's own words, "a new mode of obtaining power of mind over mind, in a quantity hitherto without example." Jeremy Bentham is also the father of modern utility theory – a theory often associated with individual liberty, which is actually at heart a blueprint for social control.
It's not hard to forget just how nonsensical, simplistic and childish the so-called theory of marginal utility is. Personally, I hadn't encountered it directly for a number of years. But reading a review copy of Steve Keen's excellent new revised edition of 'Debunking Economics' encouraged me to pull out the old Samuelson and Nordhaus textbook once more.
While Keen shows quite clearly in that book that even within its own narrow and absurd definitions the theory is internally inconsistent, I propose here to take a more general look at this intellectual masturbatory appendage that passes for a theory of individual and societal desire – and to try to substantially demonstrate that, far be it from being an expression of individual liberty, it is, in fact, a vision of a controlled and deterministic society, not unlike it's father Jeremy Bentham's other invention, the Panopticon.
"But it's not psychological!"
The theory of marginal utility is, like most concepts in neoclassical microeconomics, quite simple. It begins, also like most concepts in neoclassical microeconomics, with a tautology. The economists claim that people choose that which maximises their pleasure and minimises their displeasure. They refer to this as people 'optimising their utility' – 'utility' here being this supposedly innate tendency to choose that which satisfies us most.
As any even a half-blind observer will note this is complete claptrap. People often make choices that turn out later not to 'maximise their satisfaction' (whatever that crude phrase might mean). Have you ever gone clothes shopping and bought an expensive pair of jeans that you never wore? Well, that's hardly utility maximising behaviour.
In fact people often make choices that lead to less than satisfactory outcomes. This seems to be by design rather than anything else. If we always made the choices that ensured constant satisfaction we would soon find that we had no motivation to do anything new and would simply sit and stew in our own narrow and static world. That we occasionally make less than satisfactory choices allows us to continue to pursue satisfaction all the more. Nothing would smother our drives, our ambitions and our aspirations quite like a constant state of satiation.
But saying any of this is far too psychological for the average economist. After all, they insist that the theory of utility is not psychological. From Samuelson and Nordhaus' 'Economics' (15th Edition):
But you should definitively resist the idea that utility is a psychological function or feeling that can be observed or measured. Rather, utility is a scientific construct that economists use to understand how rational consumers divide their limited resources among commodities that provide them with satisfaction. (P. 73)
The sheer amount of qualifying statements in those sentences is outstanding. But let us ignore such brazen tautology and meandering qualifying rhetoric for a moment, as there is something far more important and interesting going on here.
Why does Samuelson insist that this is not a psychological 'function'? After all, we have just shown that the theory of utility contains a strongly psychological dimension in which it gives a very definitive view of human psychology.
This is a classic shunning of intellectual responsibility on the part of Samuelson. He assures us – and with us, himself – that he is not passing psychological judgement. He does this by insisting that we are engaged here in 'science' (whatever that means).
Of course, the critical observer can see that this is a strongly psychological argument with absolutely psychological foundations, but Samuelson doesn't want to know anything about this.
Why? Because that would lead him to be questioned regarding the psychological basis of his assertions and that would cause his neoclassical worldview to crumble, strip him of scientific authority and show him to be doing what he is, in fact, doing; namely, using a scientific 'style' to try to convince the reader that the unlikely psychology that he puts forward is in fact objective, scientifically verified reality.
Ever diminishing returns
Adding to the theory of utility the theory of marginality doesn't really make things any better. The newly constructed theory of marginal utility states that we will derive an ever diminishing amount of satisfaction (that is, utility) from any given product or circumstance.
Impressive, right? Not really. And not strictly true either.
An obvious counter-example would be that of the collector who derives an increase in satisfaction from accumulating a greater number of a certain item. Not to mention the eager capitalist who views money as an end in itself rather than a means to an end and so tries to accumulate ever-increasing amounts right up to infinity.
Eccentrics, surely? Not really. Many people have a passion for collecting a variety of different items and there are certainly no shortage of burgeoning capitalists in this age of popularised stock markets and online Forex trading.
There's also the issue that advertising can often try to convince consumers to buy ever-increasing volumes of a product – even if the price of the product increases due to the brand becoming more popular. This is often remarkably successful and seems to fly in the face of the theory of marginal utility. In fact, it contradicts it at a very fundamental level. It shows that consumers are not the rationally calculating agents that marginal utility theory says they are. Instead they are agents caught up in trends and fashions and subject to irrational drives that marketers know well how to tap in to.
These objections are not quite as damning as those raised above with regards to utility theory more generally. Indeed, economists will often try to subordinate these secondary objections to their basic so-called laws. In doing so they will bend the 'laws' to contain clauses that accommodate for wholly contradictory phenomena.
Such a practice is, in itself, evasive and shows clearly that the theory of marginal utility is not an enterprise in science that attempts to broaden our view of reality. Instead it is an exercise in ideology that attempts to shut down our view of the world and channel all observable phenomena into a few neat assertions – assertions, remember, that were not derived experimentally.
This practice goes right to the heart of neoclassical microeconomics itself. It is, for the most part, a belief system imparted to people to close off how they view reality. In this it is like a strict religion or a cult. Everything can be explained through a few key precepts and when something seems to contradict these precepts we alter the interpretation of the phenomenon itself and make it fit with the precepts rather than questioning the precepts. It's a bit like a religious fundamentalist endlessly reinterpreting scripture as new phenomena emerge, rather than simply questioning the scripture itself in light of the new empirical evidence.
Although we will look in more detail at this in a moment, it is worth noting here that much of neoclassical economics is in a fact a vast system of collective fantasy. In it the world in all its richness is turned away from and a narrow system of beliefs and assertions is upheld. For the most part, although we will discuss this in more detail in what follows, it appears that this fantasy system is – like many cult systems – designed to ward off anxiety in the adherent and give them a sense of place in the world. That this place is, in a very real sense, malevolent we hope soon to show.
Utility theory slowly builds towards determinism and death
Out of these ridiculous and obviously falsifiable precepts neoclassical economists go on to construct mathematical models. These models say very little beyond the original tautological precepts, but that is not their point. The real point of these models is that they are neat and easy to understand and that they convey the worldview in a way that covers up the dark vision that, in fact, is being imparted to the initiate.
The models show the constraints placed upon the consumer and the possible paths of action that can be taken by him. Samuelson puts it as such:
The fundamental condition of maximum satisfaction or utility is therefore the following: A consumer with a fixed income and facing given market prices of goods will achieve maximum satisfaction or utility when the marginal utility of the last dollar spent on each good is exactly the same as the marginal utility of the last dollar spent on any other good. (P. 77)
Let us remember first that the consumer is supposed to always follow the path to his maximum utility. With that firmly in mind the consequences of the above statement can be fully understood.
What is happening here – contrary to what many would have you believe – is that the economists are trying to establish a deterministic system. They are trying to quash the notion that we are actually individuals who make free choices. Instead we are being viewed here as calculating machines with static preferences that respond to price signals.
Here's how it works. Neoclassical economists do recognise personal taste (although, as Keen shows in his book, they abolish it when it leads to contradictions), but they view it as fixed, innate and essentially static. We are seen to have fixed tastes in the sense that if we are given a table full of items and the prices of these items are held to be fixed we will always choose certain combinations of these items due to our own static personal tastes.
Change in behaviour only really comes from market signals. When the price of a given good rises or falls, we reorder our preferences – still in line with our supposedly innate tastes, but now accommodating the new price system.
The astute observer can see the determinism here. We are assumed to act, in essence, not only without any meaningful free choice but also as a completely static slave to our drives.
But the idea that people have wholly static tastes is not only offensive, but absurd. Any person who showed such characteristics would be considered beyond simply eccentric – indeed, they would be downright neurotic and chronically so.
Samuelson provides a caveat that sums up exactly this view of people:
What is assumed is that consumers are fairly consistent in their tastes and actions – that they do not flail around in unpredictable ways, making themselves miserable by persistent errors of judgement or arithmetic.(P. 78)
First of all, Samuelson is being far too modest here. If people are not seen to have almost wholly static tastes the theory of marginal utility is worthless. If peoples' tastes are constantly changing due to personal development, outside influence etc. then price signals will be of secondary importance and psychological and cultural changes will have to brought to the fore as explanations for consumer behaviour toward anything beyond the most simple commodities.
This aside however, Samuelson's vision of man is quite bizarre. He seems to assume that anyone who doesn't have static tastes and who doesn't lead an eccentric and neurotic existence must be 'miserable'.
Once again we see the psychology that is so unquestionably at the heart of this theory. And what a strange psychology it is. It tells us that we have to learn to do the same thing over and over again ad nauseum, only changing our habits based on price signals (or other costs, such as time expended) and if we don't do this we will suffer. Beyond being absurd, this is a rather morose vision where the individual is punished time and again for not treading the proverbial hamster wheel of destiny.
This reminds one of the horrifying concept of the 'eternal return' that can be found in the writings of the great German philosopher Friedrich Nietzsche. A wonderful depiction of this philosophical and literary device was put forward by the Irish writer Flann O' Brien in his book 'The Third Policeman':
He said it was again the beginning of the unfinished, the rediscovery of the familiar, the re-experience of the already suffered, the fresh-forgetting of the unremembered. Hell goes round and round. In shape it is circular and by nature it is interminable, repetitive and very nearly unbearable.
O' Brien is right, of course. Samuelson's vision is not one of contentment, but instead one of suffering and interminable neurosis. It is a vision of the 'compulsion to repeat' that psychologists have recognised since Freud. The tendency for people – usually neurotic people – to repeat the same thing interminably without deriving any satisfaction from it. Freud, and those that followed him, recognised this as one of the most innately destructive features of the human psyche. Indeed, Freud himself came to view this as a movement by the organism toward death. And yet Samuelson assumes that something similar must be the norm!
Samuelson seems to assume that people will be miserable if they don't engage in repetitive behaviour because they might make 'mistakes'. At the risk of sounding a tad corny: are not the most satisfying experiences of life precisely those that come at the risk of error?
This vision, reaching back to Bentham but alive and well in the economics textbooks of today, is far more sinister and grim than the silly little graphs that represent it imply. It is, at heart, a deterministic doctrine that attempts to construct a world in which everything remains in its right place and almost nothing happens. A nihilistic vision of a world of death and purgatory that never truly moves or goes anywhere.
Pretty disgusting theory – why is it so popular?
When trying to understand the popularity of such a vision one cannot help but think of the more perverse of the old religious cults, because in many ways neoclassical economics is a cult of despair and abnegation. That it's most fundamental psychological underpinnings manifest these characteristics is then of no surprise.
The primary reason that the theory of marginal utility – and to a large extent neoclassical microeconomics more generally – is popular is because it appeals to its adherents as a sophisticated fantasy of control.
This may seem strange. After all, haven't we shown above that the theory of marginal utility is strongly deterministic? And wouldn't this seem to imply that the adherent has, in fact, very little control of his life – subject as he is to primitive, static impulses and market price fluctuations? Certainly on the surface that would seem to be the case but scratch a little deeper and we find something a little different.
By being able to conceive of this great system one gains a great deal of power. Or, more accurately, in one's fantasy one gains a great deal of power. In such a vision of the world everyone's motivations are wholly transparent and one only need to think about so-called 'market forces' to understand the big questions of why everything happens – and where everything should go.
This also puts the neoclassical economist in a seat of power. Imagine for a moment the regal – nay, divine – position these people think they occupy. While the rest of humanity follows their marginal utility, the economists sit back with a panoptic, God's eye view of the world. Like a sort of dark crystal ball that can be gazed in to in order to understand it all. The power!
The original theorist of utility was, of course, Jeremy Bentham who, as we have noted, also came up with the Panopticon. The Panopticon, as noted, was a totalitarian prison system wherein every prisoner was to be watched constantly by a central observer who monitors their behaviour. Bentham thought that this model could be extended to a variety of social institutions, giving rise to a terrifying vision of a totalitarian hell which was later to be captured in 20th century novels such as Orwell's '1984' and Huxley's 'Brave New World'.
Bentham's vision was downright paranoid, of course. But it says a lot about the psychology behind his theorising. This man was not a prophet of human freedom and actualisation. No, he was the harbinger of a dark vision of totalitarian control. And his theory of utility was but another manifestation of his own slightly villainous technocratic tendencies.
This is why the theory of marginal utility is still so popular today. It satisfies the controlling desires of its adherents – if only in fantasy. It provides a sort of imaginary Panopticon in which the adherent can sit and watch humanity and ensure that they are acting in the appropriate manner. From such a position the neoclassical can then dictate to governments and populations what sorts of policies should be enacted to ensure that everyone acts as much in line with their fantasies as possible.
And then people tell me that neoclassical economics is the doctrine of individual liberty!? Please! Only a half-educated fool could think such a thing. Neoclassical economics is an advanced system of technocratic control. It has been since Bentham laid down its first postulates, since he first formulated his desires to establish "new modes of obtaining power of mind over mind, in a quantity hitherto without example."