The police decided to clear out the OccupyBoston crowd overnight.
The video footage shows the police moving in, then about 90 seconds of crowd unhappiness, and then it gets a bit chaotic. It looks like some veterans were forced to the ground with the crowd calling "Shame".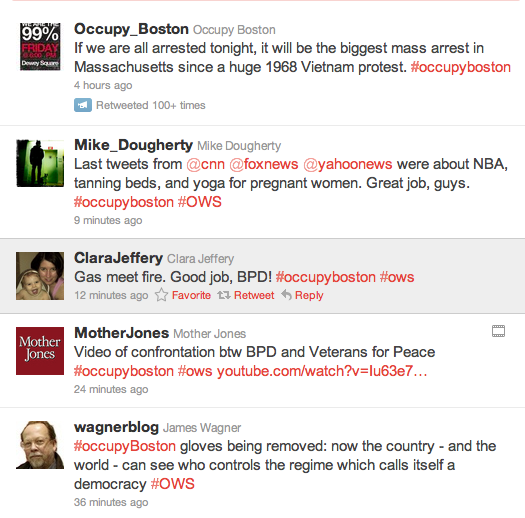 The tweets are from #OccupyBoston; you should also check #Occupy_Boston.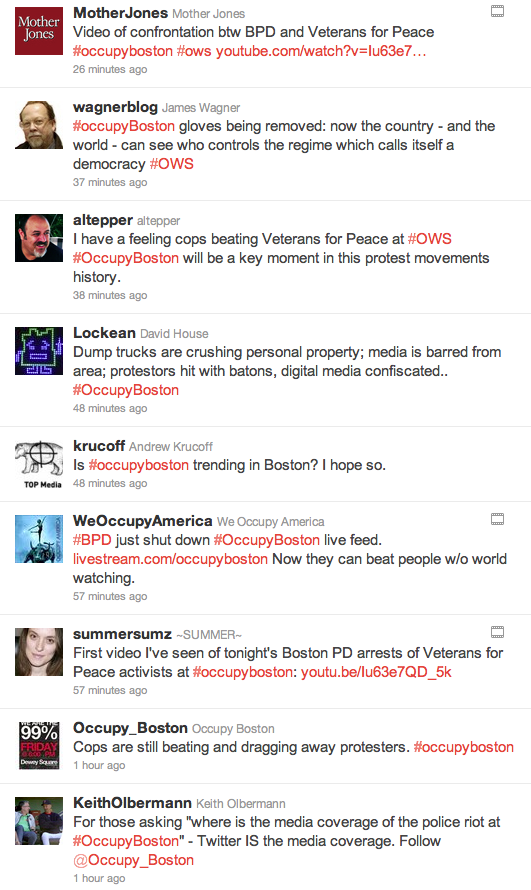 The Boston Globe just released a report, and it reads like the police version:
Boston police moved in and began arresting scores of Occupy Boston protesters who refused to leave a large part of the Rose Fitzgerald Kennedy Greenway early this morning.

At 1:20 a.m., the first riot police officers lined up on Atlantic Avenue. Minutes later, dozens of sheriff vans and police wagons arrived and over 200 officers in uniforms and riot gear surrounded the Greenway.

Police Superintendent William Evans and Commissioner Edward F. Davis watched from across the street. Evans gave the crowd two minutes to disperse from the park, warning that they would be locked up if they did not comply…

About 10 minutes later, the first officers entered the park and surrounded the group. Evans, using a loudspeaker, gave one more warning and then each protester was individually put on his or her stomach, cable-tied, and dragged off as others tore down tents and arrested and detained people on the fringe of the park.

About 100 people were arrested, Davis said. One police officer was hit in the face.

According to police, no protesters or police were injured.
Any eyewitness accounts very much appreciated.
Update 4:15 AM: Jesse points out that the police move in on one encampment, the second one is still in full force. It remains to be seen whether this was a shot across the bow and more action is forthcoming, or whether les gensdarmes felt it necessary to prove to the citizenry that the authorities were still very much in control.