This is Naked Capitalism fundraising week. Over 520 donors have already invested in our efforts to shed light on the dark and seamy corners of finance. Join us and participate via our Tip Jar or read about why we're doing this fundraiser and other ways to donate on our kickoff post and one discussing our current target.
To quote the immortal Forrest Gump, stupid is as stupid does. The biggest New York foreclosure mill, the Steven J. Baum law firm, is a textbook example. The New York Times' Joe Nocera obtained photos from its 2010 Halloween party from a recently departed employee, who said they were consistent with the firm's disdain for homeowners at the end of their economic rope who faced eviction. As Nocera wrote:
These pictures are hardly the first piece of evidence that the Baum firm treats homeowners shabbily — or that it uses dubious legal practices to do so. It is under investigation by the New York attorney general, Eric Schneiderman. It recently agreed to pay $2 million to resolve an investigation by the Department of Justice into whether the firm had "filed misleading pleadings, affidavits, and mortgage assignments in the state and federal courts in New York." (In the press release announcing the settlement, Baum acknowledged only that "it occasionally made inadvertent errors.")…

I saw the firm operate up close when I wrote several columns about Lilla Roberts, a 73-year-old homeowner who had spent three years in foreclosure hell. Although she had a steady income and was a good candidate for a modification, the Baum firm treated her mercilessly
The article produced a hue and cry and led to official follow up. Representative Elijah Cummings, who launched an investigation of servicer abuses earlier this year, had asked the Inspector General of the Federal Housing Finance Agency to investigate allegations foreclosure mills, including Baum. As a result of the Nocera article, Cummings sent a letter to the firm demanding all documents related to possible foreclosure abuses, as well as " preparing for, carrying out, or communicating about the firm's 2010 Halloween party."
So you't think the firm would lay low for a while, right? Wrong. Readers may recall that last October, New York implemented a requirement that all attorneys in residential foreclosures certify that they take "reasonable" measures to verify the accuracy of documents submitted to the court. From a formal standpoint, all this did was reaffirm existing law, but procedurally, it makes it much easier for borrower's counsel to get attorneys who play fast and loose sanctioned.
Look what has happened to foreclosure activity before the requirement was put in place versus this past October: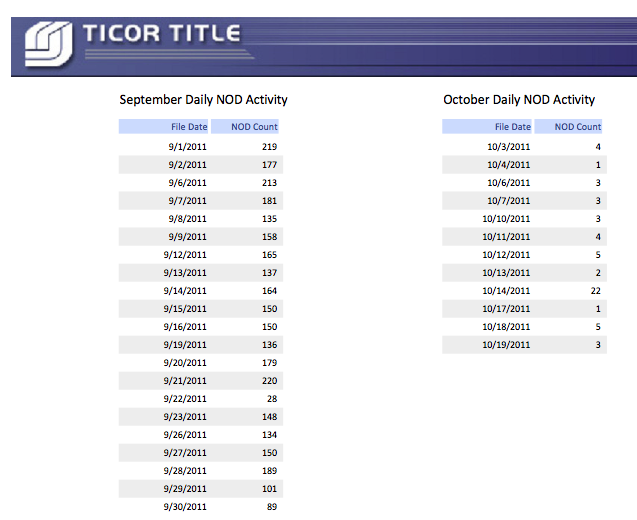 Now imagine what this means to a firm like Baum. No foreclosures means no fees which means they might wind up like those homeless people they made fun of last year. So in a pretty desperate gambit, the firm is trying to challenge the rule on Constitutional grounds.
Reading between the lines of the story in the Buffalo News, this appears to be a Hail Mary pass. Key extracts:
The Baum firm wants a state court in Buffalo to overturn a statewide administrative rule, which the firm contends is impeding the rights of its bank and mortgage servicing clients, and intruding on the power of the local court.

The Amherst firm's attorneys describe a "procedural" but illegal regulation as the only remaining barrier to having the Black Rock home of Shauna M. Foster seized and sold at public auction to satisfy a debt.

"This creates a procedural hurdle [that] prevents them from going to sale," said Baum attorney Tracy M. Fourtner. "My client's statutory remedy is being impaired. . . . The only thing that is holding up the plaintiff's right is this order."

The firm doesn't say why it can't or won't comply with the rule.
Needless to say, the idea that a law firm refusing to say it has met requirements of plaintiffs in residential cases is not getting a sympathetic hearing:
Lawyers for the state insist that Chief Administrative Judge Ann T. Pfau was well within her right under the State Constitution and laws when she issued her regulation "to curb documented widespread abuses in mortgage foreclosure proceedings," according to a legal brief by Laura Etlinger, the state's assistant solicitor general. She said identical or similar rules are in effect in other states..

The lawyers for both sides faced pointed questioning by State Supreme Court Justice Timothy J. Walker, who said he was also on a statewide judicial committee that helped draft the rule.

"Are the courts supposed to rubber-stamp the filings, to . . . just sign off?" Walker asked. "How can the court rely on good faith, knowing what the court knows of robo-signing?"

He noted that lawyers have long had an obligation to bring problems with documentation to the court's attention when they discover it in a pending case. But he said that never happened in New York with foreclosures.
I don't think this is going to turn out well for the Baum firm. Maybe someone should throw a party, but that would be stooping to their level.