By Philip Pilkington, a journalist and writer living in Dublin, Ireland
The Financial Times recently ran a series on the future of capitalism. The FT is usually an excellent publication – but the series came up seriously lacking.
The lack arises because of the question posed. During the Great Depression – indeed, even after WWI – there was a serious alternative to capitalism. During the depression years the Soviet economy, under Stalin's iron fist, was moving briskly, if brutally toward development and increased growth.
Should social forces have begun to move in this direction in the West the elites had a 'panic button' that they could push. They could, if they were so inclined, move toward instituting a fascist system. Hitlerite economic policies – a peacetime Keynesianism never before or since matched in the Western world – were remarkably successfully and had largely warded off the German depression by 1936.
Unpalatable as it may have been to many it was certainly looming in the background in the 1930s – and should the spectre of Communism have truly risen the elite would probably have reluctantly moved in this direction rather than see themselves expropriated (and perhaps not so reluctantly, since Hitler had quite a few fans in the British upper class prior to 1939). Figures such as Henry Ford in the US were keenly aware of what might have to be done to maintain the order of things in the event of large-scale social unrest.
Yes, this was a very different time; real and seemingly viable challenges to capitalism existed. No such challenges exist today and it is this that accounts for the impoverished navel-gazing at the FT.
Various commentators run pieces that are… well… largely irrelevant. They assure us that capitalism will survive because there are no alternatives – thanks, FT, for the information, maybe tomorrow you could remind us all what colour the sky is. Some of the more 'edgy' commentariat even genuflect at the altar of Austrianism and libertarianism claiming that the egregious bailouts have them pining for a more morally appealing 'purge' of the system.
The series over at the FT is as stagnant and as lacking in dynamism as the system it describes has become in recent years. What the FT should instead be asking is: realistically where is the Western capitalist system headed? Because this is a question that is as important as it is answerable.
Let us start with a Martin Wolf piece that has been dug up from the archives and added to the series. This is Wolf writing back in 2009 and his Keynesian optimism is as interesting as it is depressing given recent events.
We can also guess that the US will lead the recovery. The US is again the advanced world's most Keynesian country.
Wolf reckoned that the tepid Keynesianism that was the order of the day in the US at the time was the beginning of something new. He thought that this would generate a momentum that would pull the world out of recession/depression and toward a more prosperous, perhaps even more social democratic, future. His concerns were the usual.
Unfortunately, there are at least three big things we cannot know. How far will exceptional levels of indebtedness and falling net worth generate a sustained increase in the desired household savings of erstwhile high-spending consumers? How long can current fiscal deficits continue before markets demand higher compensation for risk? Can central banks engineer a non-inflationary exit from unconventional policies?
On question number two, Wolf should have known better. All he had to do was take a look at Japan's massive debt-to-GDP ratio and measure it against their bond yields. Then, when some smartass at the back chimed in that it had to do with Japanese domestic saving he could have charted said saving against the rising debt-to-GDP ratio, noted the correlation and concluded that it was the deficits driving the savings – not the savings 'allowing' for the deficits. Every government deficit, after all, is a private sector asset – Wolf's sectoral balances model could have told him that much.
Question number three appears naively optimistic. Only question one shows anything close to approximating a true concern.
What Wolf and other enthusiastic Keynesians missed back in 2009 was… well… history. There's a myth that goes around Keynesian and progressive circles that runs something like this: In November 1932, after three years of failed austerity policies by President Herbert Hoover, Franklin Delano Roosevelt was elected. FDR increased government spending, ushered in the New Deal era of Big Government and created America's welfare state. These developments gave rise to a new sort of mixed economy that was to prove immune from depressions until it came under stress in the 1970s thanks to Vietnam-induced deficit spending and was taken apart by Reagan and the nefarious financial industry starting in 1980s.
Nice story. Pity it's not remotely true. If one looks at the actual history one finds that FDR's anti-depression policies were a palliative at best. Roosevelt was terrified of unbalancing the budget too much and hostile to Keynes' actual ideas. Indeed, after meeting FDR Keynes commented that he hoped the man would be better versed in economics. In 1937 FDR became scared of the unbalanced budget and withdrew spending – leading, predictably, to a massive recession.
FDR's public works programs were excellent, far beyond anything a US president seems capable of today. And he took a lot of flak from the business community for initiating them. But they did not open the deficits nearly enough to pull the economy out of recession. Just look at the actual deficits run by the FDR administration in the 1930s – they were smaller than the today's deficits!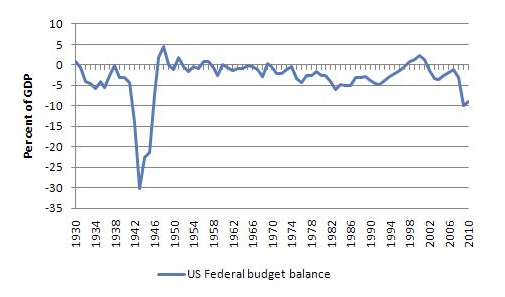 In truth – and as the shrewd reader will already have seen clearly in the above graph – it was WWII that ended the depression. WWII gave politicians and policymakers the gall to unbalance the budget sufficiently to restore the economy. It also gave them the space to rejig the taxation system in a way that made it far more sustainable. If anyone objected, well, they were moving against the war effort, anti-patriotic and hence excluded from the debate.
What lessons should be taken from this? Quite simple ones. Democratic capitalism is a deeply dysfunctional, perhaps even suicidal system. In the good times capitalists and financiers gain ever more power to influence politicians and, after a brief retreat when crisis occurs, they continue to hold this influence when the deflationary pressures set in. Meanwhile, the policymakers convince themselves that the government budget is the same as a household budget – and in this are supported by numerous economists. This leads to a sort of 'perfect storm' situation where the budget deficit becomes the main issue of the day and all else is ignored, including the declining economy.
The business class, together with those elected officials who have become their representatives, feel threatened by any added government intervention. They see in it an attack on their own power. That may seem paradoxical in the case of government officials. Surely, after all, they would see their power increase with increased government intervention. In theory, yes; in practice, no. These officials are so enmeshed in the web of business and moneymaking that any increase in government intervention would appear to them threatening. This is not dissimilar to a journalist embedded with troops in a warzone. Because they become so dependent on the troops for their livelihood they tend to lose all distance from what is going on around them and become one of the gang, as it were. Ditto for the politicians.
The great Polish economist Michal Kalecki noticed this dynamic early on and rightly predicted that it would have enormous consequences for any mixed economy. In his classic paper The Political Consequences of Full Employment he wrote:
There are, however, even more direct indications that a first-class political issue is at stake here. In the great depression in the 1930s, big business consistently opposed experiments for increasing employment by government spending in all countries, except Nazi Germany. This was to be clearly seen in the USA (opposition to the New Deal), in France (the Blum experiment), and in Germany before Hitler. The attitude is not easy to explain. Clearly, higher output and employment benefit not only workers but entrepreneurs as well, because the latter's profits rise. And the policy of full employment outlined above does not encroach upon profits because it does not involve any additional taxation. The entrepreneurs in the slump are longing for a boom; why do they not gladly accept the synthetic boom which the government is able to offer them? It is this difficult and fascinating question.
Kalecki rightly noted that deficit-financed spending was in the interest of the business class. Especially in a depression, when output and hence profits were so low, it is only the government that can return capitalism to prosperity – and yet, capitalists are remarkably hostile to such action, preferring to wallow in a stagnant economy rather than accept assistance. From an economic perspective – which assumes that businessmen care about profits above all else – this makes little sense. But to Kalecki's mind it was perfectly logical.
First he notes how this aversion manifests itself – today's reader will be impressed to know that Kalecki was writing in 1943.
Every widening of state activity is looked upon by business with suspicion, but the creation of employment by government spending has a special aspect which makes the opposition particularly intense. Under a laissez-faire system the level of employment depends to a great extent on the so-called state of confidence. If this deteriorates, private investment declines, which results in a fall of output and employment (both directly and through the secondary effect of the fall in incomes upon consumption and investment). This gives the capitalists a powerful indirect control over government policy: everything which may shake the state of confidence must be carefully avoided because it would cause an economic crisis. But once the government learns the trick of increasing employment by its own purchases, this powerful controlling device loses its effectiveness. Hence budget deficits necessary to carry out government intervention must be regarded as perilous. The social function of the doctrine of 'sound finance' is to make the level of employment dependent on the state of confidence.
Kalecki moves from this highly illogical position to more reasonable ideas that might circulate around the business class:
The dislike of business leaders for a government spending policy grows even more acute when they come to consider the objects on which the money would be spent: public investment and subsidizing mass consumption.

The economic principles of government intervention require that public investment should be confined to objects which do not compete with the equipment of private business (e.g. hospitals, schools, highways). Otherwise the profitability of private investment might be impaired, and the positive effect of public investment upon employment offset, by the negative effect of the decline in private investment.
And so Kalecki suggests that the business class may then favour directly subsidised consumption. But this proves not to be the case.
[S]ubsidizing mass consumption is much more violently opposed by these experts than public investment. For here a moral principle of the highest importance is at stake. The fundamentals of capitalist ethics require that 'you shall earn your bread in sweat' – unless you happen to have private means.
So much nonsense. But what lies behind it is anything but. Because Kalecki then goes on to argue that such intervention makes the business class wary that its power might be eroded. For one, a regime in which the government could hire people to alleviate unemployment threatens the businessman's main disciplinary measure: the sack. This could well lead to an erosion of his social power.
First and foremost, the business class – like any class – are concerned not with profits but with power; the former are merely a means to the latter. They sense that their power comes from their ability to invest as investment drives a capitalist economy. The less they invest and the more the state invests, the less social power they will have. Clearly this is a perfectly logical and consistent idea; indeed, it is almost self-evident in its truth.
Without a major war – and we're not talking about some piddly little adventure in Iran – there is no real motivating mechanism to alleviate the business class' fears in this regard. They would much prefer to sit around idly doing nothing than give up some of their power. And the fetish of the balanced budget serves them well to sooth the doubts of the politician who thinks that something should be done despite such action potentially offending his dining partners. And so we end up in our present quagmire.
Democratic capitalism, quite simply, is a self-destructive system. In the present crisis the business class has rejuvenated their profits through financial chicanery. But, as I argued on this site the other day, this is probably through the inflating of a commodities bubble and will likely not last long. Still, even in the event of this coming to fruition we know from history that the business class will probably prefer to accept chronically low profits than they will the government moving in on their turf.
Thus it is likely that the West is heading for a long period of stagnation and decline. Is this due to capitalism? In a sense yes, but to put it in these terms is far too abstract. This has as much, if not more, to do with our political structures and the amount of power that the business class exercises in modern democracies. It is really a problem, not of capitalism, but of capitalist democracy.
Is this to say that some non-democratic system is preferable? Certainly not. Anyone who would give up their liberty for a pay check is reprehensible. Some will say that we already live in a non-democratic system. I would reply: hold your tongues lest that come true and all your fantasies become a horrifying reality.
But even beyond such moral judgments, in reality the idea that some other system of economic governance might come to replace our own seems unlikely. Again, this is January 2012, not March 1933. We have a welfare system that allows people in even the most callous Western states to avoid starvation. In truth, the structures of power have largely solidified. Even another financial crisis and a chronic shortfall in profitability are unlikely to loosen them up much – let alone break them.
These are the real issues that we face as we move into the future. And it is these that people who try to establish a more functional economic and political system face, bravely, everyday. But these are issues that the FT – with its enlightened business class liberal readership – could not raise. Otherwise it might see its profitability decline long before the next financial crisis. Perhaps then, rather than flag-waving and posturing, the FT would have been better leaving well enough alone. Perhaps they should have stuck to what they are good at – that is, actual analysis – and put away their pom-poms.