The Chart Is a Lonely Hunter: The Narrative Eros of the Infographic.
Novel illness name of the week Language Log. There's gold in them thar codes.
Occupy Movement Regroups, Preparing for Its Next Phase Truthout.
Concerning violence advocates and the Black Bloc in Occupy.
Athens passes demanded austerity bill FT. Banks firebombed.
Images of Athens posted at Occupy London. These give a better idea of scale than mainstream tight close-ups.
Live Blog on Greek Crisis Toronto Globe and Mail.
Florida Homeowners Find Little to Cheer in Deal With "Gangsters" Bloomberg.
Too Many Unanswered Questions, and Too Little Relief (Times editorial). "[U]nsparing follow-on investigation" needed. [Reach me that bucket, wouldja hon?]
Manufacturing rebounds, but is it a renaissance? McClatchy.
Next up on Obama's agenda for settlement: BP Southern Studies. Gulf oil spill trial to begin 2/27/2012 in NOLA unless a settlement is reached.
In The Know Panel Analyzes Obama's Furious, Profanity-Filled Rant At Nation America's Finest News Source.
Congress nearly eliminates funds for lead poisoning Alternet. Saddling hundreds of thousands of urban children with persistent cognitive damage and elevated blood pressure for life.
Frozen to death as fuel bills soar Daily Mail.
The End of Wall Street As They Knew It New York Magazine.
The End of DSK As We Knew Him?
"See Something Say Something" Campaign Reminiscent of the Stasi.
Trader Joe's Signs Fair Food Agreement On Tomatoes With Immokalee Workers HuffPo.
Federal Circuit upholds $371 million patent award McClatchy (Buzz Potamkin). 38 years…
"Dereliction of Duty II: Senior Military Leader's Loss of Integrity Wounds Afghan War Effort" Rolling Stone. Lt. Colonel's bombshell report [PDF].
In Syria, Why Are We Fighting On the Same Side with Al Qaeda?
How the Iraqi electrical grid works McClatchy. People have their very own electric cables. Libertarian paradise!
Nuke dangers nowhere near resolved says PM's Fukushima crisis adviser Japan Times (MS).
Electric bike sales soar in China Economist (MS).
Thousands in Hong Kong vow protest over mainland cars South China Morning Post.
Water is being turned into a global commodity Truthout. What could go wrong? (MS)
British court decides that Nathaniel Rothschild is indeed Peter Mandelson's "puppet master" Independent. Shocker.
Having an easy-to-say name will help you get promoted Telegraph (Valissa). Bosses react negatively to names that are hard to pronounce.
Aaron Swartz on the Attention Economy Technology Review. Of course, anybody who's contributed so much so young is facing jail.
Antidote of the day from Steven V: Hoople.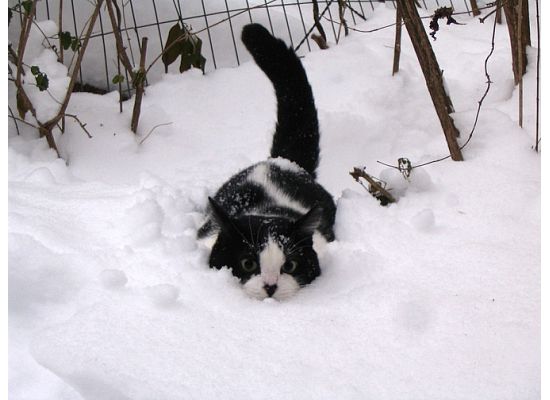 NOTE For readers who sent in pictures: I'm sure you'll be the first to understand that if your cat was not selected, that is due to a failure of cuteness recognition on my part, rather than any "cuteness deficit" suffered by your cat.