In case you got frustrated with bounced mail, I've fixed that for now. It was an over the quota mailbox.
White killer whale adult spotted for first time in wild BBC
Scientists call for moratorium on Arctic fishing AFP
New Herbicide Could Kill Weeds, Crops, Monsanto Motley Fool (furzy mouse)
UN to investigate plight of US Native Americans for first time Guardian (John L)
Department of Homeland Security buying up enough ammo to wage seven-year war against the American people Natural News (furzy mouse). One way to deal with the fact that pretty much everyone in America has a gun. Maybe a Kevlar vest should be part of your wardrobe…
Aurora Junior High-built super car gets 358 miles per gallon KY3 (Lambert)
NSA Money Trap Patrick Durusau
Machine-Made News Lewis Lapham, Tom Englehardt
Iran military says copying U.S. drone Reuters
100,000 women undergo brutal genital mutilation illegally in Britain (and some of the victims are as young as TEN) Daily Mail
Hollande steals poll march on Sarkozy Financial Times
The sadly unpalatable solution for the eurozone Wolfgang Munchau, Financial Times
IMF encourages Europe's economic suicide Ambrose Evans-Pritchard, Telegraph
TOP CHINA ECONOMIST: Here's Why China's Flash PMI Is Weaker Than The Official Number Clusterstock
Global economy: A fragile and fickle recovery Karim Foda, Eswar Prasad, VoxEU
Nomura joins commodity super cycle bears MacroBusiness
Unplugging Americans From The Matrix Paul Craig Roberts (May S)
Obama needs to find a theme soon Ed Luce, Financial Times
Abroad, as at home, Obama coasts on a wave of disappointment Guardian (May S)
Surveillance State evils Glenn Greenwald
Jon Huntsman Criticizes Republican Party, Compares Actions To Communist China Huffington Post
State Life Expectancy: Report Details Gains And Losses In Life Expectancy Around The Country Huffington Post
Did Defense Lawyer Tactics Kill An Asbestos Victim? Consumer Law & Policy. This is entirely plausible.
Chris Whalen: The Fallacy of "Too Big To Fail"–Why the Big Banks Will Eventually Break Up Financial Sense
New federal agency OFR stirs 'Orwellian' fears FoxNews. Hah, Fox's rant suggests this unit might turn out to be effective, although with it under Turbo Timmie, I would not get my hopes up.
New Occupy Crackdown Documents Just Obtained by the PCJF Justice Online
Wal-Mart Bribery Probe Exposes Retailer to U.S. Fines Bloomberg
Here Is What The "Other" Financial Health Metrics Are Showing ZeroHedge. I am making an exception to my usual practice because our Tom Adams highlighted this post, which highlights some Nomura research, as a counterpoint to some Floyd Norris cheerleading. FYI Richard Koo, who gave us the concept of "balance sheet recession" is an analyst at Nomura, and he stresses that in balance sheet recessions, many people in the private sector give top priority to lowering debt levels rather than maximizing profit.
Your market needs you. Without Apple, S&P earnings would show zero growth John Authers, Financial Times
Antidote du jour. Craazyman seems to find horse pictures troubling (is it because horses symbolized power for Native Americans?) but these are Icelandic horses so I am pretty sure they like the weather, even if it might be awfully bracing for the rest of us: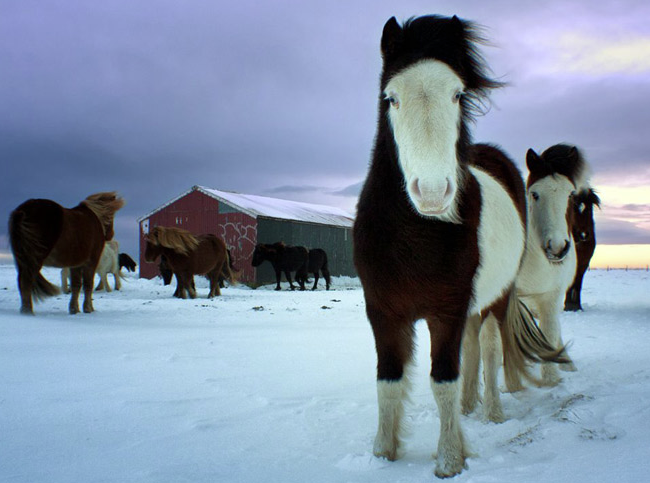 And here is as bonus of sorts. Friend of NC and tax expert Lee Sheppard appears in the movie We're Not Broke, a documentary on the taxation, or more accurately, the lack thereof, of big corporation. If you are in LA, you can see on the 25th or on the 28th in Boston (details here, along with screenings in other cities). I was overseas when it ran in New York, but a second showing is apparently in the offing.