Evolution at Sea: Long-Term Experiments Indicate Phytoplankton Can Adapt to Ocean Acidification Science Daily
The Warrior Class: The Blackwater Videos Harpers. "The vehicle struck the woman and knocked her unconscious body into the gutter."
U.S. filmmaker repeatedly detained at border Salon
Border hoarders American Extremists
US police track cellphones without warrants Al Jazeera
News Corp/NDS Forces DocumentCloud To Take Down Emails Slashdot
The $30 billion Social Security hack Cringley.com
Welfare Limits Left Poor Adrift as Recession Hit Times
Falling Coverage Rates: One Reason Government Surveys May Not Show a Rise in Poverty Dean Baker
10 Unbelievably Sh**ty Things America Does to Homeless People Alternet (F Beard)
Story of Roswell's 'Chicken Man' comes to tragic end Roswell Neighbor (Susie Madrak)
Two arrested in north Tulsa shootings that claimed three lives Tulsa World ("It's not even past.")
Stand Your Ground laws coincide with jump in justifiable-homicide cases WaPo
"I have no problem with people owning guns to protect themselves," says Bill Kuch, [shooting victim] Billy's father. "But somehow, we've reached the point where the shooter's word is the law. The victim doesn't even get his day in court."
That's not a bug. It's a feature.
Book Review – Communication Power – 1 Global Sociology
Cash as Social Infrastructure Credit Slips
Analysis: Islamic finance pressured to join accounting mainstream Reuters
Natural gas glut means drilling boom must slow AP
Supreme Court to Rule on Monsanto Ruling
Drug shortages and the mythical market Angry Bear
Tim Tebow draws big crowd to outdoor Easter service, urges athletes to be better role models WaPo. Matthew 6:5.
"Kill the Head": Gregg Williams, Joe Paterno, and Football's Future New Yorker
US Offers to "Negotiate" if Iran Surrenders; Thoughts on Negotiation Tactics; Obama Threatens War Global Economic Analysis
Fighting Terrorism, French-Style Times
Germany's Pirate Party fails in a bid for an injunction to overturn a legal ban on dances during the Christian feast of Good Friday Gulf Times
A week without the worldwide web FT
'Arc Frays' and Other Elegant Variations Chronicle of Higher Education
Postscript: Mike Wallace, 1918-2012 The New Yorker
Occupy Philadelphia reemerges with Rittenhouse Square rally Philadelphia Inquirer (Paul Tioxin)
Keeping 1 percent values out of a 99 percent movement Pruning Shears
Antidote du jour (MS):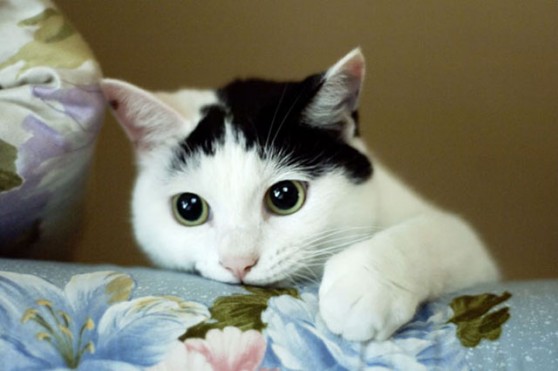 Readers, I have a cavalcade of cats on my list, but WordPress's gallery feature is not what I imagined it to be. Soon!