By Morgan Sandquist, a member of the Occupy Wall Street Alternative Banking Group. Cross posted from mathbabe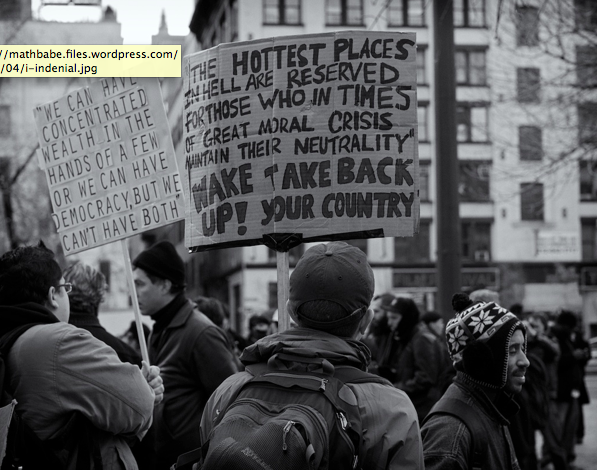 The largest banks in America–Citibank, Bank of America, Wells Fargo, and others–are probably insolvent. I learned of this from my companions in Occupy Wall Street's Alternative Banking Working Group. It seems that, based on a host of legal and accounting irregularities, the banks have been able to conceal real and potential losses far larger than their capital reserves. But this has been difficult to confirm.
Isn't that strange? Wouldn't the possible insolvency of the core of our banking industry be a matter of nearly universal importance? Shouldn't we be trying to figure out if this is in fact so, how it came to be, what we're going to do about it, and how we can prevent its happening again?
Anyone investigating the true health of the banking industry, apparently including regulators, is faced with opacity, complexity, and even outright hostility that stymies all but the most savvy and persistent. Fortunately, people within OWS, including the Occupy the SEC Working Group, are that savvy and persistent. But the reaction of the industry and its partisans to such efforts has included the not-so-subtle suggestion that inquiring into the well-being of the banking industry will somehow cause problems to arise that wouldn't otherwise exist if we would all just mind our own business.
This seems odd in an ostensibly objective and quantitative context like banking. Shouldn't the truth be clearly visible in the accounting? Shouldn't we all–borrowers, investors, depositors, and regulators–want to know exactly what's going on?
As unexpected as such a visceral and irrational reaction to genuine, well-founded concern is from the supposedly rational realm of finance, that telltale blend of evasion, grandiosity, and superstition will be familiar to anyone who has ever confronted an addict about his or her addiction.
Denial is far more than an addict's dismissal of the truth of his or her addiction; it's collectively developed by the addict's entire social sphere, and it takes many forms.
It might be helpful to imagine addiction and denial as intangible agents acting in a social context. Addiction's agency is directed solely toward uninterrupted use of the addictive substance, and denial's agency is directed solely toward ensuring that no one sees, understands, or limits addiction's agency. Denial denies not just claims and assertions, it also denies access and insight into the reality of addiction. It denies that behavior is driven by addiction and that behavior's consequences are the results of addiction. It denies the story of addiction and proposes an endless collection of counter-conspiracies.
It appears as those around the addict ignoring the addict's use and the consequences of that use; as the narratives, tics, and habits through which the addict understands and acts out his or her use; and as the alternate version of reality that the addict and everyone around him or her shares in lieu of the reality of addiction. To paraphrase Baudelaire on the devil, denial's best trick is to persuade us that addiction doesn't exist.
No addiction could develop a more effective narrative of denial than the trade in exotic financial instruments that's evolved over the last decade or so; no addiction could hope for more willing abettors than the financial press, regulators, and ratings agencies; and no addiction could depend on a more permissive enabler than the Federal Reserve Bank.
It's difficult not to imagine the banking industry as jittery and unshaven, embarking on yet another unregulated derivative binge, telling us, its concerned partner, that we just wouldn't understand what it's like, how high the return can get, while its friends in the financial press and ratings agencies encourage it, scoffing at the very idea of risk.
And later that night, as it's coming down, it'll shout something at us about not really needing the $1.2 trillion in liquidity, but if the Fed's offering, why not?, it'll make the night that much better, only to face us the next morning, hungover and distractedly claiming none of it ever happened.
We'll confront it with seemingly undeniable evidence of MERS, TARP, executive bonuses, and a ruined housing sector, and it'll look betrayed, ask us how we could even say such a thing, and tell us that it's none of our concern and that we just have to trust it, because the bills are paid, right? It's not like it's as bad as AIG or MF Global, it'll say, which will lead to an impossible-to-follow tale of the prank it played on MF Global last night, and how that was like something that happened to Bear Stearns and Lehman Brothers once, and ending with the declaration that the Fed and the SEC would never let anything bad happen to the Banking Industry.
And what choice do we have? Maybe it's not that bad. After all, if the banks really were insolvent, there would've been something on the evening news.