By Philip Pilkington, a writer and journalist based in Dublin, Ireland. You can follow him on Twitter at @pilkingtonphil
Are governments really engaging in 'financial repression'? That's what Neil Collins over at FT Alphaville, drawing on the work of Stephen King (HSBC analyst, not the writer), implies.
This meme has been around for quite some time. As far as I can tell it was brought into being by Austrian School types, but then went on to be taken up by more mainstream commentators like Gillian Tett and now FT Alphaville. The idea is that the government is forcing investors into buying pricey government debt by 'repressing' yields through their quantitative easing programs. (There are also some tactics that the government supposedly use to force debt down investors' throats but I won't mention them here because, frankly, they are a stretch). Collins summarises:
QE allows government to escape the disciplines associated with market forces by pushing bond yields down to low levels even when fiscal policy is out of control.
We will leave aside Collins' view that the UK's fiscal policy is "out of control" for the moment and focus instead on the argument that, if it were not for the QE programs, the market would soon 'discipline' the government by raising yields on government debt. Actually we have a perfect experiment in this regard. During the 1990s Japan was running exceptionally large fiscal deficits after their housing and stock market bubbles blew — and what's more, they did this without any QE program in place. Japan initiated their very first QE program in mid-2001, ten years after their financial crisis.
As can be seen in the following chart between 1994 and 1996 Japan had amassed similar amounts of government debt-to-GDP that the UK and US governments now hold: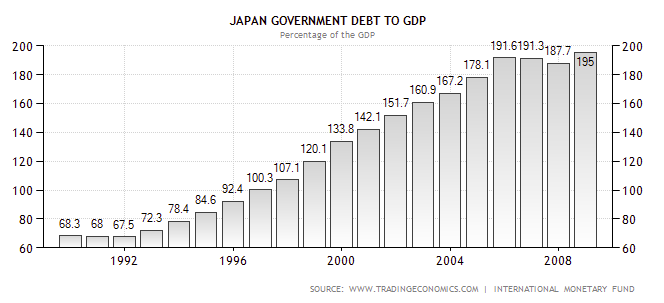 And yet, for all that interest rates remained extremely low: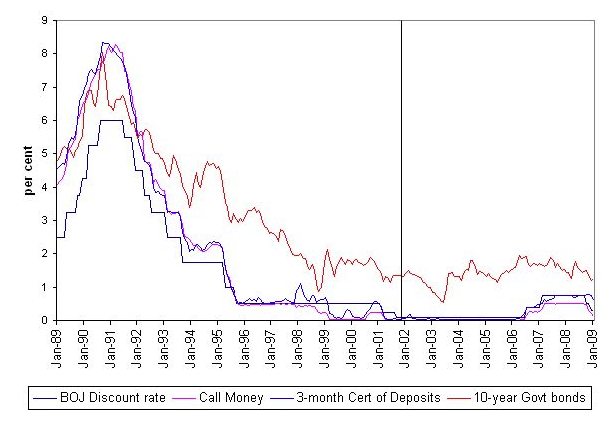 Clearly then, investors were buying up Japanese government debt even though there was no QE in place. Indeed, the yields on 10-year government bonds changed little after around 1999, with the effects of the 2001 QE program on yields being pretty minimal.
So, the evidence simply does not show what Collins and King — together with many other normally astute commentators — are trying to prove. In the bad times people buy government bonds at low yields regardless of if the central banks are engaging in so-called 'financial repression' or not. There is little to no alternative. Indeed, despite what Collins and King imply, this debt — provided that it is issued by a government that issues its own currency — provides the investment community with a perfectly safe asset in order to weather the tough economic times and ensure that their balance sheets remain in relatively good order.
The problem seems to be that financial and economic commentators are suffering from what appears to be almost perpetual anxiety. They're disoriented and confused right now and they're jumping at the sight of every shadow they encounter; including their own. The truth of the matter, as other Financial Times writers like Martin Wolf know well, is that the current high levels of government debt are necessary in order for the private sector to deleverage. Without the government taking on debt the UK economy would collapse and the investment community would see their profits margins (which aren't doing too badly despite their moaning — indeed, King's own HSBC has seen a remarkable comeback post 2008) collapse.
The fact is that the current government deficits in the UK and elsewhere are the new norm. Investors should come to realise that it is upon these deficits that their profits rely, so they should stop their fear-mongering and get with the program. Western economies have some very real problems right now — like high unemployment and a sustained lack of aggregate demand — but government deficits are the cure, not the poison.