Flying out later today, so posts may be thin over the next 24 hours (several topics I'm keen to write about, but no guarantee I'll get to them soon).
Issues in Scaling Civilization: The Monsters-from-the-Id Dilemma Civilization Systems (Chuck L)
Hey, Wait a Minute! The Chronicle (Lambert)
Dinosaurs Not Cold-Blooded In Theory That Flips Old View Bloomberg (Chuck L)
Glucose Deprivation Activates Feedback Loop That Kills Cancer Cells, Study Shows Science Daily (furzy mouse)
Campaigns to Track Voters with "Political Cookies" MIT Technology Review (Chuck L)
Parenting for the Elite Helaine Olen, Forbes
The Looting of China by the Kleptokapitalist Bourgeoisie Roaders Craig Tindale, Steve Keen's Debtwatch
Chinese business to boost $US? MacroBusiness
EM growth doubts hit currencies Financial Times
Leaky pipes compound Delhi's water crisis Tehelka (May S)
News Corp. Board Approves Split in Principle Wall Street Journal
Murdoch the magician is running out of tricks John Gapper, Financial Times
To Save the Euro, the Eurozone Governments Must Stand By Greece Marshall Auerback, New Economic Perspectives
Open letter to a good friend and colleague (who happened to become Greece's Finance Minister yesterday…) Yanis Varoufakis
Merkel digs in heels over action on euro Financial Times
Top CIA Spy Accused of Being a Mafia Hitman Wired and Our Other Assassination Program: Mafia Hitmen Hidden from Congress Marcy Wheeler (Chuck L)
Brownian Motion and the Defense Budget Counterpunch (Chuck L)
Nukes Ready to Fly Clusterstock (furzy mouse)
Time to tighten the noose on Iran Robert McNally, Financial Times. Wow, I've seldom seen so much disinformation in a small package.
Strip club industry: More than Democrats, GOP conventioneers have been 'our best customers' Tampa Bay Times. So what's your theory? Is it: 1. GOP members are richer and have more disposable income and therefore spend more often on indulgences like this? 2. Dems too acculturated by PCness to indulge as much as they'd like to? 3. Dems would rather just get laid and have less difficulty doing so (being less misogynistic than Rs)? Or do you have another theory? Note I am also assuming strip clubs are just strip clubs (in NYC, that's the case, the bouncers will throw men out if they lay a hand on one of the performers).
HUD Secretary Shaun Donovan Inspects 'Versailles' Wall Street Journal (Paul Tioxon). OK, I am really old fashioned. I know this pales compared to stuff like the revolving door, but what is a Cabinet member doing using his office to promote a college buddy's business venture?
Derivatives watchdog defends global reach Reuters (furzy mouse)
Stockton bankruptcy will make history; residents reeling Los Angeles Times (May S)
Stockton, California's Bankruptcy Makes 'Normal' Cities Nervous Governing (May S)
This Week in Financial Not-Crime masaccio, Firedoglake (Carol B)
Beyond Spain and Cyprus, Europe's Mightiest Banks Still Grapple With Crisis New York Times. Aargh! I caught a headline edit in progress! The original version was something like "Eurozone Riddled with Shaky Banks" to which I was going to comment: "It took this long for you to notice?" But as I clicked to the article proper, the had the current headline, and when I went back to the business section page, it had also changed there.
http://www.vegasinc.com/news/2012/jun/27/firm-named-nevada-robosigning-cases-countersues-ma/ Vegas Inc (Deontos)
* * *
Lambert here:
D – 73 and counting*
"The elite and lofty crowd who hold exalted office
are disgusted at the life of grief and bother that they suffer.
But when they consider the ones who, unlike them, are not the prisoners of high ambition–
the amazing thing is that they do not even reckon them as human." –Omar Khayyam
Montreal. "Quebec's waning student crisis is threatening to reignite [Aug. 17, the scheduled return date to school], with teachers becoming involved in the newest phase of the tuition battle. The attention of the province is shifting to now that large nightly student demonstrations have shrunk considerably. Bill 78: "An attempt to challenge Quebec's controversial protest law has suffered a setback in court, as a judge refused Wednesday to grant a temporary suspension of certain provisions." Kids these days: "Rather than judge them, we should rejoice.  We raised them better than we thought, and today they are the bearers of a change that is more than necessary.  Rather than treat them with condescension, we should be proud of them." Father Michel Lessard: "We decided 40 years ago that education should be free and accessible to everyone. That's what's being attacked." These things are fundamental Christian values." Anglican Bishop Dennis Drainville: "what mobilized me to go marching with the students is Bill 78." Bishop Dorylas Moreau: "Isn't social peace more important than a struggle for power and endless protests?" Legacy parties: "In 1998, 90% of Quebeckers declared themselves members of the PQ or the PL. Today, no more than 43% do." Media critique: "This is what happened to Jean Charest ' three [grassroots parody] versions of his video have appeared in the last hours and are currently making the rounds of social media." If that's happening here, I don't know about it. Readers? Violence: "The students have also attempted to put forward a new relationship with violence. By their acts of civil disobedience, they have attempted to resist violence without reproducing its arbitrariness, its brutality and its authoritarianism. No matter what is said by the vast fear campaign presently at work in Quebec, the strikers have resisted the assaults of the forces of order and not the inverse. Their actions have aimed at institutions; they have aimed at 'being liberated' from violence, and not at reproducing it." En: Public relations. Fr: strategie creative.
AZ. Initiative: "AZ SoS State Ken Bennett disqualified a 1-cent sales tax initiative…. saying language on the initiative circulated to voters didn't match the version pre-filed with his office." "The initiative's campaign left off seven lines of text from the 774-line document." Ann-Eve Pedersen, campaign chair: "We have a paperwork SNAFU." "Pedersen says the group filed the correct copy electronically and complied with all requirements of the state Constitution. They have retained a former Arizona Supreme Court justice to represent them." So, SNAFU, or not?
CA. "Officials said Tuesday that Stockton would become the nation's largest city to seek protection under the U.S. bankruptcy code. Almost all who spoke to the council began with some version of: 'I was born and raised here.' … The most impassioned speakers argued on behalf of others, with the main rallying cry a plea to keep health insurance for retirees with illnesses." No bailouts for altruists!
CO. Fires: "CO wildfires had consumed 181,426 acres by Wednesday afternoon" (maps). Climate: "The heat in CO is one ingredient that along with unusually dry conditions and strong winds is creating one of the worst wildfire seasons on record." Fodder: "[M]any federal firefighters are temporary employees…. Under federal regulations, temporary employees of the Forest Service do not receive benefits. That means no health care and no retirement pension." Just like the workers who fought to save Fukashima. Policy: "U.S. Rep. Scott Tipton, R-Col's change of heart helped kill Rep. Ed Perlmutter's amendment that would have dedicated more federal resources to fire prevention, especially in areas impacted by pine beetle infestation." Swing state: "President Barack Obama plans to travel to the area on Friday to view the damage."
FL. Privatization #FAIL: "FL will spend $47 billion this year hiring outsiders to provide goods and services for the state… [A] sample audit of the 24,000 state contracts at 33 different agencies found that 35 percent were flawed. News of the wierd: "Tests find only marijuana in face-chewer's system."
GA. Water: "The U.S. Army Corps of Engineers said in documents released Tuesday that it has the legal ability to give metro Atlanta communities access to 705 million gallons of water per day from Lake Lanier on the Chattahoochee River to meet needs through 2030."
IA. Development: "After failing to deliver on its promises, a Cedar Rapids company has agreed to pay back–with interest–a $250,000 loan the IA Economic Development Authority awarded last year. Solid reporting by a local journalist may have made the difference."
LA. Corruption: "Michael McGrath Jr., a former mortgage bank chief who is serving a 14-year prison term for selling fraudulent credit union loans, helped Frank Fradella funnel a $50,000 payment to Nagin in June 2008."
MD. Corruption: "jest: The national [mortgage] settlement is $26 billion, of which Maryland gets $1 billion. However, according to your own Maryland Foreclosure Fraud Task Force Report (see pg. 31), there was a $31 billion dollar economic loss in home values in the state of Maryland alone. Additionally, there was an additional $340 million dollars in lost in state and local tax revenue. Given this, where did the final settlement numbers come from? Doug Gansler (Douche-MD): Uh' *stutters, stammers, delays* Uh, give me the name of one person who was involved in a foreclosure or in a robo-signing case. jest: That's not the issue. I simply want to know how a $31 billion dollar problem can have a $1 billion dollar resolution. Where did that number come from? Douche: *Uncomfortable laughter* Well, this is the first time people at these workshops have been unhappy to get free money! jest: I remember past lawsuits where people would get multi-million dollar judgements against McDonald's because their coffee was too hot. People are getting foreclosed fradulently on by a computer program, MERS, and all they get is a $2,000 check? Where did that number come from?" Privatization: "Baltimore's City Council recently voted to let companies place advertisements on fire trucks in an effort to cover infrastructure costs."
MN. "I've copyrighted my image. If you use it I'll sue you for infringement." Alrighty then.
MT. Voting: "U.S. District Court Judge Charles Lovell refused to issue an injunction [sought by Rs] against the Montana law that makes it a crime for political parties to endorse candidates in judicial races."
NC. DNCon: "The city of Concord was blind-sided Monday night by a decision to move the Democratic National Convention's kickoff party to uptown Charlotte. [T]he time and tax money spent preparing for the Labor Day event is lost and will not be reimbursed." If Mitt were nimble, he'd write Concord a check. He's done it before. DNCon: "[The Chairman of the Democratic Congressional Campaign Committee] has a message for his party's candidates: Stay away from the Democratic National Convention in September." Snark watch: "This always works. It's always totally effective for a Democrat to run against other Democrats. … It makes you look all mavericky and complecticated, and it absolutely insulates you from criticism that you're a babykilling gay-married who wept over Osama's bullet-ridden corpse while listening to a dramatic reading of Rules for Radicals by Bill Ayers and Al Sharpton. In Chicago. Where you took the bus."
NY. Fracking: "Talisman refused to meet with the [150 peacefully protesting] concerned residents, locking their doors and eventually calling law enforcement and refusing communication with event organizers." Classy! Check the pictures. For this they called the cops? Fracking, corruption: "E-mails obtained from the state Department of Environmental Conservation by an environmental group show state officials gave details of a proposed permit and regulations for natural gas hydraulic fracturing to industry representatives before making those proposals public." "Our fresh water has made this region ripe for agriculture, dairy farms and vineyards. Hydraulic fracturing would put an end to New York State as we know it." 1%ers behaving badly: "But this year's Fourth of July fireworks on the Hudson River will offer a new tier of premier viewing — a V.I.P. section in Hudson River Park where spaces will go for $200 a pop." It's a public park. Nominally. Awww: "An unemployed Brooklyn man missed a job interview Tuesday … was saving the life of a 9-month-old boy who was blown into the path of an oncoming subway train by a gust of high wind."
OH. Campaign: "The OH arm of President Obama's reelection campaign has produced a three-minute video to highlight Mitt Romney's support for SB5," later voted down in a referendum. I remember when the SB5 union guys were heading into Columbus for an SB5 Capitol protest, and passed Obama's motorcade going the other direction. So don't try to tell me. Fracking: "The greatest potential risk from fracking comes from the toxic chemicals used in the fluids that break apart geologic formations. SB 315 requires disclosure 60 days after the fluid has been used — in other words, disclosure after the potential damage is done. But it gets worse: drillers can claim that parts of the fluid recipe are proprietary and refuse to disclose them even to ODNR."
TN. Ballot access: "Green Party members last month nominated 11 candidates in the wake of a February ruling by U.S. District Court Judge Joe Haynes, who ruled as unconstitutional sections in state law that have made it difficult for third-party candidates to appear on the ballot with their party affiliation."
TX. Corruption: "Twelve boot camp instructors are being investigated for having illicit relationships with female trainees in San Antonio, a number that rivals a similar scandal at the Army's Aberdeen Proving Ground in the mid-'90s."
VA. UVA Hoo d'etat: "McDonnell said the barrage of criticism that Dragas has endured has been 'unfortunate and counterproductive,' but he said nothing about whether he would reappoint her." Hmm… "Suzie McCarthy, the graduate student who organized the main Facebook page for Sullivan supporters and who helped organize the rallies on the Lawn, said the situation isn't a simple one. She recalled hearing from a professor who turned down a job at another Virginia institution that would have doubled his salary, opting instead to stay at UVa. "That alone shows you there's a different business mode. 'We're dealing with human capital; we're dealing with relationships.'" Human capital?
VT. SIEU jumps into single payer VT battle, bypassing local organizations. (Translation: They're a roach motel for progressive energy, just as in 2009.)
WI. John Doe investigation: "It's possible that Russell [q.v.] knows too much about not only Walker's former administration in Milwaukee County, but also about D players …. " Apparently… If Russell doesn't sing, Walker walks. But now, do both parties have the same interest? To bury the investigation? Badger State politics geeks please elucidate! "Co-operative living could help address Madison's homelessness crisis, according to a community briefing hosted by the Affordable Housing Action Alliance Tuesday evening." Corruption: "[Rep. Robin Vos (R-Rochester), Rep. Bob Ziegelbauer (I-Manitowoc] said Tuesday they had not known the RNC was paying for the legal work [in a voter ID lawsuit]. Vos said he deliberately did not ask who was funding the effort to minimize any allegations that he was doing the bidding of outside interests." Who does Vos think he is? Neil Bush?
Outside Baseball. "And there's only 1,285 days until the Iowa caucus in 2016."
Policy. Doug Henwood: "A source (who must remain anonymous) with excellent intelligence on SEIU tells me that [Fight For a Fair Economy]. is a 'massively expensive boondoggle.' The union is spending scores of millions of dollars on a campaign with no agenda, no organization building, no 'metrics' of success." Fast & Furious: "Irony abounds when it comes to the Fast and Furious scandal. But the ultimate irony is this: Rs who support the NRA and its attempts to weaken gun laws are lambasting ATF agents for not seizing enough weapons — that, in this case, prosecutors deemed to be legal." Massive takedown by Fortune (!). Read for detail. "At least four Ds say they will vote Thursday in favor of placing AG Eric Holder in contempt of Congress." Petrostate: "I never cease to be amazed by the cluelessness of alternative energy advocates…. It's as if the most important development in the energy economy of the past 40 years — the fracking revolution — had not happened at all. But it was totally unanticipated by the politicians, advocacy groups and other big thinkers who championed wind, solar and other alternatives." Well, anticipated by whom? The Cheney Energy Task Force, say? Laffer was wrong: "[T]he nine states with the highest personal income taxes on residents outperformed or kept pace on average with the nine that don't tax their residents' incomes, according to a study of economic output, unemployment and household income by the nonpartisan Institute on Taxation and Economic Policy. Median household income declined an average 0.7 percent among the nine "high-rate" states, compared with a 3.5 percent drop in the nine states without such a levy." Pentagon holds gay pride event. What next? Marxist pride? Moderate left wing reformist pride?
The economy. Not hiring: "The No. 1 reason is that executives just don't see the demand, but this is compounded by policymakers in Washington and Brussels dithering over taxes and government spending, according to Wall Street analysts." If aggregate demand is the problem, shouldn't it be a big issue in the campaign?
HCR. Ben Nelson issues threat: "If they strike down the mandate, the Supreme Court will be paving the way to a single-payer system, or back to the old broken health care system — neither of which are good for Nebraskans." Prediction is hard: "I believe the mandate will not be invalidated tomorrow. " Prep copy: "The U.S. Supreme Court, in a historic decision Thursday, struck down…", "struck down part of", "… upheld President Barack Obama's signature legislation commonly known as "Obamacare." Meta-spin, Romney: "If the law is rejected, Romney plans to argue… .If the law is upheld, Romney would argue…" Money: "The fundraising email from the Democratic Congressional Campaign Committee (DCCC) appeared to promise that any related contributions would go to a 'Healthcare Rapid Response Fund.'"
Grand Bargain™-brand cat food watch. "Have you noticed that as the details of the tough budget reform proposed by Alan Simpson and Erskine Bowles fade into memory, more politicians are embracing the plan developed by the chairs of the 2010 White House fiscal commission?"
The trail. Swing cities: "The five most politically sensitive cities — Cleveland, Denver, Las Vegas, Miami and Tampa — have performed better, with essentially flat [and not down] house prices in the year to April 2012." Teebee: "Obama's We've Heard It All Before claims the top spot, collecting 725,000 views. Doing Fine garnered 160,000 views." Mother's milk: "'Many on the left were relatively blasé about the [Citizens United] threat — until WI made them wake up and say, 'Holy cow, our democracy is at stake,' said Adam Green, co-founder of the Progressive Change Campaign Committee. 'Our hearts and soul were in this, we invested in this — our time, our money — and money and the Koch brothers won the day.' Maybe. But these guys are all getting a cut of the rental stream, so of course they want more. Also, the PCCC? Puh-leeze.
Romney. Whining: "Mitt Romney campaign representatives will meet with WaPo today to seek a formal retraction of its June 21 report that Bain Capital invested in firms that specialized in outsourcing American jobs." No retraction. Polling: "[Romney's] a known name but an unknown person," says NBC/WSJ co-pollster Peter Hart (D). "They just haven't related to him." Emerging narrative: "No details." "Where are Mitt Romney's details?" "A problem with specifics." "Won't take a position." "Refusal to address major issues." Of course, in 2008, policy detail was Obama's stock in trade. Oh, wait… Anyhow, that narrative forces Romney into the loser's corner, because how much detail is too much? Media headwinds!
Obama. Bus trip: "Obama's two-day road trip through PA and OH, two key battleground states… kicks off July 5, a campaign official said." Obama as Wilfrid Brimley: "Doing the right thing seems to be hard for everyone, except President Obama. He always seems to know the 'right thing to do.' Indeed, he uses his presidential remarks to instruct the American people on the right thing to do over and over again." And a real barn-burner for donors from Michelle Obama at the Standard Club in Chicago. She mentions that her father was a city water plant employee, but not that he was a precinct caption for Daley I. I wonder why?
* 73 days 'til the Democratic National Convention ends with land crab on the floor of the Bank of America Stadium, Charlotte, NC. That time of year thou mayst in me behold….
* * *
Antidote du jour (Robert Oak). Story per News Lincoln County: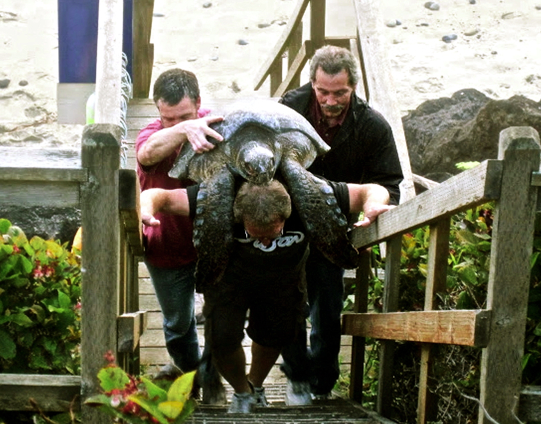 Oregon Coast Aquarium officials are trying to save a large tropical sea turtle that obviously took a wrong turn somewhere between the tropics and Oregon's rather cool ocean waters. Oregon Marine Mammal Stranding Network's Jim Rice said it appears that the male Green Sea Turtle may have found itself trapped inside a warm pocket of water, surrounding by colder water. Once the warm water dissipated, the turtle was exposed to much lower temperatures which caused it to go into a hibernation-like state. It could neither eat nor properly navigate to warmer water.

A tourist walking along Moolack Beach noticed the turtle and called authorities. Rice, along with others from the Oregon Coast Aquarium came out and improvised a rather creative turtle removing tactic as you can see in the photo. Upon arrival at the Aquarium, the turtle was immediately injected with fluids to hydrate it. They say once the turtle's body temperature rises to a normal range it will receive anti-biotics. After that it can be transferred to a warm water rehabilitation facility.

Officials say they don't know how sick the animal is. They're waiting for it to warm up and take food. They say they can't do an x-ray on the animal since his shell is so dense and thick. However they added "It would be great to have access to a CT scan." They say there was no flipper or shell breakage and that it does not appear to be as severely compromised as other turtles they've rescued.