All this talk of firing Ed DeMarco seems to have led him to decide to live up to his reputation.
Amanda F pointed to a wee notice released by Fannie's and Freddie's regulator: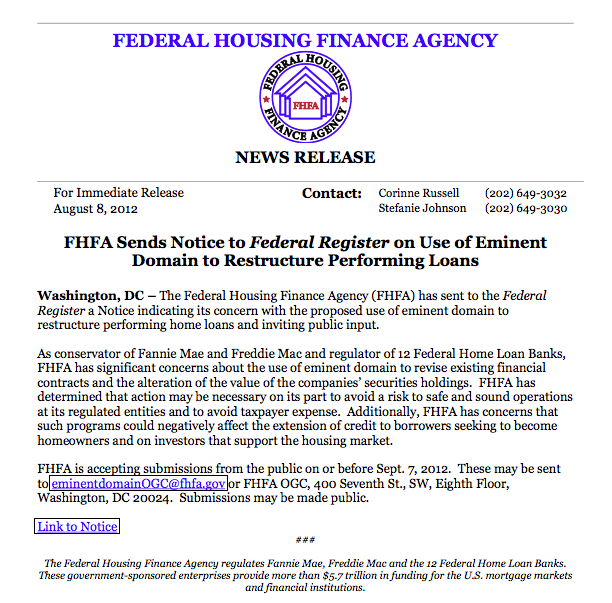 Now let us recall that using eminent domain is a mere fondly-hoped-of cash cow for promoters like Mortgage Resolution Partners, who plan to nick a fee on every performing mortgage condemned (they are targeting ONLY borrowers that are paying on time but deeply underwater). While we think eminent domain could be a tremendously useful tool for getting around servicers who refuse to do modifications of borrowers who are delinquent or under financial stress, we are firmly opposed to the MRP scheme (the big reason is that the price at which they propose to condemn the mortgages is under fair market value and hence tantamount to stealing).
And by starting where investors will come out losers, MRP has set out to galvanize the opposition. When servicers have been sitting on their hands and abusing both borrowers and investors, condemnation is a win-win. But the MRP proposal is an exercise in extraction from investors, who most often place their money with fund managers who can't be bothered to sue. While they say they will only condemn non Fannie and Freddie mortgages, their huge PR push has led other groups to start pushing eminent domain proposals. The nay-sayers' slippery slope argument isn't nuts. Anyone who condemns a first mortgage ought to condemn a related second (which will of course get the banks up in arms). And if you are a local pol, how can you justify condemning private label mortgages when someone in your jurisdiction might be identically situated from an economic standpoint, but doesn't get a break because he is in a Fannie or Freddie mortgage?
The key bit of the FHFA notice is this:
FHFA has determined that action may be necessary on its part to avoid a risk to safe and sound operations at its regulated entities and to avoid taxpayer expense.
This is code for "If our concerns are validated, we will throw our weight against it." And the FHFA has a lot of weight. While the SIFMA threat to exclude municipalities that started doing condemnations from the Fannie/Freddie "to be announced" market is a close to meaningless threat (as in it sounds impressive but the economic impact is pretty close to nada), the FHFA could bar Fannie and Freddie refis in the same areas. Since any local official who produced such an outcome would be tarred and feathered, you can expect that if the FHFA adopts this tactic, eminent domain is pretty much dead, barring a change in leadership at the regulator.
Now of course, we can expect any and every friend of servicers to provide submissions to the FHFA saying how terrible using eminent domain on mortgages would be. But cut through the lobbying BS, and there are two valid concerns. One is the one I flagged, that plans now being discussed seriously would condemn money good mortgages at significant losses to investors. Although most of the industry objections to date have focused on the constitutional issues (which I am told are pretty serious in California, one of the test grounds), simply because that's the first line of defense. To my mind, the pricing, or more accurately, stealing issue is stronger, and the FHFA has legitimate grounds to be concerned. A second issue is that even if performing mortgages were condemned at a true fair market price, it would still increase prepayment risk, which is already hard to model. The undesirable feature of mortgages is that they go away just when bondholders are happiest, when interest rates drop. So MBS have a higher interest rate than fixed maturity bonds of the same credit quality to compensate for this unattractive quality.
There is enough history with prepayments that investors can model it pretty well, and the GSEs have a huge hedging operation to manage the risk. Condemnations of performing mortgages will be a wild card and will undermine the ability to predict the rate of prepayments, leading investors to demand an even higher premium over similar fixed term bonds. And it will similarly massively complicate the GSEs' portfolio hedging.
I hate to be the bearer of bad tidings, but the FHFA is not wrong to be concerned. And rather than shooting at DeMarco, try shooting instead at the guys who are messing up using up eminent domain as a tool to address the mortgage crisis by coming up with and loudly promoting a plan with serious deficiencies.