By Stephanie Kelton, Associate Professor of Economics at the University of Missouri-Kansas City. Cross posted from New Economic Perspectives.
Two of our nation's most influential progressive journalists — Slate's Matt Yglesias and Business Insider's Joe Weisenthal — just took on two powerful economic myths.
1. The Myth that The US Government is Out of Money
2. The Myth that A Government Surplus is a Sign of Fiscal Responsibility
It's hard to imagine a more empowering message. As word spreads, elected officials in both parties will lose their primary excuse for inaction on on a whole range of neglected and underfunded programs. "I'd love to help, but I'm all tapped out," simply won't sell.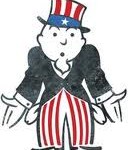 Nor will the desperate calls for "shared sacrifice" and "entitlement reform" in the name of fiscal responsibility.
A very big thank you to these men, who will undoubtedly suffer the slings and arrows of many of their progressive followers, who have long considered the Clinton surpluses the crowning achievement of modern Democratic governance.
* * *
Lambert here: This short post is an interesting inflection point, and also demonstrates the principle that praise is one important way to speed the uptake and propagation of new ideas (a principle that purist ankle-biters like moi too often forget).
Yglesias once more mainstreams the MMT principle that no nation that is sovereign in its own currency can "run out of money," writing:
but the US government has the ability to create US currency in unlimited quantities. It hasn't run out of money and won't ever run out of money. It would be nice for people to understand this point separately from controversies over whether public sector programs are wise or just. In principle, the US government could print up or borrow a ton of money, hand it to state governments, and then have all the money used to cut taxes rather than to finance programs.
And Weisenthal shows the power of MMT analytical tools as well. Scott Fulwiler tweeted: "Broader point is recognition of sectoral balances approach rather than household budget/deficit [boo!] analogy to govt's fiscal position.". Weisenthal's article has an equation in it, so MEGO, but here again is his article, and a mainstream critique, which also uses MMT analytical tools. Two adversaries both in paradigm? That's what we'd like to see!
Again, the point is not that Yglesias or Weisenthal conform in detail to MMT as its proponents practice it, but rather to show how MMT concepts are being picked up by the mainstream. Just in time for the Grand Bargain debate! If readers can spot any other examples of this process "in the wild," please leave them in comments.