12:47AM This concludes the regularly scheduled portion of our live blog. As of this hour, we don't know the vote totals, and Romney has not yet scheduled his concession speech. However, the political class seems united in its view that Obama is the once and future President, and although I might wake up tomorrow and find the whole landscape changed, I don't think so, for reasons stated below in "From the Barcalounger." Thank you for participating, and good night. If you have additional comments to make, please feel free, but I am heading off to bed.
12:09AM Best results for Jill Stein and the Greens as of this hour: 1.4% in the great state of ME (Hat tip SFR).
11:50PM From the Barcalounger: The networks having called the election for Obama, the remaining unanswered question is whether the Republican brains trust will attempt to delegitimize the election through court challenges. I'm guessing no and here's why: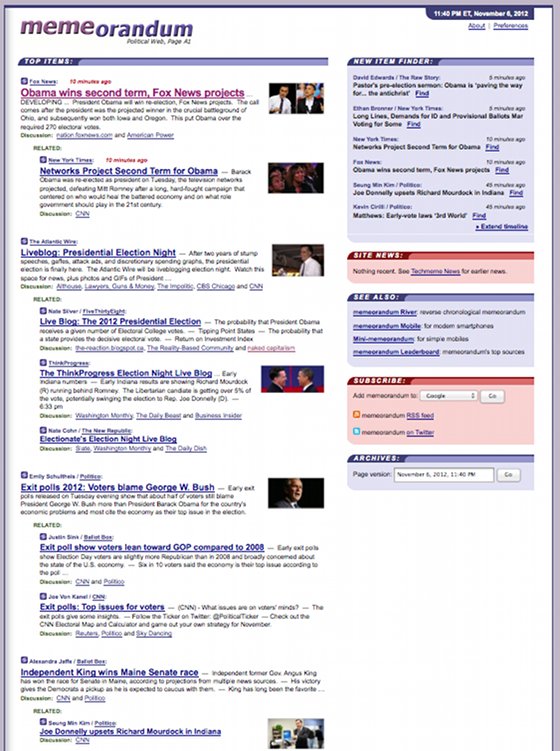 If they were going to do that, they would have started already. When the conservative's Mighty Wurlitzer is really cranking, Memeorandum is full of right wing bloggers all hammering on the same talking points and narratives. There's nothing like that tonight. I'm seeing a screw-up or two in PA, but everybody knows all the confusion in that state was caused by a botched Republican voter suppression scheme. If they wanted to use it, there's even a YouTube of a malfunctioning touch screen flipping a vote from Romney to Obama, but if they haven't already turned that into the greatest offense against human decency since bread was first sliced, na ga happen.
From first to last, the Republicans really didn't care about this election all that much. Anybody who remembers 2000 and 2004 can tell the difference. Sure, their consultants took a sh*t ton of money off stupid winger billionaires, so what's not to like, but the Republicans used to be all about winning. Totally feral. No longer. A shame, really. And poor Nooners. As a prose stylist, there's nobody to touch her, but Nate Silver beat her like a gong.
* * *
11:33PM Squee!
[Gotta take a quick break and timestamp all this via the twitter, since all the network calls are from banners.]
11:28PM CBS projects Obama win.
11:27PM ABC projects Obama win.
11:26PM CNN projects Obama win.
11:18PM Swing states:
Pink VA 80% counted Obama 47.9% / Romney 50.6%; NC 92% Obama 48.8% / Romney 50.2%
Blue FL 89% counted Obama 49.9% / Romney 49.3%; OH 53% Obama 50.3% / Romney 48.1%
11:10PM VA: "Just looked through the remaining areas out in Virginia. Heavily Dem except for Virginia Beach. I expect Obama to take the lead in the Old Dominion for good in the next hour at most" (NRO).
11:08PM CO: Denver Post calls CO for Obama (twitter). That was fast.
11:04PM USVI: Donna M. Christensen (D) 60.05%; Warren B. Mosler, 17.09%. Damn!!!!
10:49PM The Republicans hang onto the House (ABC). Where revenue bills orginate. Maybe they could get Issa investigating banks instead of the Alchohol, Tobacco, and Firearms administration? Not a chance.
10:48PM OH, FL still trending blue, adding CO and IA; VA, NC trending pink (Times).
10:43PM "Honest opinion from many journalists here in #Boston: Romney would concede very late or maybe even not at all tonigh" (France 24) Hmmm. The Republicans had better crank up the election fraud narrative pretty fast. So far, I haven't seen that.
10:38PM OH: "Senator Portman tried to pump up the crowd here in Columbus, but they were having none of it. It's remarkably downbeat here: All eyes are glued to television screens and smart phones, and the aides and staffers aren't saying anything. A few people are sitting glumly on the sofas, and the general mood is pretty tense" (NRO).
10:32PM WI: Networks call WI for Obama (20% counted). So what happened with that recall thing, anyhow?
10:29PM VA: "More than two-thirds of the vote has been reported in Virginia. At the moment, Mitt Romney leads President Obama by four percentage points, 51 percent to 47 percent. But keep an eye on the Washington suburbs: Fairfax County, Loudoun County and Prince William County, where only a tenth of the vote has been reported so far" (Nate Silver). Creative class heartland.
10:25PM "The mood here at the @MittRomney party in Boston is grim to say the least – everyone standing around watching TV, glued to phones, no smiles" (FT tweet on site).
10:24PM Times "Paths to victory" interactive graphic is down. Bad sign for Romney.
10:20PM FL: "More than two-thirds of the vote has been counted, and Obama and Romney are only separated by about 100 votes (AJE).
10:16PM Path to victory: "In case you were wondering, for Romney to win the presidential election from this point, he has to win each of FL, OH, VA, NC, IA and CO" (Guardian). Na ga happen.
10:11PM MO: McCaskill defeats Akin. And so she should, since she put a million bucks into his campaign so he'd be her opponent.
10:10PM CO: 18% counted trending Obama.
10:07PM NH called for Obama; it's been said NH is a good proxy for OH.
10:04PM PA: What the heck was Romney doing in the last week, wandering about in PA? Did one of the kids get a percentage of the ad money or something? Doesn't bode well for Romney in OH either.
9:57PM PA: Networks call for Obama, 18% counted (Times).
9:55PM FL: "In every presidential election since 1960, the candidate who prevailed in Florida's Hillsborough County, home to Tampa, has also prevailed in Florida. There is no guarantee that the pattern will hold in 2012, but the Tampa region is critical in carrying the Sunshine State (which is why the Republican Party held their national convention there this year). " (538) If this trend continues, the election won't be close enough to steal.
9:50PM "Pete Marcium of Platteville, WI wrote in his cat's name for president and wished he could see the look on the ballot counters' faces when they read that one" (America's Finest News Source)
9:39PM On the Times map: Trending blue, OH, FL, CO, and PA. Trending pink, VA, NC, WI. If those trends continue, Axelrove can break out the champers. (The Times seems more conservative in its calls and I like that. Slow down. You move too fast.)
9:34PM OH: Sherrod Brown beats Josh Mandel (Plain Dealer).
9:33PM MA: Elizabeth Warren beats Scott Brown (CNN).
9:32PM "With 95 of 148 precincts reporting – plus early and absentee ballots — Grayson led 62 percent to Long's 38 percent. A win returns Grayson to the U.S. House, where he served one term before losing in 2010 to now-U.S. Rep. Dan Webster, R-Winter Garden, in what is now Florida's 10th Congressional District." Grayson sure ended up with an excellent district. Somehow.
9:27PM ME: Just got a "we did it" mail from Angus King. That was fast. I actually shook hands with King in a Bangor coffee shop two days ago — savvy advance work — and requested that if he had the balance of power in the Senate, "not one penny of Social Security cuts". In his entourage, some long-time local D operatives. Oh good.
9:25PM FL: "Early returns show Obama to win Hispanic-Americans over all by 20 percentage points in Florida, and if he wins that, it'd be larger than the 15-point margin he had in 2008. If Mr. Obama ekes out a win in Florida, this will have a lot to do with it" (Nate Silver). If.
9:19PM Another swath of Red states for Romney, Blue for Obama. No surprises yet (Times map). Though a D pickup in Mourdock (45%) v. Donnelly (48%) in IN with 50% counted might count as a surprise. Thing is, voting patterns aren't evenly distributed across counties, so only the experts on the ground can be sure what "50%" means pratically….
9:15PM Senate: Guardian polling guru Harry Enten: Ds will hold the Senate. They are winning, or have won, in CT, IN, MA, and MO. IN and MA would be a pickup for the Democrats" (Guardian) I'm betting the Ds, who would't abolish the filibuster for health care or the stimulus, will abolish it if that's what it takes to kick the hippies and gut Social Security. Too cynical?
9:14PM NC: "Talk about too close to call: North Carolina is 50%-apiece, with 66% of precincts in, with Romney ahead by about 1,200 votes in total" (Guardian)
9:07PM CO: Many mail-in ballots rejected for signature issues but statistically, seem as expected. Voters notified, eight days to fix. Issue if race is tight (Denver Post).
9:00PM OH: Lake comes in early because of touch screen so fast. Cuyohaga optical scanner so slower; bellwethers (Plain Dealer broadcast).
8:55PM TN Romney EC Romney 67, Obama 64. Still out, swing states: FL, OH, VA.
8:48PM I think the Times front page is the hamdiest map. So far, Red states are going for Romney, Blue states for Obama, and all the swing states are too close to call. I think I'm going to put on some loud music.
8:42PM "Mitt Romney's internal campaign polling showed President Obama leading Ohio by five points on Sunday, the final day the campaign polled the state, two GOP sources told CNN" (CNN). Interesting if true. What if one of the sources is Christie, and the other is Ryan?
8:41PM OH: "Lake County, a bellwether county that narrowly favored President Barack Obama in 2008, is currently doing the same, according to absentee results. Obama has 51 percent and Gov. Mitt Romney has 48 percent" (Cleveland Plain Dealer)
8:30PM FL: "With thousands of Floridians still lined up to vote, the presidential race in the nation's largest battleground state is as close as can be, according to exit polls showing that President Obama might have an edge. It will take hours for a final winner to be clear — and it could even take days. In Miami-Dade, voters will remain in line in some precincts well past midnight" (Miami Herald)
8:20PM Voting problems: Good national wrapup. "Many of these issues could resurface in the courts after Tuesday, particularly if the race between Obama and his Republican challenger, Mitt Romney, is too close to call or heads for a recount in states such as OH or FL" (Inquirer)
8:15PM Angus King (Independent) called in ME (AJE)
8:11PM OH nuance: "Though polling stations closed in Ohio at the bottom of the hour, an outcome is not expected for several hours. If Obama takes a commanding lead, it's worth remembering that vote officials are first counting the early ballots, which were expected to favour the Democratic incumbent. If Romney can sink his teeth into the state's juicy 18 electoral college votes, it would be a hammer blow to Obama's Midwestern firewall, and would indicate his vaunted get-out-the-vote operation has stalled" (cannot link directly to text through BBC's horrible interface)
8:10PM "Breaking: not a single state of any significance has been called for anyone. Relax!" (ha).
8:09PM OK, TN, MS, AL, GA, SC (Romney 82). ME, MA, RI, CT, DE, MD, IL (Obama 64) No surprises. Red for Romney, Blue for Obama. I sure wish I had an animated "paths to victory" map….
7:58PM Provisional ballots in OH. Strong post concludes: "[Romney] presumably needs to hope that he has a comfortable lead in the initial returns tonight; otherwise, he faces the possibility that Obama can catch up by relying on provisional ballots."
7:53PM Swing counties in swing states: Arapahoe (CO), Polk (IA), Outagamie (WI), Hillsborough (FL), Chester (PA??), Henrico (VA), Hamilton (OH).
7:51PM VA delayed polling results 'til 8PM due to long lines.
7:45PM Polls closed in WV (Romney, duh) and swing states NC and OH at 7:30PM.
7:44PM "Exit polls from CNN indicate that, for the first time nationally, the Latino electorate turned out in a double-digit percentage" (Guardian) "In Virginia, the exit polls shows Obama winning just 34% of the white vote. In 2008, he won 39%. If that sort of slippage continues throughout the swing states, then Obama's margins will be dangerously thin" (Guardian). OH still too close too call.
7:35PM MSNBC calls VT Obama; IN, KY, WV Romney; OH, VA, NC too close to call. No surprises so far.
7:15PM I wrote in "Mike Check" — twice! Also too they gave me a sticker. I actually like voting here, even if they do use optical scanners; I like it when the volunteers recognize me as they draw a line through my name on the voter rolls.
6:39PM Two more live blogs: BBC and France 24. If we can't have international observers… Off to vote now!
6:25PM I'm going to ignore this exit poll too, even if the provenance is D-leaning PoliticalWire via Bruce Bartlett, who hates the Rs with all the fervor of an apostate.
6:21PM Mercury entered retrograde at 6:04 PM. Hat tip, aletheia33. Wait! What's happening to my computer? Connection… Failing… Must… keep… typing…. [urk]
6:10PM "Perfect POLITICO Tweet RT @jmartpolitico A senior GOPer w close ties to Romneyland emails a single word: 'worried.'" The meta! It b-u-r-r-n-s!!!!
6:09PM San Jose, CA: Five hours into Election Day, poll worker Travis Smith finally realized he was feeding completed ballots into a paper shredder. The Onion, naturally. Had ya goin! (And who in The Onion's IT Department decided I didn't need to link to individual snippets?)
6:01PM NJ extended the deadline to submit email or fax ballots to 8 p.m. (WaPo).
5:59PM Polls close in KY and IN at 6:00PM. The Guardian has a handy map of all poll closing times. Our long national nightmare is over. Almost.
5:58PM Adding The Onion Live Blog to the list.
5:52PM I'm going to ignore the first exit poll. Builds character.
5:49PM Obama's account uses Reddit for GOTV (Guardian)
5:46PM Provenance, detail, and patterns are going to be key on election fraud (not the same as voter fraud) problems. Remember, electronic voting technology is a disaster waiting to happen — but that doesn't mean that every fat finger episode on every touch screen is a nefarious plot, even in CO. (And if I were going to steal an election electronically, I sure as heck wouldn't to it by flipping votes where the voter can see. Calm down, my Republican friends.)
5:38PM VA, FL report record turnout. So, enthusiasm! (Guardian).
5:27PM Adding the live blogs I like as reference material: Guardian, Al Jazeera, CNN, WaPo. (Suggestions?) The Times has a keen "Words of a Nation" interactive toy on the front page where you can select a word that describes how you feel about the election, or enter your own. I entered "agnotoligated" and used my Philly zip, just for old time's sake.
4:54PM I just added the closing times of swing state polls at the end of the post. The big one to watch, assuming that you can focus on your clock of choice, is OH at 7:30PM. Of course, all of OH's votes won't be counted at once, and may not in fact be counted for weeks (which will matter if the totals are close), but it's a good first checkpoint, since the conventional, not crazed Republican, consensus is that if Obama wins OH, he wins! But as Nooners says, nobody knows anything. Off to start trawling now.
4:00PM In just a few short hours, we'll know, or not, which actual or potential war criminal is going to end up looting Social Security! So, drinking games!
But look, I don't drink ("powerless over"). My understanding is the drinking game rules are of the form:
"Every time you hear ____ take a _____"
Example:
"Every time you hear take a
So, readers, please feel free to leave your suggestions for drinking games in comments! But do remember: This is a family blog!
Housekeeping note: On a live blog, I put current material at top, so the most recent material pushes down less recent material. That means that the lead on the main page will constantly change. And I'll put reference material, like the times that polls in swing states close, and other live blogs, at the end of the post. And if you want to add good sources to track results (especially on the ground in swing states, and preferably not completely polluted by tribalism) that would be great.
3:58PM Hey, is this thing on?
* * *
Swing State Closing Times
FL (7:00pm ET)
NH (7:00pm ET)
OH (7:30pm ET)
CO (9:00pm ET)
IA (10:00pm ET)
NV (10:00pm ET)
Live blogs
Guardian.
CNN.