lambert strether blogs at Corrente.
Last time I was in Bangkok, my hosts instructed me to go shopping for some clothes so I could learn to bargain, at a humongous multi-storied megamall complex they called the Platinum Center. So I got off the train in the steamy heat, map in hand, and set out for, yes, there it is on the map, "Platinum Center." Now, Bangkok is huge, it makes LA look like a village, so I expected some melty, slow-footed wandering about. What I didn't expect — although food carts eased the pain — was an hour of peering up at the signage of one über-luxury megamall after another, and not seeing the name that I sought. Did Platinum Center exist? Had it been renamed? Moved? Was the map wrong? Until, finally, I looked up at the sign of what turned out to be my destination, and struck my forehead as it hit me (I do that a lot in Bangkok) that the sign, which I had looked at twice, at least, read–
"Patunam" (say it). Patinum. ZOMG!!!! The building was six stories of platinum-colored metal sheathing, too. Well, er… Anyhow, in some ways, the Platinum Coin controversy (so over, or not) reminds me of my trek through the heat and haze to the Platinum Center: The goal was so large and so obvious that I couldn't see it. But there's also feeling of being, well … Being stupid. Of course, Bangkok doesn't want to make people stupid. But plenty of players in The Coin controversy did and do, and in a bit I'll look at some of their methods.
The Big Lie
The Big Lie is that the we're "going broke," "running out of money," or even that a nation must "pay its own way" (to whom?). Dan Kervick has the right of it.
The coin debate triggered something. The platinum coin is a big shiny, reminder that in some way, somehow, the monetary authority of the United States rests with the American people, even if the plutocratic architects of our financial system and the owners of our country have succeeded over time in burying that authority under many layers of convoluted technocracy and confusing delegations.

We have it within our power to make sure the Treasury account is fully funded to accomplish whatever we might want to do with it, subject only to limitations on the real assets of the Unites States and the energies and capacities of its people. Currency assets can be created at will, and allocated to whatever tasks we select for them. It is entirely a matter of public policy choice whether we pay people interest in exchange for temporarily transferring dollar balances from their own accounts to the Treasury account. If we don't want to pay the interest, we can either tax away those balances, or create new balances directly in exactly the same way the Fed creates them every day in the exercise of monetary policy. People now see that if you can create a balance in the Treasury by minting a coin and depositing it, you can also create a balance in the Treasury without the interposition of any barbaric and anachronistic metallurgy.
In other words, whether the powers that be like it or not, and whether people use the form of words or not, the conversation is about [lightning strike; roll of thunder; creak of door] fiat money. And it's to be hoped that there are many more forehead-slapping, ZOMG!!!! moments to come.
Fiat money, that is, is Platinum Center: The building that is so big that I could not see it. And now to Pratinum vs. Platinum: The nits that cause us all so much trouble, by design or no.
The Wrong Stuff
Formatting note: In this section, I've helpfully marked the bullshit [บี เอส] with italics. If only the real world worked like that!
Mind-boggling falsehoods
A coin is worth the metal that's in it. FOX: A $1 trillion platinum coin would weigh 17,773,995 tons. Rep. Greg Walden: "[T]he last thing we need for Treasury to mint a new coin made out of platinum that would weigh, by the way, Neil, 44 million pounds if it was tied to the value of platinum like gold has to be tied. I mean it would sink the Titanic." Yglesias: "In my wallet right now I have a bunch of $20 bills, a few $1 bills, and a $5 bill. These bills are worth different amounts of money due to the fact that they have different numerals written on them. … Coins are the same." D'oh. Even I understand this. And yet the conflation of a coin's value with the price of its metal was ubiquitous.
Mischaracterizations
To describe The Coin, trick was a favorite, as were gimmick and magical. The deeper thinkers in the political class settled on banana republic. These characterizations were and are one and all false. Nixon went off the gold standard. FDR confiscated gold held in private hands. FDR also printed a $100,000 bill. JP Morgan is said to have saved the government with an obscure coinage loophole. And then there were Lincoln's greenbacks.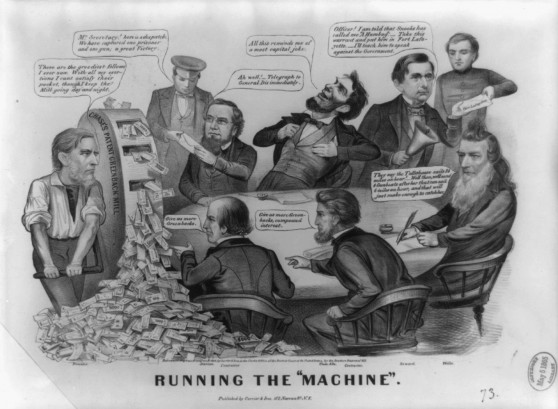 None of these monetary maneuvers turned the United States into a banana republic (and if that's what we are, it's money in the wrong hands, not soft money, that's the problem). If these be tricks, let us make the most of them!
Obfuscatory humor
Most of the (mediocre) jokes about the coin focused on the mind-boggling falsehoods or mischaracterizations above; same deal with the design contests, which necessarily focus on the coin as metal. The Coin was also said (falsely) to not merely to be like a Simpson's episode — if true, so what? — but to have originated on a Simpson's episode. (Early coverage of the coin was rife with faulty and careless provenance.)
Weak framing
Chris Hayes: "The genius of the trillion dollar … illustrates the uncomfortable foundational reality of modern capitalism. Money is nothing more than a shared illusion. It`s a kind of magic. But is it good magic or bad magic?"
Well, I don't buy "illusion" for a minute. For one thing, when I write a check to my fuel guy tomorrow, it's sure not going to feel like an illusion or a magic trick. More seriously, money is about as illusory as, say, a GET under the HTTP request/response protocol which cannot be seen, touched, or weighed, but which builds the web page you are reading now, and not by magic. I'll close with an obscure blogger (one Jerry Khachoyan) who gets it right where Hayes gets it wrong:
"Why #MintTheCoin Has Already Won 1) The debate has shown who GETS what money is and who does not. Plain and simple. We operate in a world where the dollar (and many other currencies) is free-floating and nonconvertible. It is truly fiat. Yes, that may sound scary, but it's the reality in the world we operate. 

Anyway, hopefully the #MintTheCoin conversation has opened many people's eyes as to what money truly is and where it comes from. It's not something dug from underground, or something China sends to us; it's [not "illusion"] (very simplified, but that's the very core of it). Also, on the flip-side, it has publicized and thus discredited the many that don't understand what it is.
Indeed.
Trivialization
In his near real-time intellectual history of the coin, Joe Firestone has distinguished between "small ball" approaches to The Coin, which treat coin seignorage as a tactic in the debt ceiling fight, and a "game changing" approach that would "end any perceived need for austerity." The political class almost unanimously plumped for the "small ball" approach, trivializing it. Ironically, the comedian Jon Stewart seems to be one of the few who have gone down this road ("go big or go home"), and he was swatted around by progressives for his pains.
Conclusion
Word of the day: Agnotology (hat tip, Yves). That's the science ("-ology") of making people stupid. A real seventy-five-center, eh? Be sure to impress your friends by sharing it! I'd like to see it deployed a lot. In this post, we've seen various disciplines within Agnotology — the Big Lie, and all The Wrong Stuff — all working away to good effect. I like Agnotology as a general category for the immense structure of bullshit, propaganda, mis- and disinformation, talking points, tropes, memes, dead metaphors, half truths, deflections, distractions, and outright lies ("noble" or not) that it is the pleasant task of our political, media, and technocratic classes to maintain, because as with any branch of knowledge, we can think of agnotology as having personnel and a reward structure (see under "academic choice theory"). We might also imagine practical and theoretical agnotologists forming learned societies, journals, creating funding models, inter-breeding, and so forth. One could no doubt use the sociological and historical tools from history of science and intellectual history. Life's rich pageant!