We are glad to be rank well in a new finance blog tally (thanks to loyal NC readers!), even though this survey is tongue in cheek (it has a methodology which has some logic to it but simultaneously pokes fun at methodologies).
And I also am ambivalent about self promotion. When I started out in the work world, professionals above the level of ambulance-chasers didn't sell their services; they got referrals. They might be active in the community to get known and noticed, but the tacit assumption was if you were good at your work and kept at it, you'd develop a good reputation and more business would follow. For instance, when I joined McKinsey (1983), it didn't pitch clients, it responded to inquiries.
But now it seems, people aren't "active in the community," they "network". And the assumption now is that if you don't talk yourself up, it must because you don't have any impressive stuff about you or your business to tout.
So because the post, erm, "Psudo-Scientific Study" at Suitpossum: Post-Crisis Adventures in Financial Subversion, is clever, and all good businessfolk in the new millennium know they need to toot their own horns, below is the resulting ranking: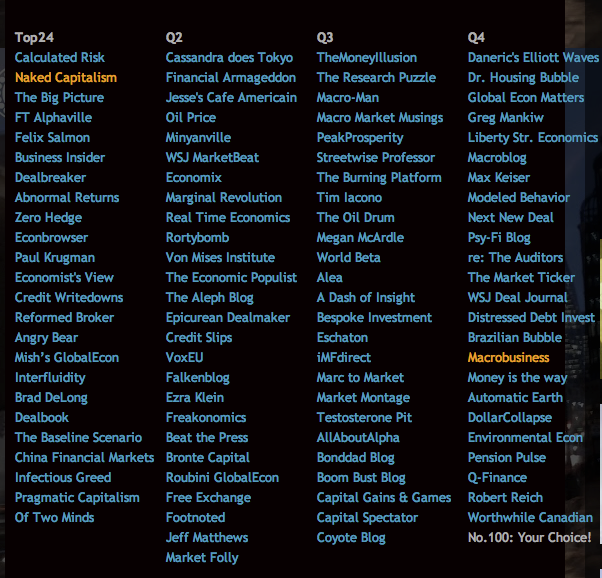 Actually, on a more serious front, NC was also among a handful of blogs mentioned in this report by the Tow Center for Digital Journalism (hat tip Doug, see p. 24, for instance):
Tow Center/Columbia Journalism School on "Post-Industrial Journalism" by